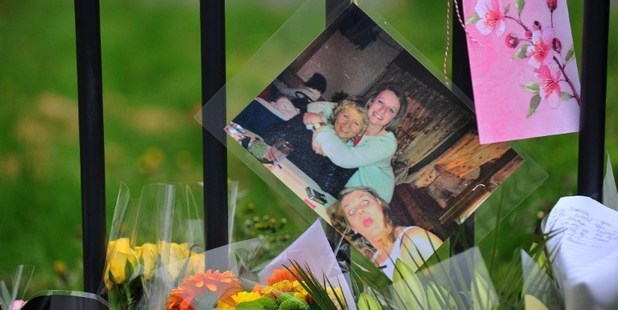 In her last moments, Ann Maguire's thoughts were only for her pupils.
The 61-year-old British teacher begged them to flee rather than witness the horrific attack on her by one of their fellow students.
One teenager said: "Mrs Maguire was screaming at the kids in the class telling them to get out because she didn't want them to see what was happening."
Read more:
• Floral tributes show generations of love
Last night detectives were continuing to question a 15-year-old boy over the murder of the popular Spanish teacher, who was in her last term before retiring from full-time work at the school where she spent her entire 40-year career.

A police officer patrols as pupils arrive for school at Corpus Christi Catholic College. Photo / AFP
Police say the suspect has been treated for a minor hand injury.
The whole class of 30 teenagers saw the stabbing and many of them stayed at home with their families yesterday.
It had been a routine Monday at Corpus Christi Catholic College in Leeds.
But, at around 11.45am, a boy in Mrs Maguire's class is said to have calmly walked up behind her and repeatedly plunged a kitchen knife into her neck and back.
She had been standing by the desk of Holly Walker. The 16-year-old's mother Clare told the Mail: "Holly was having her work marked by Mrs Maguire when he came up to her and started stabbing her.
"Holly was so close that she had blood all over her and she said she thought she was going to be killed too.
"She was so traumatised by it all and she ran out of the classroom trying to find help."
Another report suggested Holly was pushed away by the killer, who is thought to have dropped his weapon.
Sue Francis, who was taking a class nearby, rushed to find out what was happening. A pupil said: "She ran in after hearing the screams but it was too late and Mrs Maguire just fell into her arms."
The attacker is said to have fled into the corridor where he was grabbed by Kieran Sykes, an assistant headteacher.
Paramedics and police arrived within minutes but could not save Mrs Maguire's life. A post-mortem examination confirmed she died of multiple injuries.
The 15-year-old arrested over the killing was said to be a "grade A student" from a good family. Pupils have described him as a "weird loner" who had few friends.
Boy allegedly harboured a grudge against teacher
He is alleged to have harboured a grudge against Mrs Maguire and the teacher is said to have recently confiscated his phone and given him a detention.

A woman and child leave floral tributes at Corpus Christi Catholic College. Photo / AFP
Police have refused to discuss details of the investigation or reasons for the killing - the first of a teacher by a pupil inside a British school.
Detective Superintendent Simon Beldon of West Yorkshire Police said: "The pupils who witnessed this incident are still being interviewed by specialist officers who are very experienced in dealing with child witnesses and will ensure that their safety is paramount.
"This is clearly an unprecedented and tragic incident which has left the school and wider community in a state of shock."
Police stressed that the school had no history of pupils carrying weapons.
The police "safer schools officer" attached to Corpus Christi was at another school when the attack took place.
Around three quarters of the 1,000 pupils aged 11 to 16 turned up as usual yesterday.
There was a special assembly in the morning and counsellors were on hand to help with any pupils' concerns.
Martin Dowling, who is chairman of governors, said the reaction of the children had been amazing.
School's decision to stay open defended
Headteacher Steve Mort defended the decision to stay open yesterday.
He said: "Ann Maguire always put the needs of the children first. She was concerned about their welfare and safeguarding.
"And we are absolutely confident that Ann would have wanted the school to have been open today."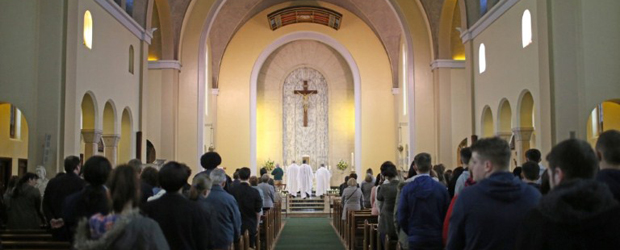 Members of the local community attend a mass at Corpus Christi Catholic Church in Leeds. Photo / AFP
He praised her as the "cornerstone of the school" who touched the hearts of generations of pupils.
These words were echoed outside the school gates, where pupils spanning four decades turned up to lay floral bouquets and praise "simply the best" teacher around. She was described as a remarkable woman who not only taught languages and RE, but ran the choir, acted as an agony aunt and who was an undisputed mother figure to her pupils.
Chloe Ripley, 16, said there was a subdued atmosphere in class yesterday: "Nobody was speaking, it was so sad. There have been a lot of tears."
She was in the same art class as the 15-year-old suspect and described him as "shifty", adding: "He would just sit and stare and rock backwards and forwards. We just left him on his own." The police inquiry is likely to focus on the alleged killer's state of mind.
He is believed to have also been assessed by a psychiatrist before being cleared to be questioned.
Police will have to follow strict rules about how juveniles are questioned.
Mrs Maguire was married to Donald, 62, a landscape gardener, and they have two children Kerry, 32, a trainee osteopath, and Emma, 30, a dancer with the Royal Ballet.
They were all said to be too upset to make a public comment.
- Daily Mail