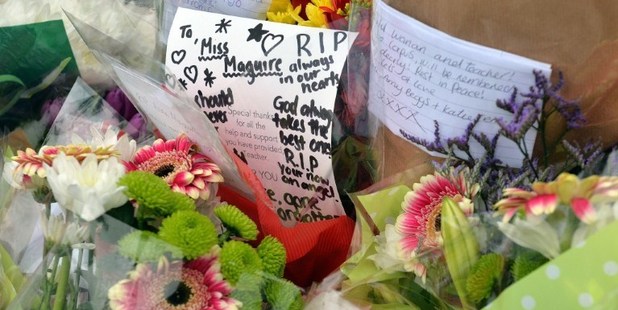 If there was ever any doubt in the public mind that an inspirational teacher can touch generations of young lives in a unique and special way, it was on display outside the gates of Corpus Christi Catholic College in Leeds today.
The flowers, which had begun to be laid within an hour of the news of the tragedy of Ann Maguire's death breaking, had by the end of the school day massed into a vast spontaneous memorial some 50m long.
It was a fitting tribute to a woman who saw her job as a vocation and who dedicated 40 years of professional life to the same community.
Read more:
• UK teacher: 'Don't let them see me die'
Pupils past and present, neighbourhood families, fellow catholic institutions from across the city and further field, and local charities all expressed their loss at the death of Mrs Maguire, who was stabbed while helping another child in the quiet routine of a school day just weeks away from a hard earned retirement.
"You helped shape the woman I have become. Your love, support and understanding made you not only an unbelievable teacher, but a good friend ... I'll remember you every time I hear a guitar and when I open my mouth to sing a Beatles tune," wrote Emma Quinan.
"You always believed in me and took the time and effort to make sure I achieved the best I could. I wouldn't be where I am today if it was not for you," wrote Lucy Potter, one of the class of 2009.

A woman and child leave floral tributes at Corpus Christi Catholic College. Photo / AFP
The words "amazing person" who "always cared" "the mother of the school" were repeated again and again on the hundreds of cards jutting out of bunches of flowers or placed beneath toys or candles.
Some expressed themselves in Spanish, the language Mrs Maguire taught since joining the school four decades ago straight from college.
"Buen dios, bendita noche," wrote one, "descanse en paz" another. Understandably not every pupil had turned up for school. Yet 700 had made the journey to be among their friends and teachers.

A police officer patrols as pupils arrive for school at Corpus Christi Catholic College. Photo / AFP
The previous night they had gathered in their hundreds outside the school on a balmy evening - answering the call of social media to show their respects. By the morning many arrived ashen faced, still weeping as the enormity of the tragedy within their midst became apparent and once more they had to brave the media phalanx encamped on the entrance.
The school day had begun with a service at Corpus Christi Church, a Romantine parish church rebuilt following a fire in the 1960s by the local community of Halton Moor, an inter-war housing estate for families following the city centre slum clearances.
Inside 150 worshippers said prayers for the lost teacher. Many wept as Monsignor Paul Fisher recalled how "her face radiated goodness and kindness".
Inside the school the mood was described as "calm and reverent". Lessons were optional but many chose the certainty of their regular timetable. "It was a bit of normality - we were allowed to open up about it," said Tia Hope, 14, who was with her mother Paula.
"It was really depressing and so surreal. It is so hard to think that anyone from our school could be capable of doing this. It was like no one actually thought it could happen that she could be dead," she said.
- The Independent