Inspired by the story of fake sign language interpreter Thamasanqa Jantjie, we round up the worst liars, hoaxers and scammers of 2013.
Manti Te'o's 'girlfriend'
American Football star Manti Te'o was devastated after finding out about the death of sweetheart Lennay Kekua. The next day, he fought through heartbreak to lead the Notre Dame college football team to an upset victory over Michigan State, notching 12 tackles.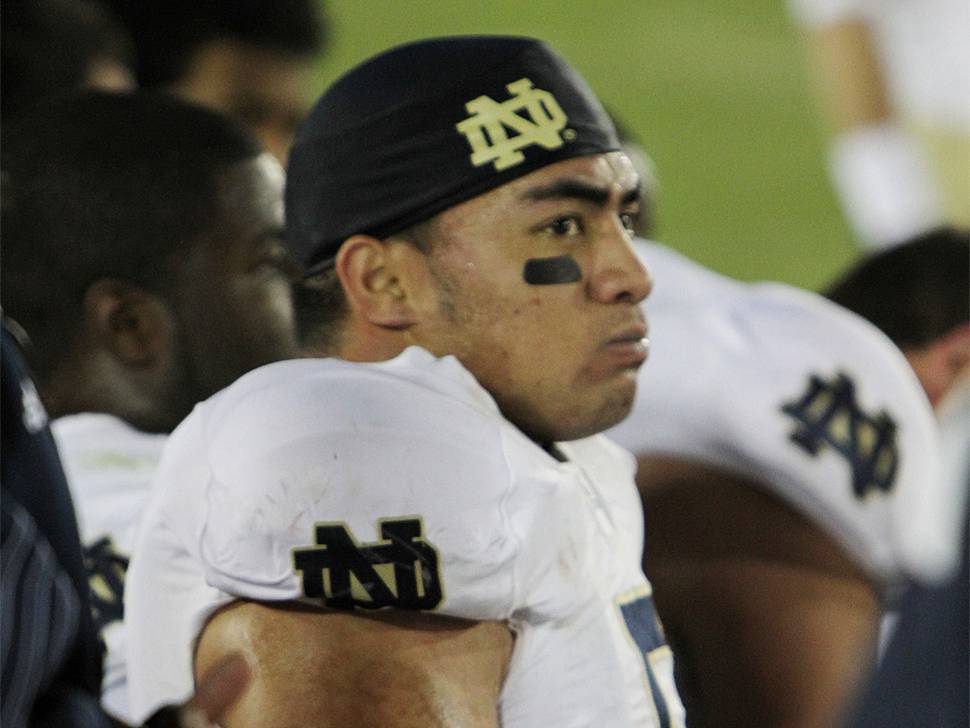 It was a story that made headlines across the United States. It was also entirely false. In January, a report from Deadspin revealed Lennay Kekua never existed.
The months that followed revealed she was the invention of Ronaiah Tuiasosopo, who had fallen in love with Te'o and wanted an outlet to express his feelings. Te'o admitted to having never seen his girlfriend, claiming to have told his family he had met her only so he would not seem crazy.
Democratically elected mayor Rob Ford
Here are two quotes from Toronto mayor Rob Ford:
May 24: "I do not use crack cocaine."
November 5: "Yes, I have smoked crack cocaine."
Did you notice the difference?
Ford was belligerent when he was first confronted with media reports that a video had surfaced of him smoking crack cocaine. It was only after being confronted by a "disappointed" Toronto police commissioner confirming the existence of the video that he, ahem, cracked, and told the truth.
He spent the following month refusing to resign, being stripped of his powers, responding to a film showing him in a murderous rage, knocking over a councillor and showing up to things uninvited.
The heroic Benghazi security guard
It seemed 60 Minutes reporter Lara Logan had scooped one of the most explosive stories of the year. A security contractor who worked at the US Embassy in Benghazi revealed to her his desperate struggle to save diplomats from a militant assault. Dylan Davies had climbed a 12 foot (3.7 metre) wall and knocked out a terrorist with the butt of his rifle. Later he saw slain ambassador Christopher Stevens at hospital.
The only problem was that Davies story for the cameras differed substantially from the one he gave his bosses and the FBI. The Washington Post uncovered Davies' own after-action report, which revealed he hadn't been able to make it to the Benghazi compound because road blocks had been set up. The only time he'd seen Stevens' corpse was in a cellphone photo shown to him by a Libyan colleague.
60 Minutes eked out a half-hearted defence of the story before launching into a series of full apologies. They admitted not checking their facts before going to air. Logan and her producer are now on 'leave'. Dylan is still in hiding.
Former politician and serial sexter Anthony Weiner
When Anthony Weiner started topping New York mayoral polls in late June, it was billed as a potential Lazarus-esque political comeback. The 49-year-old had overcome a 2011 sexting scandal that scuppered his career to bring himself back to the brink of holding political office once more. All he needed to do was make sure he wasn't caught sending any more lurid selfies.
Ah, so close! In a stunning press conference on July 23, Weiner was forced to admit carrying out more sexting. Details began emerging. Weiner had been operating under the screen name 'Carlos Danger'. He had described himself to a message recipient as "an argumentative, perpetually horny middle-aged man".
The new revelations did fatal damage to Weiner's mayoral campaign, and in all likelihood, his political career. He received 4.9 per cent of the vote in the Democratic mayoral primaries. Election night ended with him sprinting through a McDonald's pursued by one of his sexting partners and flipping the bird at reporters.
The world's worst sign language interpreter
Thamasanqa Jantjie stood on stage at Nelson Mandela's memorial charged with the important task of interpreting the ceremony for the world's deaf community. Instead he found himself "flapping his arms about" meaninglessly behind a succession of speakers.
Delphin Hlungwane, a spokeswoman for the Deaf Federation of South Africa, said Jantjie, 34, had "zero per cent accuracy". He looked like he was "trying to swat a few flies away from his face and his head". Whatever he was doing up there, it wasn't very useful to deaf people watching the ceremony.
Jantjie blamed a sudden attack of schizophrenia for his performance. He claimed he was hallucinating, hearing voices and losing concentration on stage.
It emerged that he had done this kind of thing before. The ANC received complaints about Jantjie after he ran around acting like he was firing a machine gun while 'interpreting' a song traditional song sung by South African President Jacob Zuma. Someone should really have taken him off the job earlier.
- nzherald.co.nz