Six generations after Krug Champagne's creation, the discovery of the founder's diary has confirmed to today's makers that they have the philosopy right. Suzanne Dale finds out more.
Julien Pepin Lehalleur drinks Champagne nearly every day. Hardly surprising, given that he is a passionate ambassador for Krug.
Three times a week he travels by fast train from his home and office in Paris to the production centre and historic home in Reims where for six generations, the family of German immigrant winemaker Joseph Krug has made Champagnes that hold true to his dream.
That dream means making only prestige cuvees without hierarchy, so whether the Champagne is vintage or non-vintage, there is the same emphasis on uncompromised quality.
The business development manager for Asia and the US, Lehalleur is in New Zealand on a whirlwind trip here to meet Moet Hennessy, a fellow member of the LVMH group. He sits and sips his favourite of Krug's six Champagnes - its newest, Rose, created in the 1970s - as he translates from French the founder's words.
Penned in a long-forgotten notebook, they explain the philosophy behind the brand that Joseph launched in 1843.
"It explains why we do it," he says. Left unread for generations in the family safe, the notebook's discovery three years ago has helped answer questions from new president Margareth Henriquez.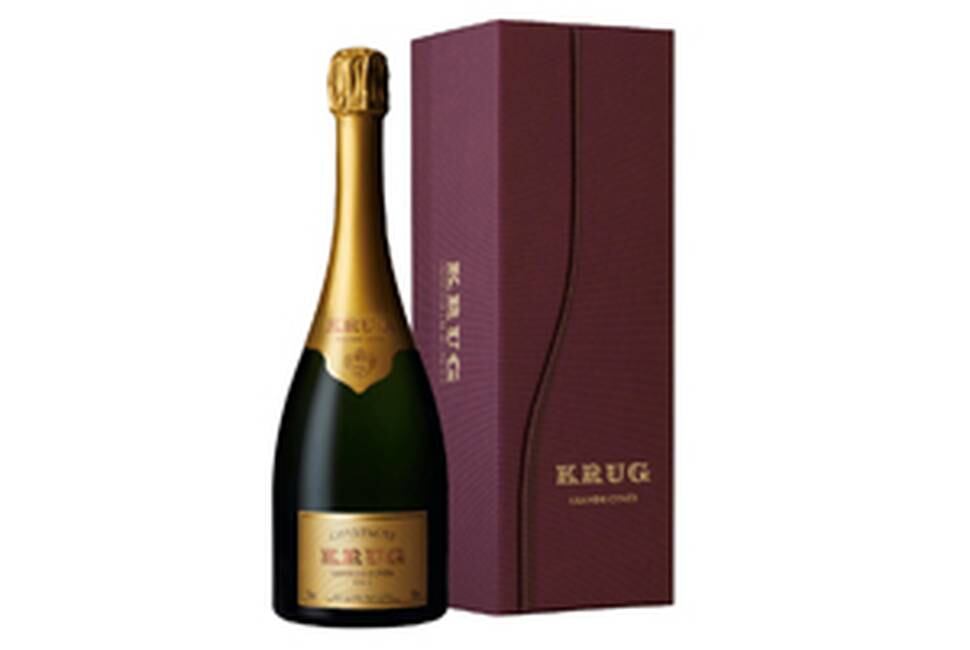 "She was always asking, 'Why, why, why?' but [sixth-generation Krug and House director] Olivier said, 'We don't really know why. My father told me what to do so I did it. When I joined in 1989, I never read the notebook and later generations were not interested in reading it.
"When Maggie found it, she was almost crying. Everything was here.
"Joseph wrote that he would form two cuvees of the same quality. Cuvee number one would be the signature of the house and the benchmark. That is our Grande Cuvee [non-vintage] and cuvee number two would be the cuvee of the circumstances.
"That number two is our Vintage." (The 2000 Vintage has just been awarded 99 points by Australia's James Halliday of Wine Companion magazine.)
"While other Vintage Champagnes tell you the story of the year, they have to recreate the style of the House first and take into account what nature gave them. For the rest of Champagne, vintage is a sign that you are taking the best-quality grapes.
But Joseph Krug started, in a very good year, putting 30-50 per cent of the harvest into reserve. He did not want to wait to offer great Champagne from time to time. He wanted uncompromised quality every year. That is the challenge. We are the only true luxury House in Champagne," Lehalleur says, "and we do it every year."
Krug's Grande Cuvee, a consistent favourite with critics, is cellared for at least six years before release and created from 120 wines from 10 vintages. Some are wines of the year, others from a library of 150 reserve wines.
"It's a very, very different approach, the principle of individuality. Different not because we want to do something different but because of the philosophy behind it," Lehalleur adds.
Still, he insists, Krug is not a Champagne for connoisseurs, created as it is for pleasure, through intuition not science. "We do things very seriously but we do not take ourselves too seriously. We try not to be too rational."
Well, maybe, but at $275 for Grande Cuvee, $375 for the Vintage 2000 and $485 for Rose, it is not a wine to be quaffed too lightly, either.
When most people think of Krug, they think of oak barrels but while Krug is the only Champagne House to still use these casks, Lehalleur explains that the wines do not age there.
After harvesting, the young wine is put into its own small barrel for three months to develop its individuality, increase its ageing potential and enhance that fresh taste for which Krug is known.
The barrels are made from 200-year-old French oak that has been seasoned for a minimum of three years in the open air. "We are not making whisky. We want to remove any flavour of oak."
It is then transferred, separately to retain that precious individuality, into steel tanks. This separate storage allows for the final composition of Grande Cuvee - which is, after all, the sum of many parts.
In an exhaustive process that takes place over six months, that year's wines from 250 plots are tasted and awarded marks by each member of a six-strong team, who also mark the 150 wines from previous years. Tasting is done at 11am when the palate is most receptive. Half its team are women. "Women have a more gifted nose and palate than men," Lehalleur says.
The tasting notes are recorded, not in a computer ... mais non ... but, instead, in chef de caves Eric Lebel's big black book. From these notes, the year's Grande Cuvee is formulated. Sometimes a Krug Vintage will also be made.
But all is not black books and old oak casks at Krug. Since 2011, an ID code has been introduced on bottle labels. Scanned with your smartphone, information can be viewed about which vintages have been included in the blend - a boon when cellaring.
Lehalleur travels the globe, spreading the good word in Japan, which favours rosé, and in the US, Hong Kong and Australia, which favour Vintage. He took up his position at Krug two years ago after a stint at Christian Dior Couture, where he was wholesale sales manager for Europe and the Middle East.
These days he travels internationally for Krug one week a month. He doesn't miss fashion, but he does miss those discounted prices on fashionable items. It seems life is never really perfect. We'll have to drink to that.
- VIVA