New Zealand's wait for another Commonwealth Games triathlon medal continues after the Kiwi men and women failed to make the podium today.
For two legs of the men's triathlon youngster Tayler Reid flew the Kiwi flag, before Ryan Sissons took over the charge on the sprint to the finish. Neither broke through for an elusive medal but, for a long time, they sure kept it interesting.
South African Henri Schoeman, Olympic bronze medallist, claimed gold ahead of Australia's Jacob Birtwhistle and Scotland's Marc Austin, with Sissons' blistering run pushing him into fifth, 18 seconds off first and five seconds away from bronze.
That left Sissons, ranked ninth in the world and with a previous best at Commonwealth and Olympic Games of 13th, with mixed emotions. Having fought back from 12th after the swim to finish ahead of the world-leading Brownlee brothers, Alistair and Jonathan, fifth was still short of expectations.
"I wanted a podium; I made that pretty clear right from the very start so to miss that… it sucks but I did all I could and pushed as hard as I could on the run so that's as much as I could ask for," the 29-year-old said, indicating he had not been selected for the relay team, said.
"I knew I was going to have to run as fast as I could to catch them. I got pretty close – 10 seconds more and I would've been on the podium but, hey, that's racing and I tried as hard as I could."
New Zealand's 12-year wait for a triathlon medal, therefore, goes on. This was not helped, of course, by the sport's absence from the Delhi Games but you have to go back to Melbourne in 2006, when Bevan Docherty and Samantha Warriner claimed silver, and Andrea Hewitt grabbed bronze, for the last joy in this arena.
While Sissons eventually stormed past him, the largely unknown Reid grabbed early attention by emerging second from the water and sparking hopes of New Zealand's first medal. The 21-year-old from Gisborne, competing at his first Games, formed a six-strong breakaway on the bike which put distance on the pack.
Reid hung in, admitting he didn't contribute by taking the lead to try give Sissons and Tony Dodds, who finished 16th, a chance to close gap.
By the run Reid's legs were shot. Though he eventually faded to finish 11th, with over 20 family and friends in the crowd, complete with blond wigs and matching shirts, he clearly enjoyed the ride.
"I loved it. I don't want to race unless I'm in it. You might as well be in that top three or nowhere," he said, still gasping for breath. "I was hoping I could guts it out. I had some good patches but I had some really bad patches. I knew it would come at some point I was just hoping it would come later than it did.
"Even though it's an individual race you want to see your countrymen do the best they can as well that's what it's all about."
Hewitt, ranked fifth in the world, stepped onto the Gold Coast start line New Zealand's best women's hope but after taking a pounding at the start of the swim and slipping 55 seconds back, she was never in contention.
Taupo 21-year-old Nicole van der Kaay was the best of the Kiwi trio, finishing seventh; a commendable effort in her first Games. Rebecca Spence rounded out the Kiwis in 10th.
One day after her 36th birthday and in her third Games after placing fourth in Glasgow last time out, 13th in the field of 26 - almost four minutes behind Bermuda gold medallist Flora Duffy - was a disappointing performance for Hewitt.
"I had a terrible start to the swim for the first 200m I got swum on top of and then again and again," the Christchurch veteran said. "I thought I would be able to swim with the group today but when I missed that and then got isolated on the bike, it was really tough and I just kept losing time."
Spence and van der Kaay did their best to pursue bronze here, pushing hard in the lead chase bike pack. But no-one could catch Duffy and England's Jessica Learmonth, the pair controlling this sprint distance from the outset.
Duffy and Learmonth established a huge lead after a strong, sub nine minute 750m swim, and only extended that over the 20km bike and 5km run.
Off their neck-and-neck bike, Duffy stormed home on the run to claim the first gold of these Games with relative ease, finishing 43 seconds ahead of Learmonth in just under 57 minutes.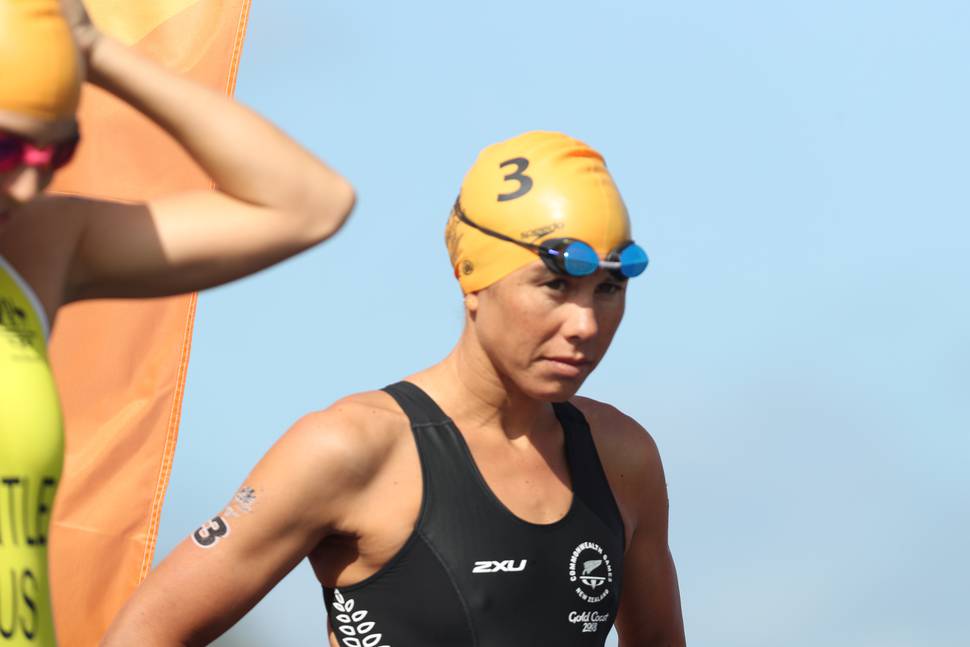 In the end van der Kaay (one minute 41 seconds behind Duffy) and Spence (two minutes 22 seconds back) couldn't stick with Canada's Joanna Brown, who claimed bronze.
This sprint format leaves no room for error, no time to make up serious ground, and with van der Kaay best placed of the Kiwis 42 seconds back after the swim, it was always going to be too difficult to medal from there.
"I knew I had my work cut out with all these experienced ladies but I was very happy to keep up with them as long as I could," van der Kaay said.
"On the run I gave it my best shot. I know they're very fast so I'm slightly out of my league at this stage of my career but I gave it everything and held on as long as I could.
"It's my first Commonwealth Games so I hope to improve in the years to come."