While tourists flocked to this traditional Portuguese seaside village in the summer, they tended to stay away in winter, as dangerously huge waves hammered its shores.
The 10,000 residents of Nazaré also kept their distance. Many of them knew someone who had died at sea, particularly among the local fishermen.
Even surfers hadn't considered it a destination – that is, until Hawaiian daredevil Garrett McNamara showed up in town in 2010, five years after he was invited by local sports teacher Dino Casimiro.
When McNamara first saw the gigantic –and often deadly – swells at Nazaré's most northerly beach, the big wave surfer described it as being like a religious experience.
"It was like finding the Holy Grail," he told the New York Times' Patrick Kingsley. "I'd found the elusive wave."
It seems apt for a town that derives its name from a small wooden statue of the Virgin Mary, a Black Madonna said to have originated in Nazareth that was brought there by a monk in 711.
In the 12th century, the Virgin Mary was said to have performed a miracle in Nazaré, when a nobleman hunting in the fog cried out in prayer – causing his horse to stop at the edge of one of the town's imposing 100-metre high cliffs.
While in the summer months, tourists relax on the picturesque 1.5km shoreline of Praia da Nazaré, it was a second beach that made Nazaré internationally famous.
Sitting on the northern side of the Sitio headland, Praia do Norte stretches for several kilometres with little tourist development. The waves are minor in summer, but in winter they often top 35 metres – the size of a nine-storey building.
Photos of the immense waves, looming large like a giant wall of water, look otherworldly or even photoshopped – particularly when you spot one of the surfers who are crazy enough to take them on.
In fact, the waves are so big that most surfers need to be towed towards them by Jetski.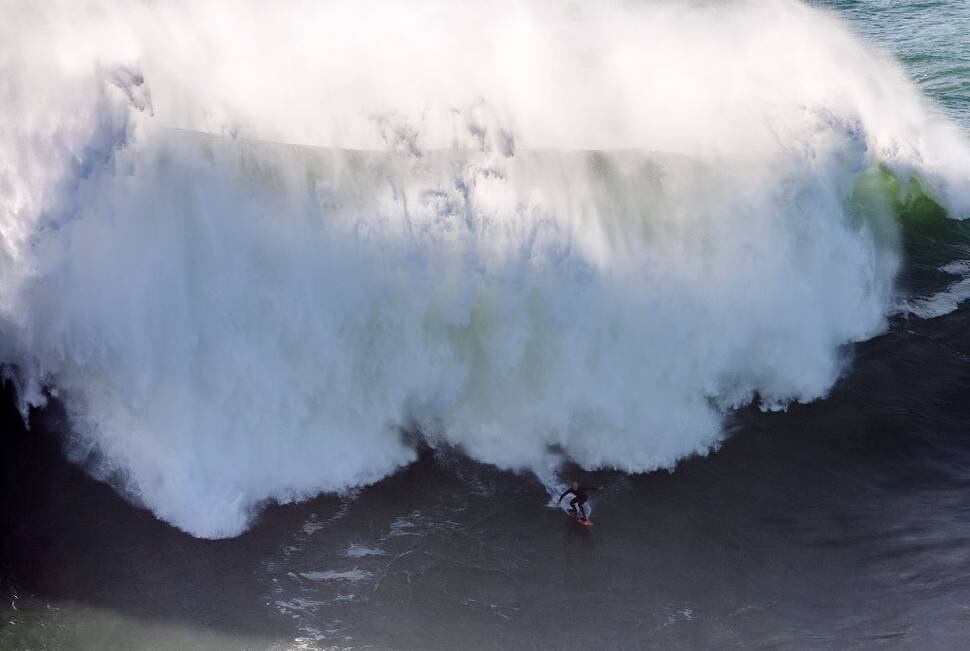 The pioneer of the region, McNamara spent a year studying the patterns of the waves with help from the Portuguese navy before he even attempted to surf them.
During the winter of 2010, he was provided with subsidised meals by a local restaurant owner, Celeste Botelho.
She told the New York Times she actually avoided getting close to him and his family, as she feared he might die.
"We thought of that beach as a wild beach," she said.
However, in November the following year, McNamara went on to break world records when he took on a 23.8 metre wave and lived to tell the tale.
Following his achievement, the Nazaré pumped money into publicising its gigantic waves and a steady stream of courageous surfers began to populate the town over the formally quiet winter months.
And as more unbelievable images from Praia do Norte began to circulate, non-surfing tourists and photographers also started visiting in low season, just to observe the breathtaking phenomenon.
The town has now grown to become one of the most popular destinations in the world for big-wave surfing and hosts an annual competition, the Nazaré Challenge.
In 2017, McNamara's previous record was broken by Brazilian surfer Rodrigo Koxa, who conquered a 24.4m wave. And while it has yet to be validated, in January this year, Portugeuse surfer Hugo Vau surfed a potentially 35 m wave, known as "the big mama".
Despite these successful runs, the beach remains extremely dangerous – and surfers are well aware of the risks when they take it on.
Last year, British surfer Andrew Cotton broke his back at Praia do Norte after a horrific wipeout.
"It's unlike any other wave at big-wave spots," he told the New York Times, describing how at most big-wave beaches there was a usually "a safe zone and an impact zone".
However, at Nazaré they are "just all over the place".
Brazilian surfer Marcelo Luna also discovered just how close big-wave surfers were to death when he missed being picked up by a Jetski after riding one of Nazaré's waves.
When the next wave pounded down, he was hit directly in the face. Only after rolling with it two times was he able to pull the tag to inflate his life vest.
"I realised by then, I actually almost died," he said in a video for Nazaré Dispatch.
"One more wave, maybe, and I think I would be knocked out. It was hardcore… it was the worst situation I've ever experienced at Nazaré, I'm blessed to be alive."
Perhaps that Black Madonna, now resting in a hilltop chapel built by the nobleman who survived the cliffs, is still performing miracles to this day.
While Nazare and its fisherman have welcomed this new found fame as a big-wave surfing destination, there are still some tensions, as property prices in the area rise.
Paulo Peixe, who founded Nazare's surf school prior to McNamara's arrival, says the image of the town may change.
"The bad part," he told the New York Times, "is that we're probably going to lose the idea that we're a traditional village."