After a recent trip to New York, Kiwi chef Ben Bayly rounds up his top picks on where to eat and drink in the city that never sleeps.
The Musket Room
This trip to New York, I had decided to eat only "food of the people" and stay away from fine dining. But, after meeting
's Kiwi chef Matt Lambert briefly in New Zealand a few years back and hearing about his food, I decided I had to go. I was not disappointed. Matt is cooking New Zealand food in NYC and he is cooking New Zealand food better than most Kiwi restaurants. I was truly taken aback by the story-weaving of his menu introduction and front-of-house staff. I dined on a Saturday night, by myself at the bar, and I felt like I was home, with great Kiwi hospitality.
Matt is a true New Zealand food ambassador, putting our food on the map overseas and we should be proud of what he has managed to carve out. New Yorkers are loving it too, the place was packed. It seems crazy to recommend Kiwis to go to NYC and dine in a New Zealand restaurant. But do it. And don't forget to tell him I sent you, you will get a free beer.
265 Elizabeth St, Nolita.
Jay and Lloyd's Kosher Deli
In the heart of Brooklyn, Jay and Lloyd's is my favourite Jewish deli in the world. Their slogan is "serving good food to nice people since 1993!" and they have a sign on the door that says "come in and eat or we'll both starve". That's bloody hilarious if, like me, you work in hospo. And that is only a taste of their sense of humour. Lloyd, the owner, is a laugh a minute; think Larry David or Jerry Seinfeld cooking you lunch. But Lloyd's funny jokes are actually just the bonus, the taste of the food is amazingly deep and authentic, and I couldn't help but fall in love with Jewish cuisine. If you are going to eat one pastrami and rye sandwich in NYC just go there, and say "hi" from me too.
2718 Avenue U, Brooklyn.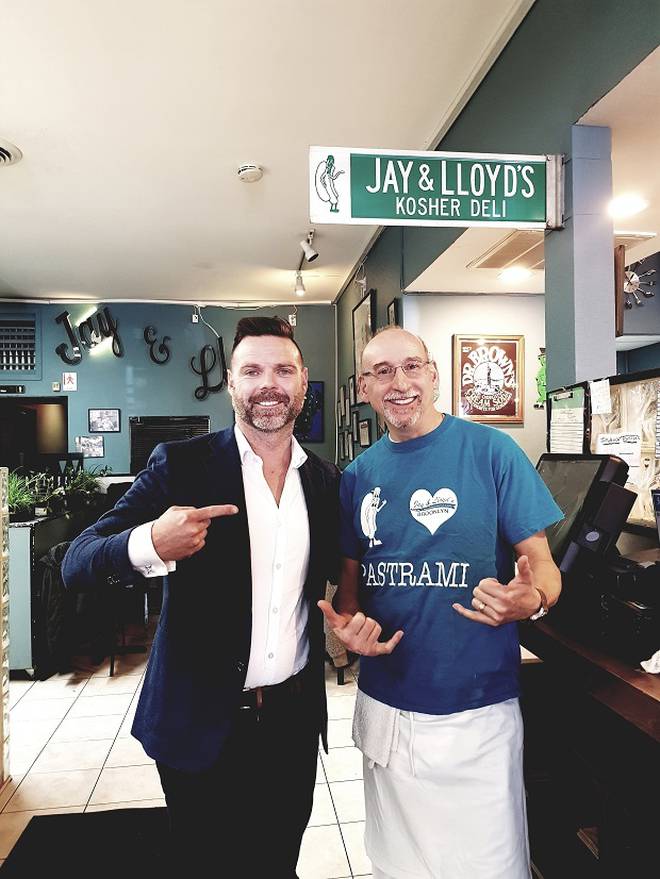 Superiority Burger
As in the name, Superiority is famous for its burgers, but not just any burgers, I'm talking vegetarian and vegan burgers. At this hole-in-the-wall East Village joint, the burgers are cheap and easy to manage. I could eat five easy. They're so yummy you wouldn't really know they are vego. In my opinion, the
is much better than other vegan burgers like the famed Impossible Burger. I think their "meat" pattie is made out of some sort of walnut base. This place is quintessential NYC and a must visit. They don't like you taking photos, they don't do any menu changes. It's their food or no food! I love it! They are pretty rude in a cool New Yorker way.
430 E 9th St, East Village.
Crif Dogs and Please Don't Tell
Go to Crif Dogs in the East Village after you have had a Superiority Burger. Crif's probably have best hot dogs in NYC. Get a couple of dogs and keep an eye on the phone box on the inside left-hand side of the shop. Watch people as they enter, lift the receiver chat to someone, then disappear. There is a false wall in the phone box and behind that wall is a really cool speakeasy bar called Please Don't Tell.
113 St Marks Pl, East Village.
Saxon + Parole and Ghost Donkey
Saxon + Parole is a super stylish steak house and seafood restaurant on the corner of Bowery and Bleecker streets. Think beautifully wood-fired grilled American beef and the best seafood from the American East Coast — it's a premium restaurant with no table cloths and really good service. Next door they have a fantastic bar called Ghost Donkey, a pumping tequila and mescal cocktail bar and nightclub with a massive line around the corner all night long. It's very hard to get into but, if you dine at Saxon + Parole, they have a secret door and you can ask your server to open it up for you. They don't advertise this. The recommendation is to have a great American dining experience, line the stomach, then party. Other cool news is that Saxon + Parole are bringing their concept restaurant to Auckland late next year, opening in the new Commercial Bay complex downtown. A little bit of NYC in AKL, very exciting.
316 Bowery, NoHo.
Ben Bayly is executive chef of award-winning restaurant Baduzzi and co-owner of The Grounds. Ben and Baduzzi will be at this year's 10th annual Taste of Auckland, November 1-4, at new venue Queen's Wharf on Auckland's waterfront. Festivalgoers can expect a mouthwatering line-up of top Auckland restaurants, including Baduzzi, Culprit, Xoong, Little Bird Organics, Gerome, Lowbrow, Paris Butter, Farina, the Vodka Room and Miann. There will be free live cooking demonstrations from leading culinary stars in the Electrolux Taste Theatre, hands-on masterclasses, live music from some of the country's biggest acts including Tami Neilson, Barnaby Weir & Friends and Hollie Smith-DUO, and more than 120 of the country's leading food and drink producers.