Justine Tyerman meets a brash Aussie on the Gold Coast and discovers a cockatoo and an edible beach scene in her hotel room
"You're a bit of a bullsheet artist, I can see that," the Aussie chap said to me with a broad grin.
I laughed and replied: "Takes one to know one."
I had found a delicious, warm lagoon left behind by the outgoing tide on the Gold Coast and was basking there in the sun after a long walk on the beach, contemplating the sweetness of life in this winterless land.
"You'll go home with wet, sandy togs and tell your husband you've been for a sweem in the sea when all you've done is lie around in a warm bath all afternoon," he said.
"Yep. But he won't believe me. He knows me too well," I replied.
After we had exchanged banter about the merits of life on the Gold Coast for 10 minutes or so, he looked as though he was contemplating joining me in my lagoon . . . so I changed the subject to more esoteric topics, at which point he sauntered off. I love the Aussies and their brash sense humour but I was enjoying my solitude.
Earlier in the day, I'd wandered for hours along the beach, knee-deep in the froth of the incoming and outgoing waves. The sand was sensuously warm from the rays of the mid-winter sun and the sea was 23 degrees . . . in late June. At home in New Zealand the landscape was blanketed with ice and snow – I doubted they even knew what a frost looked like on the Gold Coast.
I marvelled at the squeakiness of the sand under my bare feet, strangely similar to the sound of ski-boots on fresh powder snow. How bizarre!
There was nothing to limit my perambulation, no rocky headlands or cliffs on this 53km stretch of fine, gold sand, so I just kept walking until I came across the lagoon. The dappled water looked like a leopard skin. I made myself a sand chair in the warm, shallow, pool and once submerged, there was no real reason to get out. I stayed there, mesmerised by the surfers and paddle-boarders riding perfect waves fringed with white lace. Suddenly a paddle boarder popped high out of the water and appeared to be flying - I thought I was hallucinating at the time but later discovered he was SUP foiling . . . or something like that.
The incoming tide eventually flooded my warm bath with cool water so I reluctantly extracted myself and set off back down the beach. Even when the sun finally slipped behind the hills, there was no chill in the air.
Dusk had turned to darkness by the time I made it back to my hotel, QT Gold Coast, and slid into the Jacuzzi to ease my sore calf muscles after much soft-sand walking.
The others in the spa pool were chatting about their shopping and sight-seeing expeditions while all I had done was walk for miles and "lie around in a warm bath all afternoon".
'I'll go sight-seeing tomorrow,' I thought with a pang of guilt.
QT Gold Coast is known for its quirky, chic interior design and relaxed, congenial vibe, just what I was looking for after a "hectic" day at the beach. Having run away from the Kiwi winter, it suited my carefree mood.
Team QT were super-friendly, dressed in casual attire and bright, beachy colours in keeping with their Surfers Paradise, year-round summer setting. Even at the reception desk, there was a marked absence of dark suits and ties.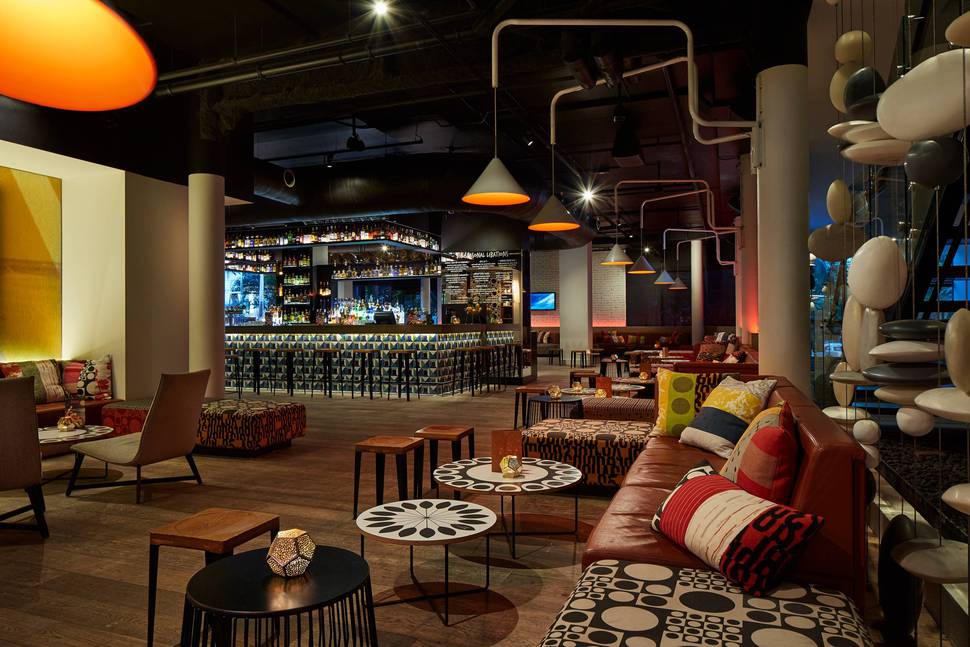 And there was nothing muted or minimalist about the décor either.
Designers have thrown the traditional hotel concept out the window and opted to surprise rather than soothe their guests.
Why go for subtle and subdued when you can have giant yellow, red, pink and orange lightshades and outside furniture that looks like a kaleidoscope has exploded in the courtyard.
The element of surprise infused the whole ethos of the hotel from the giant triffid-esque mobile mural in the entrance lobby to the elevators populated by beach babes in a variety of poses befitting the 1950s. Despite travelling in the lifts dozens of times, I was still caught off-guard when the doors opened to reveal a couple playing leap-frog on the sand or a bevy of guests taking selfies with a bikini-clad girl.
My ocean-view room on the 17th floor was delightfully outlandish. The mirrors were shaped like daisies, the chairs were shocking pink, yellow and burnt orange, the hair dryer was masquerading as a psychedelic garden, there was an edible beach scene on the table and a luminous cockatoo beside the bed.
The view of Surfers Paradise from the balcony was also astonishing but nature could take all the credit for that.
I dined at QT's trendy Stingray, famed for its "mixologists-crafted cocktail list and California-meets-Mexico menu". The cuisine and cocktails certainly lived up to their reputation. My Surfers Sour and tacos were divine.
QT is also home to Yamagen, a 30-year-old Gold Coast institution which specialises in izakaya dining with kushiyaki, sushi, sashimi and cocktails. It's an ultra-cool restaurant where old-school traditional Japanese traditions blend with innovative modern ideas.
I awoke to a golden sunrise so dazzling it transformed a nearby crane into a thing of beauty, a sculpture. Extraordinary . . . like everything else about this place.
Breakfast is never a big deal for me, but the colourful array at Bazaar changed all that. The restaurant is designed to resemble a bustling open marketplace with an eclectic mix of Middle Eastern, Moroccan, Asian and Mediterranean cuisine and chatty chefs in open kitchens. My plate was soon overflowing. Who cared if the flavours argued with each other? They were sensational.
By the time I was ready to go shopping and sight-seeing, the spray was streaming off the crests of aqua-green waves in the morning sun, creating a multitude of tiny rainbows. The sand drew me like a magnet and I found myself back on the beach in 'bullsheet-artist' mode . . . in search of another lagoon.
Justine Tyerman was a guest of QT Gold Coast.
If you go
* QT Gold Coast has 297 spacious guest rooms with ocean and hinterland views including 19 ocean view suites, three restaurants, a snack bar/cafe, day spa, nail bar and pool bar open during summer.
* The hotel is a popular venue for conferences and events. With 15 versatile spaces from the huge ballroom to informal outdoor spaces, the hotel can cater for up to 750 delegates.
* Opened six and a half years ago, QT Gold Coast is the first of nine hotels in Australia and New Zealand born under the QT brand, the most recent being QT Queenstown which opened late last year. QT Perth is due to open on August 1, 2018. All the hotels have different themes in keeping with their surroundings.