Time doesn't stand still on Rue du Rhone. There I was, window-shopping on this celebrated, centuries-old street, immersed in ticking timepieces in the world capital of watch-making.
Geneva's Rue du Rhône is a revelation, with its dazzling parade of diamond-encrusted watchmaker shops. A star specimen is Bucherer, one of the real old-timers, who stock the world's biggest selection of Rolexes.
I gazed incredulously at a limited edition platinum Rolex, glinting at me through the window, with a price-tag of NZ$60,000. Gulp.
Further up the time-honoured street, I swooned over the wondrous, over-the-top timepieces at the funky boutique watchmaker, Marconi. Willy Wonka would approve.
Draping the immaculate Jardin Anglais on the lakefront, Geneva's enormous flower clock is an essential selfie stop — and true to Swiss form, it never misses a beat. This very compact low-rise city can be easily conquered in a day or two, packed with quirk and medieval character, slung around a stunning lake, with the Alps floating on the horizon.
The Old Town is engrossing and evocative, spilling stories from the days of the Reformation. Geneva is also residence to some global heavyweights, like the Red Cross and the United Nations' European headquarters. I sauntered through both complexes, swooning over the enormity of the UN's Assembly Hall.
Make a date with the fountain — Jet d'Eau, Geneva's gushing icon, where a gob-smacking seven tonnes of water is airborne at any one time. To fully appreciate its immensity, walk along the breakwater from the lakeside and stand under this monstrous shaft of spritzing water. It looks particularly impressive come nightfall, when it's radiantly illuminated.
Most hotels will give you a free transport pass which includes the chic little yellow taxi-boats, called mouettes. And then there's the retro paddle-steamers, gliding the waters as gracefully as swans, that will take you out on to the lake, as Mont Blanc looms ever larger. Lake Geneva is actually Western Europe's largest lake, so if you have the time, there's a spoil of neighbouring villages and sights to discover.
There's no avoiding the lure of Geneva's insatiable chocolate shops. One of my all-time Swiss favourites is Laderach who sell their chocolate in a headswirl of flavours, in ridiculously big sheets, the size of A3 paper.
Don't miss the Musée d'Art et d'Histoire is rainy-day-perfect, showcasing some exceptional works by Monet, Renoir, Van Gogh, Cézanne and Picasso. I got dreamily lost in the landscapes of the Swiss painters François Diday and Alexandre Calame.
Great place for fondue
A great go-to for fondue, Switzerland's cheesy national pastime, is Café du Soleil. What makes their bubbling cheesy cauldrons so good is they only use hand-selected gruyere, giving the fondue a creamy consistency. Another prized pick is Restaurant les Armures, another prized fondue institution.
This wood-beamed restaurant with muskets on the wall crowns the Old Town. Bill and Hillary Clinton gorged themselves here in 1994. Overlooking the lakeside-hugging Jardin Anglais, Hotel Metropole is a grand old building, circa 1854, but its proud heritage boldly mingles with ultra-contemporary comforts.
I stayed in a freshly redesigned junior lakeside suite, resplendent, stylish and restful, with some spectacular state-of-the-art touches, like the giant mirror TV. I want one! My bed was like sleeping on a cloud, I had an in-room Nespresso machine and my spa-style bathroom was the personification of re-energising indulgence, with a steam shower and bathtub.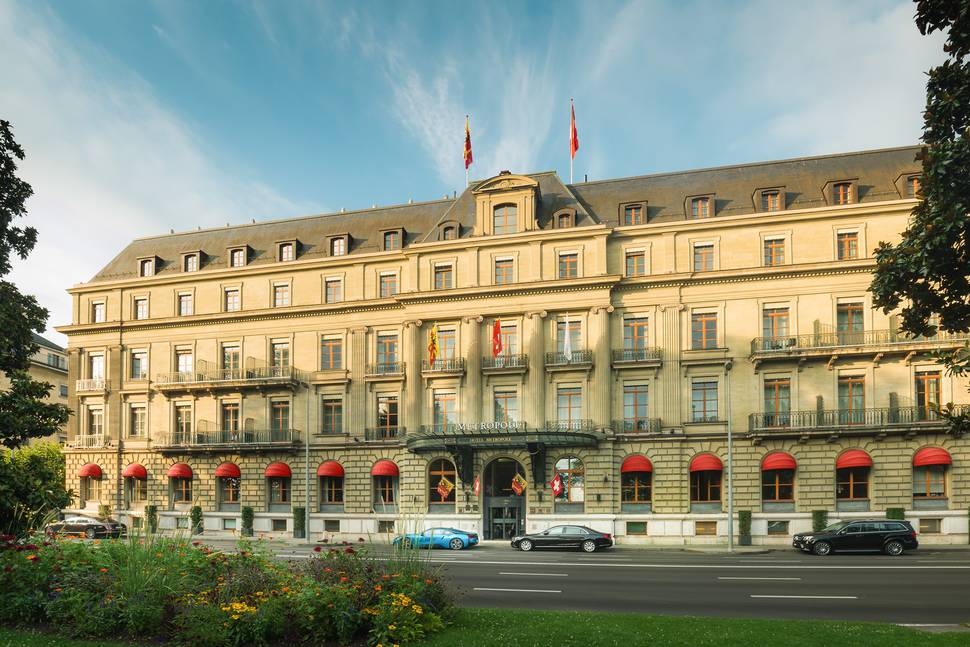 Beyond the supreme breakfast experience, a feast of dining options can be enjoyed, whether you're staying in-house or not. Head to the Mirror Bar for all day dining and cocktails, the glamorous rooftop experience at 5 Lounge Bar and inventive Italian cuisine with a French twist at Gusto.
I enjoyed Gusto's Sunday buffet lunch, which is a smash-hit, swooned over by visitors and locals in equal measure. Hotel Metropole is a proud member of Preferred Hotels & Resorts.
* For the best deals and seasonal specials, check out the iPrefer app, which includes member rates and rewards, or book direct at preferredhotels.com