Stephanie Holmes sails away from the crowds on a small ship cruise
The welcome is as warm as the late afternoon sun as we sail into the small Croatian town of Opuzen. As the crew expertly manoeuvre the ship alongside the river promenade, two men in matching breton-striped tops and caps in the colours of the national flag sing John Denver's Country Roads while playing accordion and guitar. A group of locals sporting the same uniform have set up a table laden with baskets of dried figs and bottles of rakija, a potent fruit brandy. A number of Opuzen's townsfolk have turned up to witness our arrival, bringing their cameras and their babies to wave and stare.
Later, the local children will use our aft deck as their own personal diving board, doing bombs into the river's clean waters and giggling as they watch us try to do the same.
This personalised greeting is a stark contrast to the bustle of Split, where we spent our first night after arriving in the country; to Sibenik, where our Peregrine Adventures cruise began; and to Dubrovnik, where our journey ends.
There, thanks to the massive increase in tourism in the past 10 years, the picturesque old towns are crawling with visitors. Every cobblestoned street sees a confluence of multinational tourists, the air thick with different languages and accents. People jostle shoulder to shoulder with their selfie-sticks and smartphones, trying to get the perfect "natural" shot to brag about to those back home.
In Opuzen, it's different; our group of 30 are some of the only tourists in town. Our ship is small enough that it can easily navigate the neretva river, heading 12km upstream from the adriatic sea to this friendly town close to the Bosnia-Herzegovina border. It's a world away from the cruise liner-laden towns along the coast.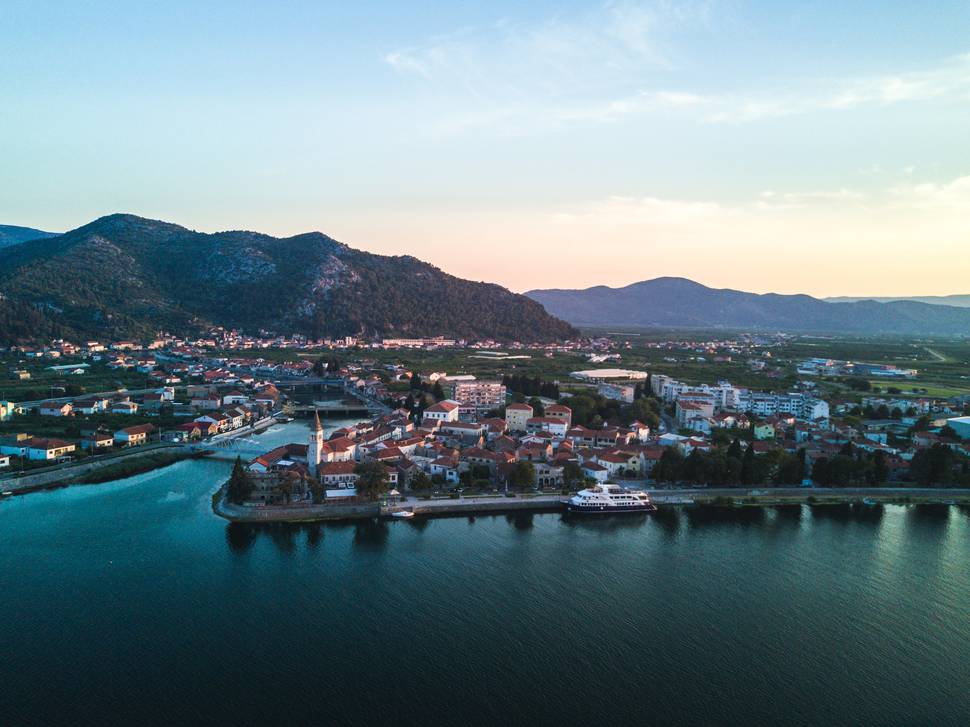 Adventure Cruising is a new venture for Peregrine, with the first season of Croatia itineraries taking place over this year's northern hemisphere summer. There are also trips available in Iceland, Cuba, Greece, Spain and the Seychelles, with 2018 bookings already selling fast and plans to expand into other territories.
"The idea was that we'd always been a land operator, we'd run small group adventure holidays in 120 countries for 25 years," says Darrell Wade, co-founder of Intrepid Group, of which peregrine adventures is one of eight brands.
"Obviously we were good at that. But you look around and arguably the fastest growing sector in the travel industry over the past 20 years has been cruising."
Intrepid wanted to explore ways into the cruise industry, without sacrificing their signature style — small groups, off-the-beaten-track locations and a focus on sustainable tourism.
Wade says big ship cruises are "the antithesis" of what intrepid does, but they knew there were aspects of cruising that would also appeal to their travellers.
"Being at sea, the fact they can get on board, unpack and go to different places. They're not stuck in the same place but they're not constantly having to pack their bags, hop on a transfer, go to a train station ... It's a very easy, relaxed way to see multiple places."
Adventure cruising aims to be "a premium cruise without the premium crowds", with a strong focus on the destinations and not just life on board the boat.
The Croatia Coastal Cruising itinerary takes us from Sibenik to Dubrovnik, cruising the Adriatic's salty waters onboard the Royal Eleganza, a 40m small ship, purpose-built in 2012. Stops along the way include Split, Hvar, Korcula and Bosnia's Mostar, with guided tours at each destination, as well as time to explore under our own steam.
The ship's size means it can go places the big cruise liners — now a common sight in Split, Korcula and Dubrovnik — can't reach, such as Opuzen and its welcoming locals.
Time off the boat is actively encouraged. As well as organised walking tours and group excursions to wineries and lavender farms, there is plenty of free time taken into account so we can make our own choices about where to eat dinner or have evening drinks.
This is an important concept for Peregrine Adventures, and Intrepid Group as a whole. The more time you have at a destination, the more money you're going to put into the local economy. Cruise passengers tend to be reasonably frugal when in port, with most opting to go back to the ship for the meals and drinks that are already included in the cost of their holiday.
Although this is good for the visitors' budgets, it's not so good for the tourist destinations.
"Locals call them 'icecream tourists' because they only spend money on getting an icecream in town," Wade says.
"That's pretty appalling isn't it? They come in, they're there for three, four, five hours and all they spend is a couple of euros on an icecream."
It's understandable, of course — holidays are a luxury to most people, who save long and hard for their couple of weeks away from home, and want to make their dollar stretch as far as possible.
"From a customer perspective, it is a cheaper option to stay on the ship," Wade agrees.
"But is that a better option in terms of the destination you're travelling to? Is it a better option in terms of your experience of the destination? They're the different questions to ask."
Tourism is now Croatia's main industry with businesses growing 121 per cent in 10 years, and visitor numbers in 2016 topping 16 million. This year looks sets to be even stronger.
The change must be hard to fathom for Croatia's older generation, who have lived through the Communism years when few outsiders came, to the Yugoslav war years where no one came at all, to now, where everyone is coming. The country features regularly on "world's best" lists, Game of Thrones tourism is at its height, and cities like Dubrovnik are facing similar problems to those of Venice.
With its tightly woven laneways and compact houses within the old city walls, Dubrovnik has limited space to move, and limited accommodation to offer. Residents are moving out of their homes to make more room for the tourists, irrevocably changing the structure and feel of the city.
But where the tourist hotspots are overrun in summer, in winter they are far quieter. Many local businesses and operators work seven days a week from April to October, then shut up shop for the winter until the crowds return. For them, tourist dollars are essential.
Peregrine's new cruise product aims to support tourism in a responsible way — spreading out visitors to different ports and towns, rather than just the heavy hitters. All trips are also carbon offset — Intrepid Group has been carbon neutral for seven years.
"From a sustainable point of view - pure sustainability, environmental sustainability — [small ships are] arguably not that much better," Wade says.
"There are things to work through, like fuel standards and things like that.
"But where I think there can be a dramatic difference is in terms of a responsible tourism attitude, where you spread load. We should be going to smaller towns where you can go and eat at a small local restaurant and you're leaving money behind in the local community. I think you've got to make a point of spreading that capacity."
Although it's good to know we're travelling responsibly, that's not the only benefit to this itinerary. It's also damn good.
The ship is comfortable and spacious, with plenty of areas for lounging in the sun, being sociable with other guests, or finding your own space to meditatively watch the Croatian islands drift by.
Although we get to see the must-do destinations of Split and Dubrovnik, we also enjoy off-the-beaten track adventures, like a picturesque lavender farm in the hills of Hvar island, and the best meal of the trip at Konoba Mate, a small family-run restaurant in Pupnat village on the idyllic island of Korcula.
Crowds are the last thing we have to worry about at swimming spots along our journey. In between sailing from A to B, the captain finds secluded bays where only a few sailboats and small yachts can anchor, and we dive from the boat into the translucent waters. There's no way of describing the sea without descending into superlatives, suffice to say, the colour of croatian water is what azure and turquoise aspire to be when they grow up.
"If you are in Croatia and you haven't swum in the Mediterranean Sea, you haven't really been here," Milan Manger, our tour leader and Split local, says.
"Our sea, we think of it as a medicine, it's a cure. Anything that hurts, your doctor will always say to you 'go swim in the sea' because it heals. It does all kinds of good stuff to you."
I take his advice and spend hours jumping off the boat, dreamily floating and then climbing back on board to bask in the sun, crunching watermelon with the smell of pine trees in the air.
As we sail leisurely between destinations there's a sense of peace and tranquillity on board. Guests read books, nap in the sun, watch the passing Adriatic islands; often the only sounds are the swish, swish, swish of the ship cutting through the waves and the occasional turn of a page.
Pulling up at a new port each afternoon, Milan and co-leader Dinko Pervan lead us on familiarisation walks, or leave us in the safe hands of local guides who teach us more about the extensive history of the old towns and their beautiful rabbit-warren streets.
"Every town is different," Milan says. "There are more than 1000 islands and hundreds of little towns and each has a history that is amazing. We've lived through Venetians, Turks, Austro-Hungarians, Romans ... You name it, we've been through those eras. Travelling through these towns you learn a lot and you see the history. You should see all of them if you want to do Croatia justice."
Our last day on board arrives far too soon, with none of us ready to return to the pace of everyday life. Many of the ship's Australian and Kiwi passengers are continuing on to other European destinations after they disembark, making the most of the epic journey to the other side of the world and the chance to escape our winter.
After disembarking, I have one last day in Dubrovnik before flying home, and I spend it at as leisurely a pace as I can manage. I stay in Lapad Bay, a resort town about 10 minutes' bus ride from the old city, with a vibrant beach scene.
Enjoying the last summer sun I'll see for a while, I squeeze myself into a gap on the busy pebbled beach, between a screaming toddler and two verbose italians. Music is blasting from a nearby bar and I'm routinely splashed as people scrunch their way over the stones to and from the sea.
Across the port on the other side of town, two huge cruise ships are docked for the day, disgorging another few thousand visitors to the already overwhelmed town.
I long for the peace of the Royal Eleganza and its gentle afternoons at sea.
CHECKLIST
Getting there: Qatar Airways flies from Auckland to Doha, and onward to more than 40 european hubs, with connecting flights with partner airlines to Split, Zagreb and Dubrovnik.
Details: See Peregrine Adventures' 2018 adventure cruising holidays are on sale, with itineraries including croatia's central coast. Prices start from NZ$1768 per person twin share for an eight-day adventure cruise in the Greek Islands.