A Kiwi pilot is saving lives at high altitude, writes Leila George.
New series Everest Rescue follows an elite band of helicopter search and rescue pilots, saving injured and at-risk climbers and sherpas on this dangerous mountain. One of these pilots is Kiwi Jason Laing, a veteran who learnt to fly in the Southern Alps. Last year he won the Helicopter Association International's Pilot of the Year award for his rescue and recovery efforts following the 2014 Nepalese icefalls and the tragic 2015 earthquake. He has also won the Nepal Mountaineering Association's Kumar Khahga Bickram Adventurous Award and the FAI (World Air Sports Federation) award for Outstanding Airmanship.
Laing has been in the Himalayas for five years, mostly during the busy Everest climbing season of April and May. The rest of the year he's based in Queenstown, with his fiance and 1-year-old daughter, where he flies for helicopter skiing and scenic tour companies.
"The mountains in the Himalayas are the highest mountains in the world and it's very challenging," Laing says. Luckily he has had some great experience to build on - not only from his work in the Southern Alps, but also in Australia, Northern India, and Antarctica.
"I was lucky enough to work for three seasons in Kashmir at the top of India. I was heli-skiing there about eight years ago and a lot of my friends over there were the guides who work on Everest," Laing recalls. "It was suggested I go there and give it a go. It's become such a big part of my life now."
Everest Rescue follows Laing and his fellow pilots, from America, Nepal and Switzerland, in high stakes - and often highly dangerous - rescue missions. One of Laing's biggest rescues comes in the second episode, where he is called to save a climber fighting for his life in Everest's Death Zone. The extreme altitude means he's just out of the helicopter's reach, so the team must bring the climber lower down the mountain to enable Laing to fly to the world's highest landing spot.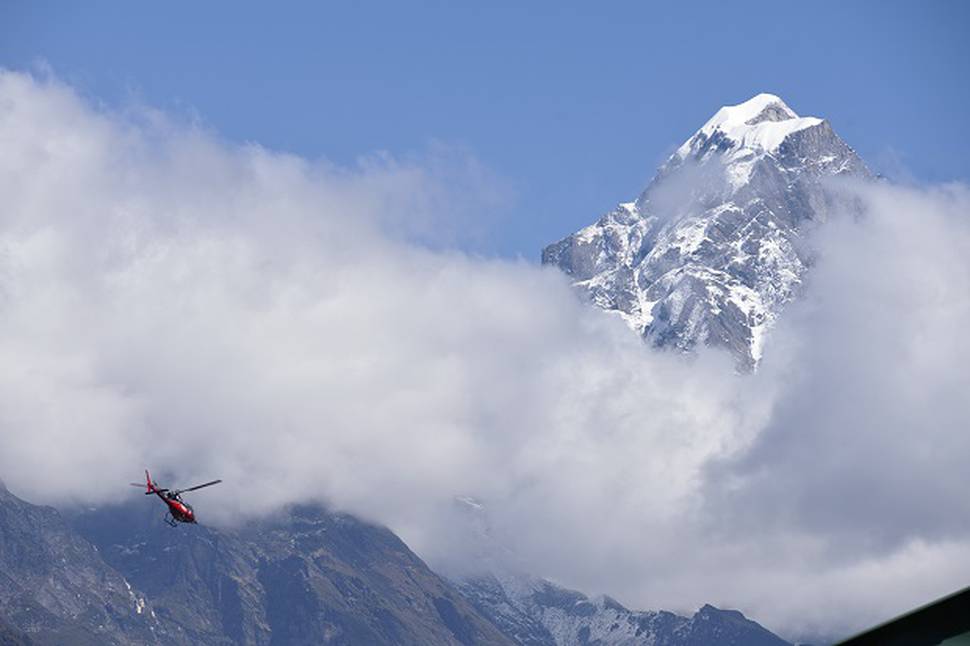 Despite his awards and expertise, Laing is a typically humble Kiwi when it comes to his work.
"I'm only one link in the chain. When it comes to doing high-altitude rescues there are a lot of sherpas working in the background . . . I'm on standby a lot of the time, but if something big goes down, we'll assemble a rescue team and we swing into action."
Not all situations are life or death - often they're what Laing calls "retrievals" rather than rescues. "A trekker may have been pushing a bit hard and they get altitude sickness.
While they're descending they try to sit it out and we have to retrieve them and get them to a lower altitude. That's probably the most common of all the rescues we do."
As well as showcasing the important work the team is doing, Laing also hopes the series shows what a desirable destination Kathmandu is for Kiwi travellers.
"It's great. I have spent a lot of time cruising round Kathmandu and going around the tourist areas like Thamel.
There's lots of shops, the nightlife's pretty good too, there's lots of restaurants and bars, temples and lots of scenic stuff.
"I really encourage all New Zealanders to get over there, there's something that caters for everyone.
"It's not all about climbing Mt Everest; there are so many good trekking routes.
Certainly Everest is dangerous and has all those elements of extreme altitude and changing weather and it's cold, but I just hope the general public can look at Nepal and go 'wow, that's a place I want to travel to'."
Not only would visitors be ticking off a pretty epic entry on their bucket list, he says, they would also be helping support a community still getting back on its feet after the massive 2015 earthquakes.
"Go to Nepal and experience the people, the trekking and the villages. That's the best way we can support Nepal. After the earthquake, they need to get people back there doing stuff. That just helps everyone."

Everest Rescue premieres on the Discovery Channel, Tuesday, 8.30pm.