Friends in the force escort Sue Hoffart through the guts of picturesque and, sometimes, mind-boggling Vancouver.
Less than 24 hours after landing in Vancouver, we are being tailed by two cops.
They are right behind us when we cycle round the sea wall of vast Stanley Park. They're alongside us in the disused morgue and amid Chinatown's jars of unidentifiable dried critters.
And you can bet they're forming a protective flank as we skirt the drug deals and wasted bodies that line the coastal Canadian city's seediest, scariest skid row.
The latter exploit - walking down East Hastings St with two boggle-eyed Kiwi boys - won't make it on to every family's holiday wish list and certainly doesn't feature on tourism websites.
Fortunately, the trailing police officers are off-duty friends showing us their home town. And boy, do we like their town.
Our brush with the city's underbelly is a one-off. The rest of our three-night stay takes us along streets that are remarkably clean and safe.
Vancouver is a ridiculously picturesque city, with its backdrop of snow-crowned mountains and generous green spaces between shiny glass towers.
Seaplanes circle over a harbour buzzing with ferries and yachts, as cruise ships expel summer tourists into a habitual collector of "world's most liveable city" accolades.
About 600,000 people - 2.3 million in greater Vancouver - reside in the astoundingly environmentally-conscious urban centre, which is strewn with hybrid cars and bike racks on buses. Even our five-star waterfront hotel composts its kitchen waste and has a resident beekeeper to care for the hives on its patio herb garden.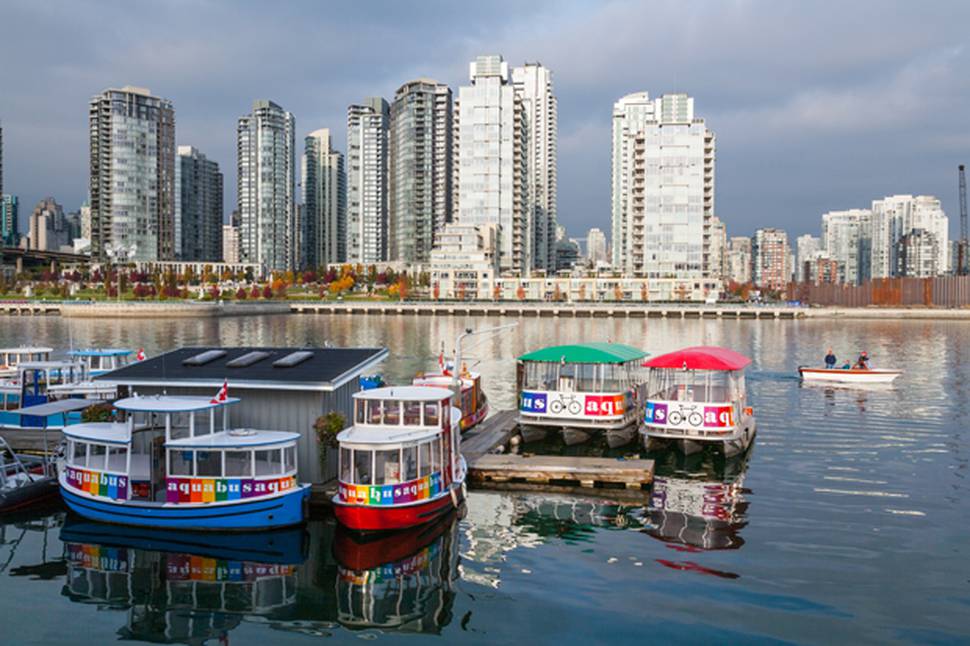 The 13-hour direct flight from Auckland arrives at a sensible hour and, after one good night's sleep, we're ready to tear into an assortment of wholesome pursuits, including an educational address at the aquarium, an enlightening canoe trip and a string of excellent museums.
For now, though, we are in the company of our favourite police sergeants Chris Borgstede and Fran Lum. And experience tells us to expect boy-friendly adventures and unlikely cultural insights.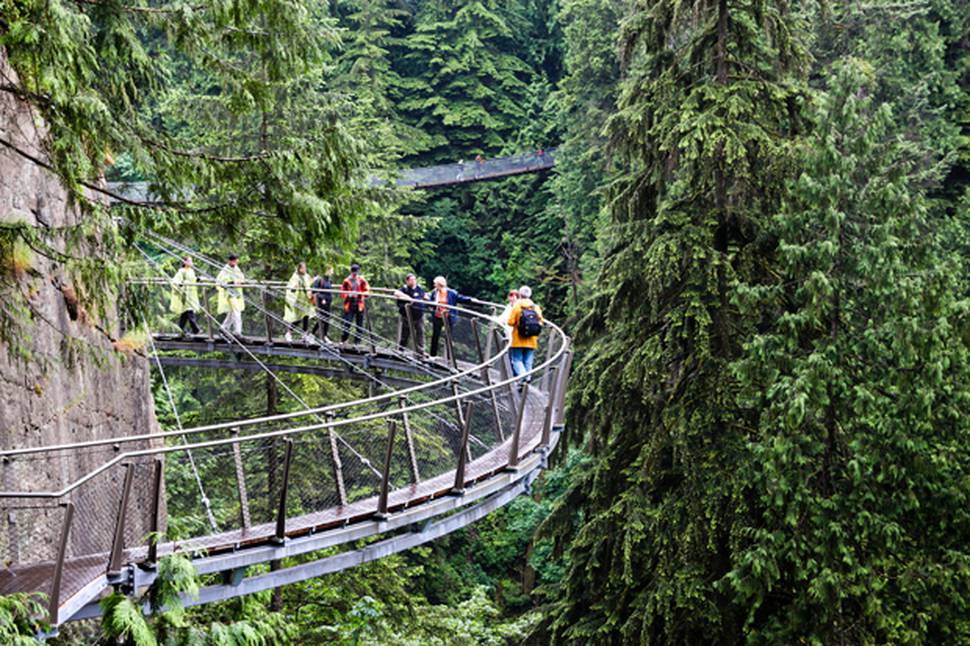 This is one of the joys of having a foot in each country. Thanks to my Canadian-born husband Marty, who grew up with Chris, our sons, Jake, 12, and Tom, 9, have been travelling to their dad's homeland since they were babies.
On our last trip to Vancouver, Chris had the boys stash vials of explosive ingredients - Semtex, C4 and the like - around his yard, as a hide 'n' seek training exercise for the resident bomb-sniffer dog. Franny recalled the time she used black jujubes to darken her teeth for an undercover job.
This trip, all six of us uncover gory stories inside the city's small, intriguing police museum, which occupies the former mortuary and coroner's court.
We slide open metal compartments that once stored bodies and urge each other to read gruesome newspaper accounts of murders and view an alarming assortment of weapons.
Once we've had our fill of gore, the boys beg Franny to use her Chinese heritage and guide us through Chinatown. En route to the migrant population's historic precinct, the revitalised Gastown district flaunts its souvenir shop dreamcatchers and bear skins that give way to edgier, funkier boutiques and eateries.
As the stores become increasingly exotic and signage sprouts Chinese characters, Franny dutifully interprets and intrigues us. Those monstrous Alaskan king crabs are delicious. The dried things on sticks are geckos. This tin of tea costs $100. She emerges from a couple of stores with bags of fresh lychees, hot-pink dragon fruit and boxes of flaky pastries that we devour on the street.
She also tells us that Chinatown businesses are suffering as modern Asian malls spring up in the neighbouring Richmond district, where roughly half the population is Chinese.
Our walk on the wild side begins nearby. At the corner of Main St and Hastings St, dubbed "pain and wastings" by locals, Chris and Franny agree to take us "down there" if we follow strict safety instructions. And so our comparatively sheltered middle-class boys receive a shocking, up-close encounter with the ugly effects of drug abuse.
The memorable life lesson is amply supplemented with more palatable ones.
At Richmond's extraordinary International Buddhist Temple, we all learn to bow three times and light incense before venturing into a parallel universe inhabited by monks and enormous gilded statues.
The boys ride the skytrain and commuter ferries, then board an Arctic schooner inside Vancouver Maritime Museum. And they wield painted paddles to propel a canoe into the Burrard Inlet, as a First Nation guide serenades them with traditional songs and stories.
As for dining, you can forget any cliched notions of cops and doughnuts. Dusk finds us inhaling the smoky, spice-laden air of Richmond Night Market with our crime-fighting duo.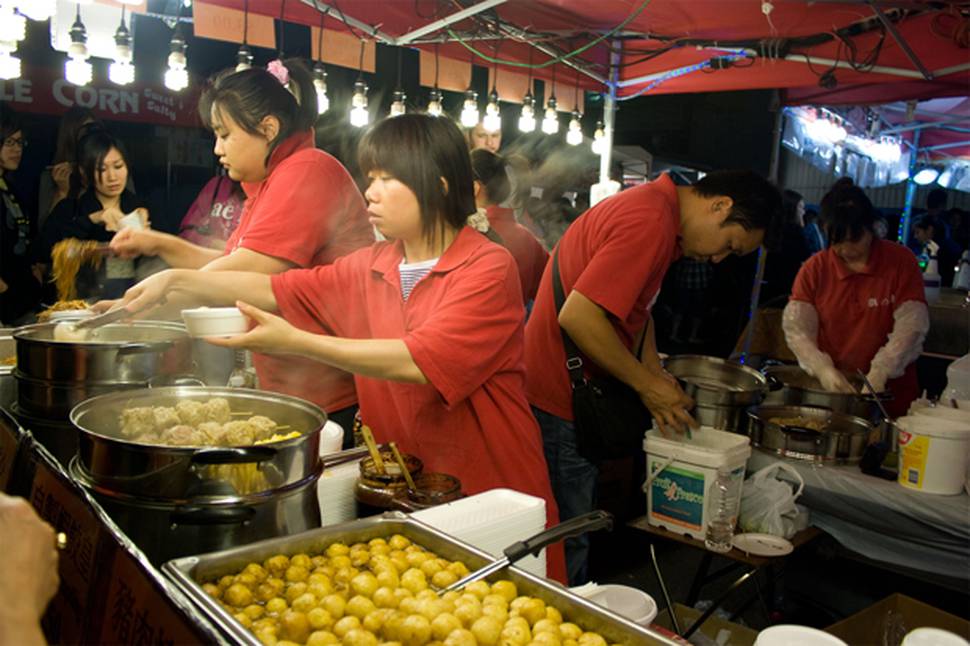 The market looks, smells and feels like Asia. On a single weekend night, more than 25,000 people can pour through the gates to haggle over fake iPods and sample fried octopus and curly, salt-drenched hurricane potato fries on a stick.
The Kiwi boys have never seen anything like it and gleefully unload their Canadian loonie and toonie coins at market stalls.
Vancouver is definitely more fun with police pursuers.
Family-friendly Vancouver attractions
Just 15 minutes from downtown Vancouver, Grouse Mountain is worth a visit in any season. In winter, it's paradise for skiing, snowboarding, ice skating and snowshoeing. In summer, there are hiking trails suitable for varying abilities. Year-round, there is a lumberjack show, great views from the Peak Chairlift, and the chance to observe the mountain's two resident grizzly bears, Grinder and Coola, at Breakfast with the Bears.
Science World at Telus World of Science
Fun for adults and kids, Science World has interactive displays and demonstrations, feature exhibitions, a planetarium and the Omnimax, the largest dome screen in the world (five storeys high and 27m in diameter).
Kids Market at Granville Island
Hop on the colourful Aquabus to get to Granville Island, a cultural district with theatres, craft studios and workshops. The Kids Market has toy shops, family-friendly eateries, The Adventure Zone, a four-level play area, and Circuit Circus, an old-fashioned arcade. There's a free water park in summer, and every May, the Kids Market is also the home of the Vancouver International Children's Festival.
Capilano Suspension Bridge Park
This park is home to the Capilano Suspension Bridge, Treetops Adventure and the Cliffwalk. The suspension bridge is 137m long and 70m high, and has been a Vancouver landmark since 1889. While the death-defying heights of the Cliffwalk might be better suited to older children and teenagers, Treetops Adventure is a safer bet for younger kids (or faint-hearted adults). Go early to beat the queues.
Opened in 1975 and home to more than 200 domestic animals and birds, this former 2ha working dairy farm is an enjoyable, interactive experience for younger kids and animal lovers. Likely to be more attractive to urban-dwelling children.
This impressive natural history museum is located at the University of British Columbia. Highlights include a 26m complete blue whale skeleton, and a 30m timeline detailing Earth's 4.54 billion-year history, which takes a close-up view of the last 500 million years.
Vancouver must-dos
*
Take the two-hour paddle trip with
and their engaging First Nation guides.
* Bike through 400ha Stanley Park. Look for a seafront swimming pool, squirrels and sandy beaches, berries growing wild and gloriously ghostly beluga whales at the aquarium.
* Visit Vancouver Police Museum for gory, crime-related thrills.
* The University of British Columbia's Museum of Anthropology showcases Canada's native cultures but is equally attentive to indigenous people around the world - rooms and touchscreens stocked with fascinating exhibits.
* The architecture, the traditional garden and the 10m-high Buddha statue at Richmond International Buddhist Temple all help transport visitors a long way from a North American.
* There's a low-key, old-fashioned charm about the very child-friendly Vancouver Maritime Museum. And getting there is half the fun if you take one of the overgrown bathtub boats in the Aquabus fleet.
* Richmond now has two competitors in its bid for night market custom: Pandamarket and Richmond Night Market.
CHECKLIST
Getting there: Air New Zealand flies up to five times a week non-stop to Vancouver from Auckland.
Details: For more on activities in Vancouver, see tourismvancouver.com.