During the northern winter, storms in cold, scary places of the North Pacific generate swells that march thousands of kilometres across the ocean to warm and pleasant Hawai'i.
The volcanic Hawaiian islands don't have a continental shelf, so these super-powered pulses of water don't slow up much before they hit the lava reefs just off beaches where they rear up and produce some of the finest waves on the planet.
In December every year the best surfers in the world head for the North Shore of Oahu to take on these ocean giants in a series of contests, culminating in the most famous of them all, the Pipeline Masters.
I'd long wanted to be there after decades of being interested in the sport, and, after watching a thrilling finish to the world title competition at Pipe live on TV a year earlier, my wife Estelle and I were galvanised into action - we started booking and saving.
What we saw from the beach on the penultimate day of an even tighter race for the world crown was one of the most enjoyable, exciting days of sport we could hope for.
We'd arrived in Hawai'i the day before, hoping the competition would last further into the week when we were moving into a rental house with our teenage kids not far from Pipeline. But a quick check of the surf forecast showed swell was hitting the next day, it was unlikely to last long and contest organisers would be in a race to get the event done.
So we ditched plans for a quiet day in Honolulu and hired a car to drive to the other side of the island.
In our own pre-dawn surf mission we hit the road and found our way out of the city.
We knew we were in the money when, as dawn was breaking, we drove past the Dole pineapple plantation and saw white water from waves far off the North Shore coast.
Thousands flock to a good contest day but following a 90-minute drive we mainly beat the crowds and easily enough found a park for US$10 ($15) in a friendly local's front yard with Pipeline a short walk away.
And there we were, in a place of dreams: a golden sand beach fringed by palm trees, the vivid blue ocean throwing up 3m waves groomed hollow by the warm trade winds.
They break on coral-encrusted lava, pocked with caves and over sections of the reef less than a metre beneath the surface. It's known as the most dangerous wave in the world. Surfers have drowned and suffered horrendous injuries there. Waves breaking not much more than 100m off the beach give a gladiatorial feel to the place.
The pressure is on to take off as late as possible on the biggest waves to earn maximum points.
On the the day we were there, Australian Bede Durbidge - a former Pipeline champ - needed to be rescued by the water patrol after a horrendous wipeout that broke his pelvis in two places.
But mostly the elite make it look effortless, masterfully carving up these waves that commentators described as "scary and sketchy".
We saw Hawaiian surfer Sebastian Zietz score a perfect 10 when he emerged from what looked like an utterly unmakable barrel, and watched 11-time world champion Kelly Slater battle three-time champ and shark-attack survivor Mick Fanning and in-form young local John John Florence.
It was called the heat of the year and there was a massive roar and hoots from the 2000-3000 on the beach when Slater free-fell down the face of massive wave at Backdoor wave (it breaks right while Pipeline proper breaks left ) and emerged from a deep tube ride.
His score fell just short of heat-winner Fanning's, whose performance was all that more remarkable as, unknown to nearly all at the beach, he had learned that day of his older brother's death.
The action is so close you get a good view without binoculars and if you've got a half-decent camera can get some good shots of surfers in action and preparing for their heats.
Before they go out, most competitors drop down from the beachfront sponsors' houses and politely pick their way past you as you sit on the sand, but when they put on that contest jersey and are surrounded by chunky take-no-prisoners "protection specialists" they look every bit giants of the sport.
It's free to watch and there was a real mixed crowd on the beach: plenty of silver surfers of both genders, raucous Brazilian fans, hard-core Aussies, more laid-back Hawaiians, true tourists looking a bit lost and many younger folks in much better shape with good tans and not self-conscious about showing them off.
It was a nice vibe at Pipeline that, according to surfing lore (which can be kinda fuzzy) got its name from the first mainland US surfers to successfully rode the wave in 1961. They noticed a stack of concrete pipes being used for building a road nearby and the name stuck.
The beach announcer added to the atmosphere with a lot of information going out first to locals to clear the contest zone just before the competition started, contestants in the water, photographers straying too close to action in the surf and regular (and very valid ) warnings to spectators on the beach to beware of waves surging up the sand.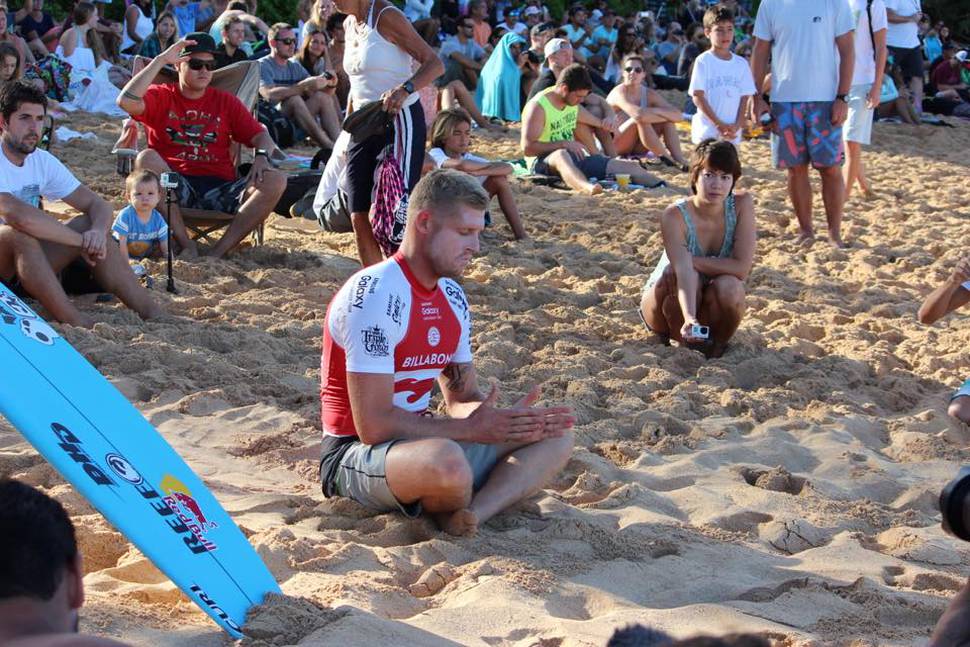 We didn't make the final day as we were picking up the kids from the airport. In dropping surf our favourite, Mick Fanning, had his run come to an end and hardworking Brazilian Adriano de Souza took the world title.
But we felt as if we had had the best of it - epic waves, great weather and spectacular surfing.
You get a pretty good view of the world tour from your couch these days through live streaming and pay TV but there was nothing to beat being there with our toes in the sand.