It's almost hard to remember all the bad things Nick Kyrgios has done for tennis in the past 30 months.
Living up to his fabled nickname - "Nick the Dick" - we take a look back on all the mutiny that is Nick Kyrgios.
Wimbledon 2015: Dirty Scum
On the opening day of Wimbledon two years ago, Kyrgios appeared to call an umpire "dirty scum" under his breath during his round-one win. Afterwards, Kyrgios said he was talking to himself, adding "it wouldn't bother me one bit if they fine me".
Umpire Blues
After Kyrgios brought complaints from a line judge for obscenities, the Canberran took aim at the official asking, "Does it feel good to be up there in that chair? Does it make you feel strong?"
'Tanks' Against Gasquet
Having won through to the fourth round at Wimbledon for the second-straight year, Kyrgios faced Richard Gasquet but gave up several points on the Frenchman's serve to face allegations of tanking.
"Of course I tried," he said.
"There was a lot of ups and downs. It was a tough, tough time, especially when he's not missing any balls ... I feel as if I'm playing not how I should be playing. I'm angry at myself."
July 2015: Turning on Rafter
Kyrgios turned to Twitter in support of compatriot Bernard Tomic, taking offence at comments from Tennis Australia performance director Pat Rafter.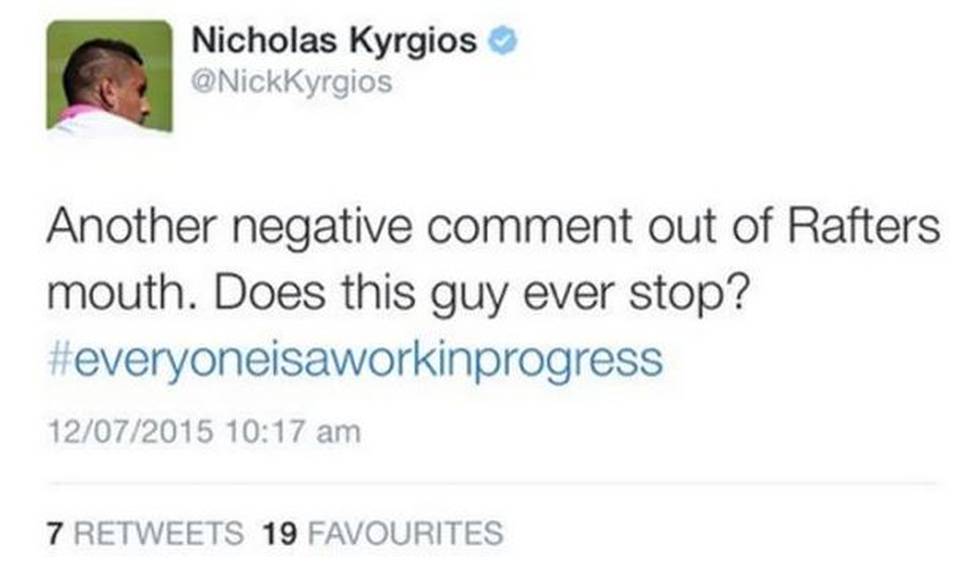 "Another negative comment out of Rafters mouth. Does this guy ever stop? #everyoneisaworkinprogress" he tweeted before deleting his post.
Montreal 2015: Slandering Stan
On the way to a second-round defeat of French Open winner Stan Wawrinka, Kyrgios dropped a bombshell between points, saying "Kokkinakis banged your girlfriend. Sorry to tell you that mate" into a courtside microphone.
In an on-court interview after the win, Kyrgios' explanation was less than convincing.
"He was getting a bit lippy with me. (It was) kind of in the heat of the moment. I don't know. I just said it."
French Open 2016: Unbelievable Bias
During a tense first-round win, Kyrgios was hit with a questionable code violation call for shouting too loudly when requesting a towel from a ball boy. He responded by waging a war of words with respected chair umpire Carlos Ramos.
Kyrgios accused the experienced umpire of "unbelievable bias" and said the decision was "f**king bulls**t".
He took exception to being issued a "rough" penalty when only a week earlier world No.1 Novak Djokovic escaped without sanction despite grabbing the arm of umpire Carlos Bernardes and pushing him away.
"I think we all know in this room if that was me that did that, it would be an absolute circus."
Wimbeldon 2016: Double Fine
Kyrgios earned a $US2500 ($NZ3,506) sanction for swearing during his first-round win over Radek Stepanek. He also raised the ire of umpire Mohamed Lahyani during the match, believing he was being singled out after he was handed a code violation for unsportsmanlike conduct.
"What did I say?," Kyrgios said repeatedly.
"So you're telling me every single person that has said that in this chair has got a code violation?
"You are telling me that? In the history of tennis? Every single person? You tell me that. That's rubbish."
Two days later, Kyrgios copped $US4000 ($NZ5609) fine for swearing in his second- round win over Dustin Brown.
US Open 2016: Weed's Okay
Asked if tennis players are allowed to smoke marijuana on tour during a Q&A with his Twitter followers on the eve of his first-round match at the US Open, Kyrgios offered up a simple "yep". He escaped sanction.
During the same Q & A, Kyrgios also teased that he would walk away from tennis - at just 21 - if he won the Open.
Shanghai Masters 2016: That's Not Professional
Days after winning his third title of the year in Japan, Kyrgios was accused of unprofessional behaviour by the umpire in a 48-minute second-round loss to Mischa Zverev at the Shanghai Masters.
Kyrgios argued with spectators after appearing to put in no effort during various stages of the match - even walking to the change of ends before one of his opponent's serves had landed.
Chair umpire Ali Nilli told Kyrgios: "You can't play like that, OK? That's not professional ... this is a professional tournament, we have to act professional and play with your best effort the whole time."
The Australian was banned for eight weeks by the ATP - effectively ending his 2016 campaign - and fined a further $32,000 on top of his initial $22,000 fine.
US Open 2017: 'This is a joke'
An injured and frustrated Kyrgios crashed out of the US Open with a drama-charged first-round defeat to fellow Australian John Millman. Early on, Kyrgios repeatedly berated his courtside box for apparently not being vocal enough in their support of him.
Umpire Carlos Ramos issued a code violation against him after a linesman reported the 22-year-old swearing.
Strictly, he did but the penalty seemed farcically harsh, with Kyrgios merely remonstrating with himself in exasperation on his way to a changeover.
"I didn't swear. You can't give me a code. You don't even know what I said," Kyrgios said.
Ramos said he believed Kyrgios.
"But I need to believe him too," the umpire said. "I cannot repeat what he said you said."
"Man, this is ridiculous. What is this? This is a joke," Kyrgios added before going on to drop serve again to hand Millman a two-sets-to-one advantage.