Military grade software is being used to track down British Royal Air Force gunner Corrie McKeague, who seemingly vanished into thin air during a drunken night clubbing with friends.
It has now been four months since the 23-year-old Scot disappeared from the small town of Bury St Edmunds, Suffolk, in Britain's southeast and the mystery of what happened to him has deepened with each passing day.
Intense media scrutiny of the case has drawn out bizarre details of his lifestyle, which included regular swinging sessions and predilections for S & M and transsexuals (though not necessarily together).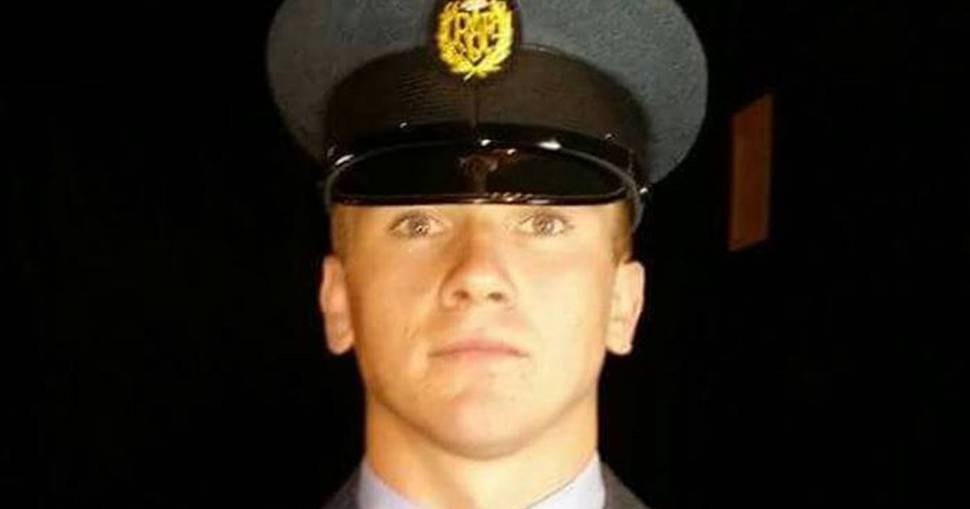 In a tragic twist, McKeague's 21-year-old girlfriend April Oliver revealed she discovered she was pregnant with his baby two weeks after he went missing. The couple enjoyed an open relationship and had profiles on several swingers' sites.
There has been speculation the young man vanished after arranging to meet someone for casual sex, possibly getting picked up in a car.
According to police, it should not have been possible for McKeague to leave Bury St Edmonds without being caught on one of the town's numerous CCTVs. But that is exactly what appears to have happened.
McKeague was last seen on CCTV at 3.20am on Saturday, September 24, 2016 entering a cul-de-sac loading bay area known as the "Horseshoe".
Investigators say there is no way the young serviceman could have left that particular area on foot without being captured by CCTV cameras. However, no further sightings of him were recorded.
So they started looking for vehicles he could have been bundled into - either by force or voluntarily.
RUBBISH TRUCK CLUE
Police seized a rubbish truck that was in the area at the time of McKeague's disappearance after data from Corrie's mobile phone showed the device mirror the truck's movements.
The analysis showed both the phone and the truck had travelled from Bury St Edmunds to the Barton Mills area - where there is a landfill site - from 3.24am to 4.30am. The phone was moving at a speed only a vehicle could achieve.
Police seized and searched the truck but found no trace of the phone or McKeague. They also found that it was carrying a load weighing less than 15kg during the relevant window of time, leading them to conclude he could not have been in the vehicle.
But the missing man's uncle Tony Wringe claims police have failed to exhaust the rubbish truck line of inquiry, saying other refuse vehicles in the area were not searched.
Crucially, a landfill at Barton Mills where McKeague's body may have been dumped, has yet to be searched, he said.
"There's all these other bins that were collected by other vehicles within two to four days after Corrie's disappearance," Wringe told Sky News.
McKeague's mother Nicola Urquhart, 48, is a serving police officer who has also criticised police working on her son's case.
As a result, the family has hired a team of private investigators with "elite military backgrounds" to collate and analyse information using specialist technology. The investigators, have a background of supplying information to special forces in war zones like Bosnia, Iraq and Afghanistan, according to The Mirror.
Their services have been paid for out of an online crowd-funding venture which has raised more than £50,000 ($87,000) from donors worldwide.
TIMELINE
Friday September 23, 2016:
Corrie drives to Bury St Edmunds for a night out with friends. He's wearing a distinctive pink Ralph Lauren shirt with white trousers and brown Timberland boots.
Saturday September 24, 2016: Corrie separates from his friends in the early hours of Saturday after leaving Flex nightclub, St Andrews Street South.
He orders two burgers, a kebab and chips from his favourite takeaway, Pizza Mamma Mia, on St Andrews Street North, and appears happy as he plays rock, paper, scissors with a stranger.
1.20am: Corrie walks past a CCTV camera opposite The Grapes Pub on the corner of Brentgovel St and St Andrews St. Footage shows him tucking into his food. He then takes a two hour nap in the doorway to Hughes Electrical Store at the junction of Brentgovel St and St Johns St.
3.08am: A friend receives a picture message from Corrie. At the time the message was received Corrie is not seen on CCTV using his mobile phone, therefore investigators believe it could have been sent at anytime during the night.
3.24am:
Corrie gets up from the doorway, walks past the St Johns St junction and down a path way towards Cornhill Walk.
3.25am: Corrie turns right into a loading/refuse collection area behind the Greggs shop. This is the last confirmed sighting of Corrie. He was never seen leaving this loading area on camera.
Sunday September 25, 2016: No information about Corrie's whereabouts is known during this time.
Monday September 26, 2016: Corrie is reported missing in the afternoon after failing to turn up for duty at RAF Honington.
Tuesday September 27, 2016: The first public media appeal, including a picture, is made by Suffolk Constabulary which hints that Corrie may have been walking home to RAF Honington.
Sunday October 2 , 2016: As the search enters its second week, police release CCTV footage of the last sighting of Corrie. Investigators say there is reason to believe he was in the Mildenhall area at some point between 4.30am and 8am on Saturday, September 24.