Apple has pulled its latest update for its new iOS 8 operating system just an hour after its release, following customer complaints.

The technology giant released the first patch for its new operating system on iPhones and iPads on Wednesday in a bid to fix a series of issues.
Scroll down for instructions on how to revert back to the original iOS 8
However, users who downloaded it complained that they lost phone signal, leaving them unable to make calls. Others said the Touch ID feature, which allows people to unlock their iPhone using their fingerprints, no longer worked.
In a statement, Apple said: "We have received reports of an issue with the iOS 8.0.1 update. We are actively investigating these reports and will provide information as quickly as we can. In the meantime we have pulled back the iOS 8.0.1 update."
The bug is believed to have affected both versions of Apple's new iPhone 6, which were released last week in the UK and US and sold more than 10m units over their first weekend, making them the fastest-selling Apple product in history.
New Zealanders will be able to get their hands on the iPhone 6 and iPhone 6 Plus tomorrow, with prices starting at $999 Both phones are sold with iOS 8 already installed on them.
Apple has been rushing to correct numerous problems with iOS 8, including with its eagerly-awaited health kit, which has seen its release date postponed. iOS 8 crashes 67pc more often than its predecessor, iOS 7, Bloomberg claimed.
Just under half of all Apple devices are already running iOS 8, despite it only being released on September 17.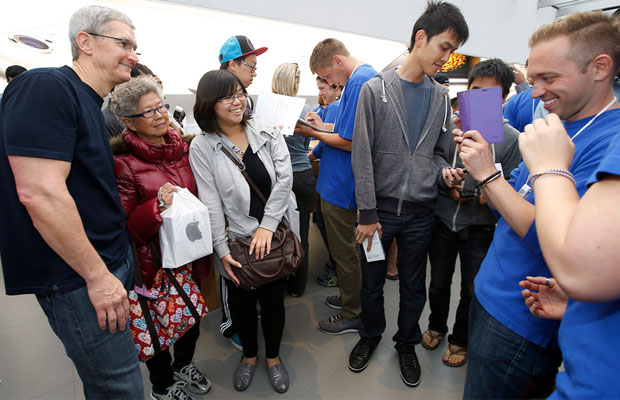 Tim Cook, CEO of Apple takes a photograph with Apple customers at the Apple Store during the launch of the new iPhone 6 in Palo Alto.
According to Apple, 46pc of iOS-enabled devices, including iPhones, iPads and iPods, are running iOS8, while 49pc are running iOS 7 and 5pc continue to run earlier versions.
Adam Satariano, at Bloomberg, said: "The new iOS has about 4,000 new features or so. I think making that work is what developers have struggled with."
Read more:
• The good, the bad and the bendy: iPhone 6 - should you buy it?
• Samsung unveils new curved phone
• Is iOS 8 too big for your iPhone?
The iOS 8.0.1 issue comes just hours after it was revealed that the iPhone 6 Plus was being bent while in users' pockets.
One user posted a picture of his friend's iPhone, which had curved to the shape of his leg. "Put it in his front pocket and it was like this when he took it out after getting out of the car," he wrote on Apple forum MacRumors.
HOW TO REVERT BACK TO ORIGINAL iOS 8
If you have downloaded iOS 8.0.1, here's how to revert back to iOS 8:
Step 1) Download the last available version of iOS 8 as an IPSW file. Apple released one version for the iPhone 6 and one for the iPhone 6 plus. They may take a few minutes depending on your internet connection.
Step 2) Once the file has downloaded, connct you Apple device to a computer and open iTunes. Go to the backup options and select "this computer", then click on "back up now". This will save all your contacts, apps and settings onto your computer. You will need to restore these after installing the IPSW file.
Step 3) Next, if you're using Windows, hold down the Shift key and click the Restore option. For those with OS X, hold down Alt key and select the Restore option in iTunes.
Step 4) Select the IPSW file you downloaded earlier and follow the prompts.
Step 5) Installing the IPSW file will wipe everything from your phone, but now you can re-install everything you backed up earlier. Simply select "Restore Backup" in iTunes.