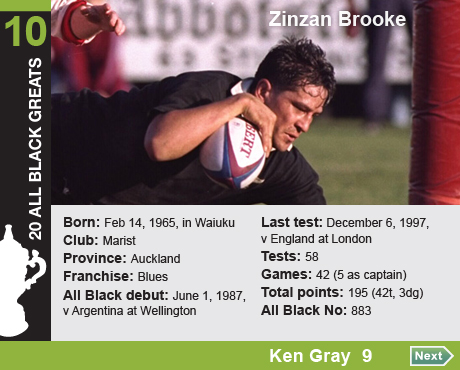 For a player who made rugby look ridiculously easy, Zinzan Brooke's path to greatness was strewn with obstacles.

A prodigiously talented back-row forward, Brooke tossed aside the book of convention as easily as he did his given name, Murray, in the search for something a little more snazzy.

Brooke spent hours practising drop goals, usually in competition with teammates. It paid off - he landed three in the course of his 58-test career, including a huge effort against England in the 1995 World Cup semifinal and an even more pivotal one against South Africa at Loftus Versfeld a year later.

Pick your top 20 greatest All Blacks of all time.

By that stage New Zealanders loved the fact that we had a No 8 forward who could throw 30m reverse passes and ping over 45m drop goals. Five or six short years earlier and those skills would have been used in the case against him.

That's the thing with Brooke, he almost had two careers: one in the shadow of Buck, one without.

Take the 1991 Rugby Almanack. Usually a sober, numbers-and-names recollection of the previous year's footy, editors Rod Chester and Neville McMillan took an unusually spicy approach when naming their Almanack XV. For the contentious No 8 position they wrote: "We have no hesitation in naming W.T. Shelford and choosing him as captain. He might have slowed up a little around the field but he is a dynamic player who gives of his best for 80 minutes of every game ...

"Z.V. Brooke played exceptionally well for his union and has an amazing penchant from scoring from push-over scrums but his play at international level is not of the same standard."

This was around the time when Wayne Shelford was summarily dismissed, his unbeaten record as captain still intact, and Brooke prompted the famous but futile "Bring Back Buck" campaign.

If Brooke, who had contemplated switching codes with the Manly Sea Eagles, thought the All Black position was his for as long as he wanted, he was in for a rude shock.

Otago's Laurie Mains was given the top job and, when Brooke returned late from an Italian job, he had no hesitation in picking Aran Pene.

One of the selectors of that era, Peter Thorburn, had few doubts Brooke would go on to become an excellent All Black.

"Zinny was always going to make the grade," Thorburn said. "He was a special beast. In 1988 when I first had the New Zealand sevens team I can picture him constantly with the ball in his hand.

"He would stand in the foyer of a hotel doing tricks and skills. It was like he had grown up with a ball under his arm."

Thorburn said when Mains took over in 1992, it was natural that in 50-50 calls he would lean towards the players who had done so well for him at Otago.

Pene, a driving No 8, fitted that bill.

"Laurie was not the sort of coach that openly accepted forwards who were a bit fancy," Thorburn said. "That was the Otago style."

But Brooke soon won the dogmatic southerner over.

"It was a matter of timing. Zinny was always going to be a very, very good All Black because of the skills he had and his competitive nature."

There was something else about Brooke, too.

"He was tough," Thorburn said. "He might have shown his pain a bit more than Buck did, but he was as tough as old boots. You don't last that long at the top level if you're not hard."

From 1993 to '97, Brooke was the undisputed best No 8 in New Zealand and for most of that time the best in the world, with his dominance at the back of the scrum combined with a wow factor no other No 8 could offer.

When he retired John Hart said there would never be another like him. He was probably right.

Pick your top 20 greatest All Blacks of all time.

Next Monday nzherald.co.nz will compare our experts' list with the public's.