The mother of three young children killed in a deliberately-lit horrific car fire in Brisbane has also died of her injuries.
Hannah Baxter, 31, succumbed to her injuries at the Royal Brisbane and Women's Hospital early on Wednesday evening, Queensland Police said.
Hannah Baxter was in a car with her three children, Laianah, 6, Aaliyah, 4, and Trey, 3, around 8.30am on Wednesday when she was reportedly approached by Rowan Baxter, 42 in Raven St in Camp Hill.
Rowan Baxter – her husband with whom she owned a gym – reportedly approached the vehicle, dousing her in petrol before stabbing himself.
Hannah and Rowan Baxter were reportedly undergoing a separation, with Nine News reporting Ms Baxter and her three children had been staying with her parents in Camp Hill.
The Courier Mail reported the couple were in a custody battle over their three children.
Witness Aaron Snell told The Courier Mail Rowan Baxter was in "all manner of states" and jumped into the flaming car to grab a knife while bystanders tried to help.
Rowan Baxter, a member of the 2005 Warriors squad, has been identified as one of the four who died in the minutes following - while Hannah scrambled from the car screaming: "He poured petrol on me."
She was hosed down by neighbours who worked with fire extinguishers and a garden hose to put out the flames.
Mr Snell said the heroic acts were met with anger by Rowan Baxter who was "protesting to stop putting it out".
A neighbour told The Courier-Mail a man who was washing his car when the incident happened rushed over to try to help Hannah Baxter as she jumped out of the car.
"She was awake and conscious and completely aware of what had happened," the neighbour said.
"Skin was peeling off her, and she held her hands up … bits were hanging off. It was really quite horrific."
The three children were found dead inside the vehicle after the car went up in flames.
Baxter, 42, was declared dead at the scene after emergency crews attempted to revive him.
The Courier Mail spoke to a witness who claimed Baxter jumped into his estranged wife's car while she was on the school run, setting it on fire.
Hannah Baxter was taken to hospital with "extensive injuries", police said.
The victims lived in the area.
"On arrival, police and emergency services have identified five people that were involved in the fire inside the vehicle. I can confirm that we have three deceased children under the age of 10 in the vehicle," Detective Inspector Mark Thompson earlier told reporters at the scene.
"We have another deceased adult male who was known to the children, and we also have a victim suffering extensive injuries that are also known to the children and the adult male."
One resident told The Australian that another witness saw a woman, believed to be Ms Baxter, jump from the burning car and yell, "He's poured petrol on me."
He said Ms Baxter was "rolling on the footpath in flames".
Other witnesses said Hannah Baxter, who was wearing activewear, was rolling on the footpath, while "four other explosions" were heard from the car.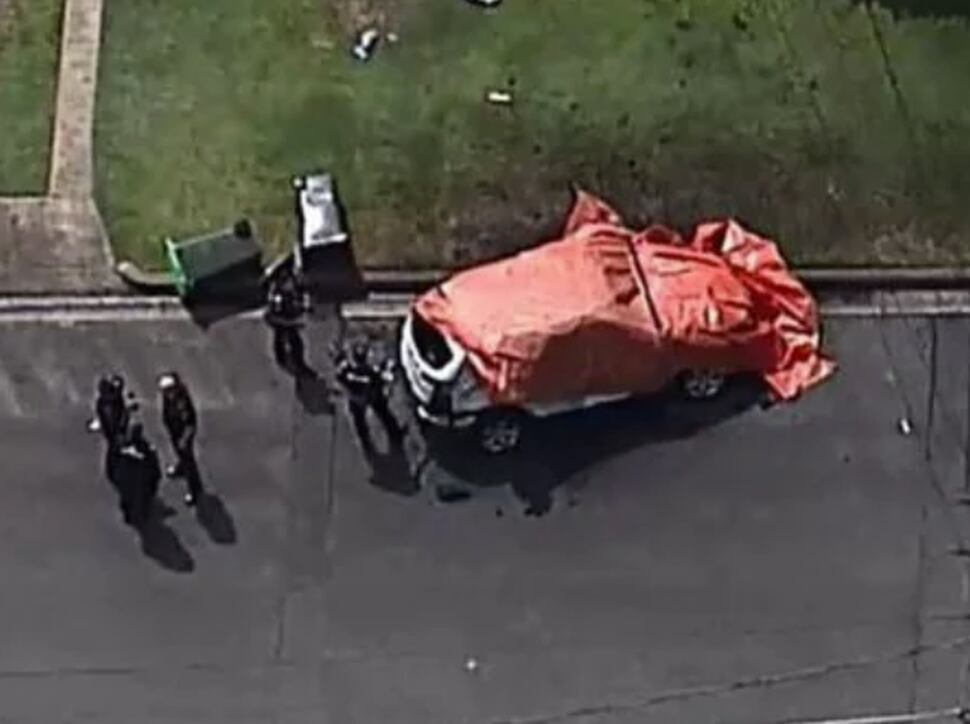 Rowan Baxter's recent posts on Facebook all revolve around his children, with him sharing multiple photos of the kids and writing, "Daddy loves you."
One of Baxter's Facebook friends posted on one of his photos, telling him to "chin up".
"Chin up brother everything will work out just hang in there my bro a lot of people care about you and the situation your facing," he wrote.
A New Zealand Warriors spokesman said Baxter was in their NRL squad in 2005.
"Rowan didn't play an NRL match. He was in our full-time NRL squad in 2005. He played in NRL trials," the spokesman said.
Former Warrior Rowan Baxter posted a number of videos playing with his 3 children well before the car fire horror. Video / Facebook / Sky News