As James Field hit State Highway 1 from Hamilton he started grappling with a sense of mixed feelings as his car approached SH5 along the Taupo-Napier road as Hawke's Bay beckoned yesterday.
It wasn't an overpowering emotion or a violent conflict within as such but, nevertheless, an arousal of sorts on how Field's tribal affiliations have changed in the blink of an eye.
"Yeah, it certainly was a strange one driving back to where I've been playing cricket since I was 11 but very much exciting as well because there aren't too many chances to do something like this, I guess," says the 22-year-old who will be sporting the colours of Hamilton when they challenge the Pay Excellence Hawke's Bay senior men's representative team for the Hawke Cup from today.
The Jacob Smith-captained side are making their first defence since wresting the symbol of minor association cricket supremacy from Nelson a fortnight ago. In fact, it's the first defence against the visitors — the Bay have challenged for it three times.
Field, who has graduated as an accountant from Waikato University and is living and working in Hamilton City nowadays, is in his first season with the challengers.
The left-hand No 2 opening batsman, whose 18-year-old brother Joey is in the Dave Castle-coached Bay squad, reconciles his shift in allegiance in the belief that he didn't purposefully leave the Bay but due to employment opportunities.
"I am having to come back to play people I have played alongside for a while, especially my brother who is deservedly made his spot in his team this year," says Field of Joey who also has been selected to represent the New Zealand Under-19 team on the tour of Bangladesh from April 10 to 29.
The younger Field is a Sir Edmund Hillary Memorial Scholarship holder in the pursuit of a degree in human performance science and psychology in his first year at Waikato University.
However, James Field says it'll be a great challenge for the 22 players in the next three days on the park where the hosts have had the rub of the green — beating Hamilton in three friendlies by five wickets in October 1987, two wickets on February 2, 1991, and seven wickets the following day.
But there's nothing friendly about the three-dayer leading into this weekend.
Ironically the Field brothers were both born in Hamilton, where James grew up until he was 6, before spending four years at university.
"So it's not like it's foreign ground for me, I guess."
Field says while Joey had mentioned how he looked up to his elder brothers, including 21-year-old Sam Field plying his trade with the Canterbury United in the ISPS Handa Premiership, it was equally ironic that physically he was looking up to the youngest brother in all respects.
"Obviously he's six foot five [1.95m] I guess I trying to find a job and build my career higher and he's chasing it trying to play a higher level of cricket so, I think, it's probably the other way around because we look up to him and how disciplined he is and how hard he works so, I guess, I'll just take a page out of his book these days," says the eldest brother who stands at 1.9m.
Field still takes his cricket seriously but post-tertiary education he finds its opened his eyes to other facets of life whereas Joey doesn't have that many distractions as an impressionable teenager.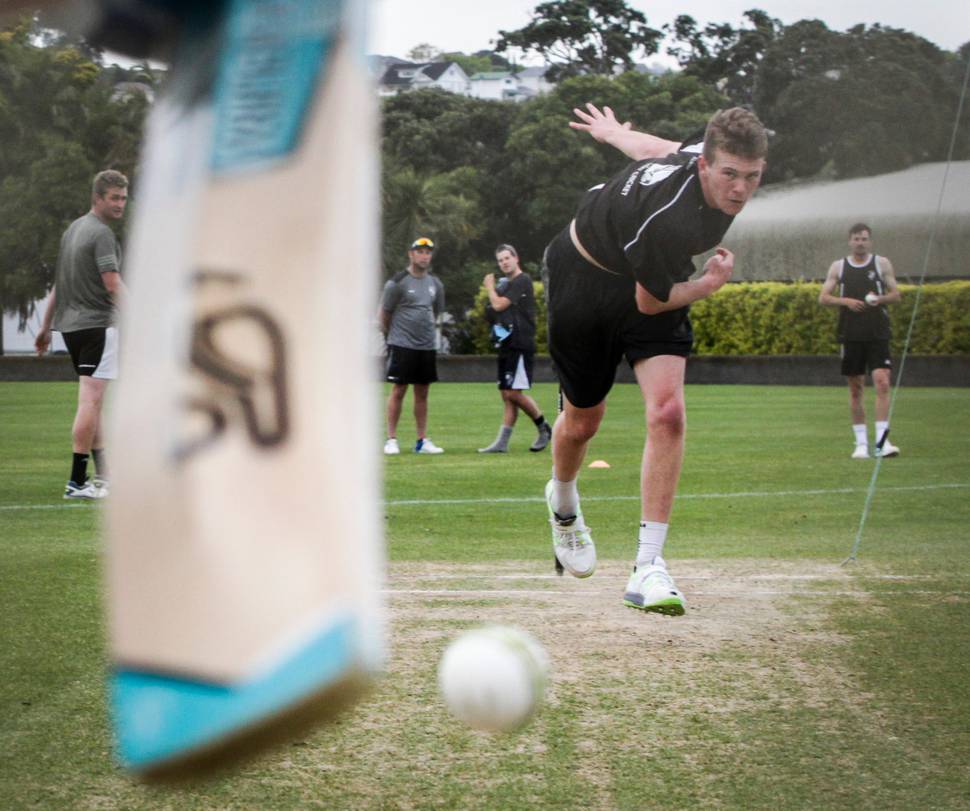 So where will parents, Raewyn and Steve Field, of Havelock North, sit at the park, so to speak?
"I think they'll just be pretty happy to see a couple of their boys in what is an important game and one trying to represent the country in the [under-19] World Cup cricket so, I feel, they'll be proud of us, regardless of the result."
He hasn't faced change bowler Joey as of late but has seen him bowl.
Field holds the Bay in high regard, believing they have earned the right to hold the cup but Nelson Park isn't going to a foreign ground for any of the Hamiltonians who just see it as another game for the visitors who have skipper Keir Bettley and Michael Dodunski, a former NZ U19 squad member and ex-Hamilton captain, as the go-to men.
"As much as cricket is so important, the fact that how close the team is and regardless of where you're from or how many games you've played you feel a part of a great community to be playing for and wants you want to win for them," he says, enjoying that respect in the Bay playing alongside Smith and Angus Schaw but having to earn that in Hamilton.
Smith says he isn't too familiar with Hamilton, but not tripping in their first defence, as they did against Bay of Plenty two summers ago, is the goal.
"We're looking at getting through that phase and holding it over winter," says the most-capped Bay player (72 games) with Schaw behind him on 66.
The hosts have lost Dean Foxcroft to the Central Districts Stags in Hamilton but have gained Izaiah Lange.
"He's had a really good season with us and club cricket so he's also played a bit of Hawke Cup as well and is pretty confident coming in to do the job," he says of Lange.
Hamilton also have first-class experience in Anurag Verma and Josef Walker.
Their wicket keeper, Peter Bocock, grabbed the headlines this week when he stepped in for an injured Black Caps gloveman BJ Watling during the second test against Bangladesh at the Basin Reserve, Wellington.
BOTH TEAMS
■ Hawke's Bay: Jake Smith (c), Liam Dudding, Matt Edmondson (wk), Joey Field, Izaiah Lange, Jayden Lennox, Christian Leopard, Angus Schaw, Bradley Schmulian, Ben Stoyanoff, Dominic Thompson, Bayley Wiggins.
Coach: Dave Castle. Manager: Dale Smidt.
Scorer: Neil Jackett.
■ Hamilton: Keir Bettley (c), Michael Dodunski, Anish Desai, Elliot Santner, James Field, Peter Bocock (wk), Josef Walker, Freddy Walker, Cooper Rowell, Anurag Verma, Jack Devane, Ben Morris-Brown.
Coach: Brook Hatwell. Manager: Kevin Hamilton.