Josh Adegoke showed his talent in taking a rare double, wining gold, in the junior boys' 100m and 200m races at the nationals in Dunedin.
Adegoke later moved up a grade to run in the senior boys' 4x100m relay where the team of him, Wesley Akeripa, Ben Allan and Toby Archer won a silver medal in finishing second to Auckland Grammar school.
The oldest athletes, Allan and Archer, are Year 12 this year so the entire team will be back next year in the quest for gold.
The "Twitches" pair made the 200m senior boys' final and junior Raymond O'Roarke made the cull for the 400m final.
"The Leans" (distance squad) won medals in the road race. The junior team of Sam Elliott, Tim LeCheminant-Reid and Ethan Green clinched bronze medals in the three-man team event.
The senior team of Reid Livingston, Oliver Marshall and Max Taylor, all Year 11 pupils up against Year 12 and 13s, claimed silver.
Guy Harrison had a fantastic three days winning bronze in the 200m senior para sprint, silver in the 400m senior para sprint, gold in senior discus and another gold in the 2km multi-class para senior boys' road race.
Ryan Jones surprised many with gold in the 3000m open race walk. The Year 10 pupil competed in a race open to all age groups.
Jones stuck to the plan he and his father had hatched. He was last in the field, by at least 80m for two laps before threading his way through the field to glory.
He was later named in the full senior secondary schools' New Zealand athletics team.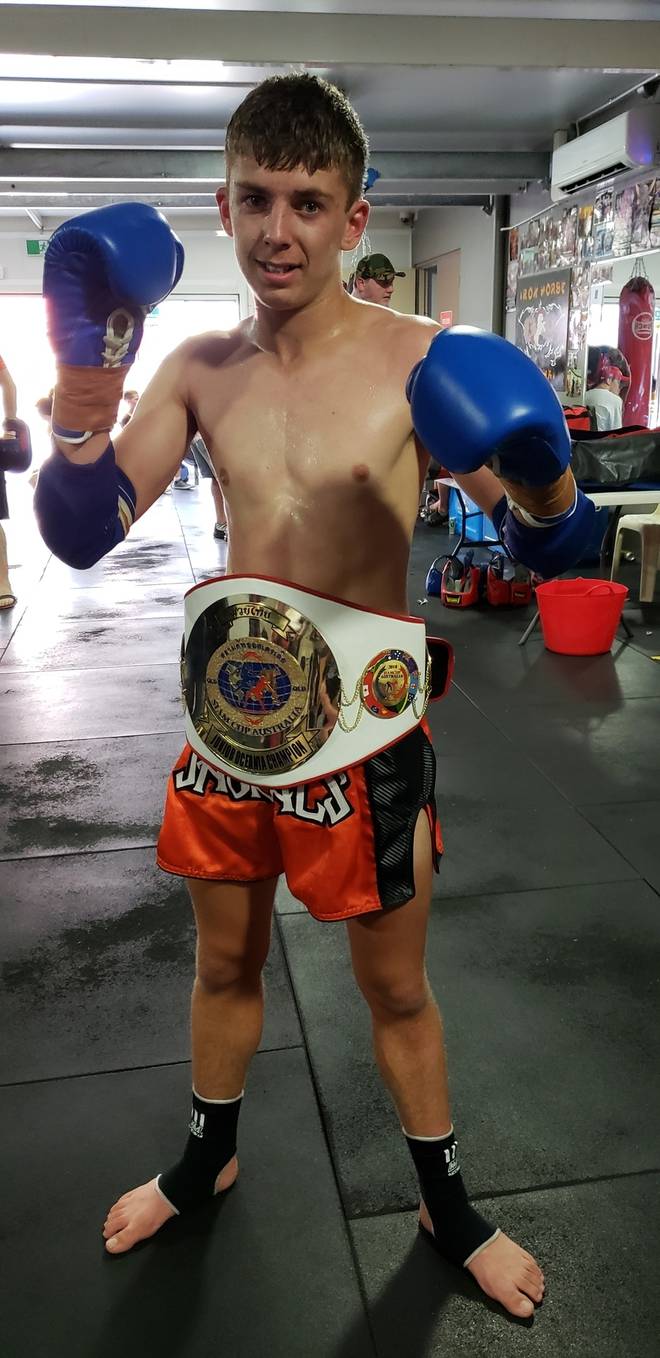 KICKBOXING
Napier Boys' High School pupil Lucas McAdam has won the Oceania Junior Championship title in muay thai kickboxing.
The 15-year-old returned with the belt after competing against the Queensland Australia Championship in Brisbane last Sunday.
McAdam had engaged in five two-minute rounds of full-contact fighting including punches, kicks, elbows and knees. He won by unanimous decision after his opponent received a count in just the second round.
The teenager trains six days a week, for up to two hours, with coach Andrew Banham, of the Jackals Gym in Onekawa. He has been studying the Thailand martial art for eight years now.
McAdam represented New Zealand earlier this year in Bangkok, Thailand. He had returned with two gold medals and a silver from the International & Thai Martial Arts Games Festival.
RUGBY
The flagship women's Hawke's Bay Tuis' future looks promising if the recent performance of Hastings Girls' High School is anything to go by.
HGHS first XV have returned from the Youthtown Condor National Secondary Schools' Sevens, bowing out in the semifinals of their maiden outing in what is considered the pinnacle of teenage competition.
"They had exceeded expectations and collected valuable experience along the way," says coach Thomas Te Pou after last week's two-day accomplishments.
They lacked experience but were eager to do their whanau and province proud, says Te Pou of the schoolgirls who stayed at Te Tira Hou Marae in Panmure to prepare for the tourney.
They played three matches, culminating with the final game against last year's under-15 girls' champions, Kerikeri (Northland).
Stung first up in a Tauranga tourney earlier, the Bay girls didn't allow their first match become their undoing. They beat Inglewood (Taranaki) 20-7 with Lillie Spencer excelling in rucking with numerous turnovers.
After a two-hour break, the HGHS overwhelmed Takapuna (Auckland) 30-0 in a game where newbie Raedeen Blake exhibited vision and smart option-taking.
Kerikeri proved to be an arm wrestle but HGHS captain Te Aira Te Pou's power running spearhead a 15-5 victory for a top-eight finish.
HGHS reloaded against Kerikeri, the second-best qualifiers, but captain Te Pou was out because she had to sit the NCEA-level Māori exam.
Unfazed, the HGHS dispatched the defending champions again, 15-12, with Rahera Heke assuming the mantle of captaincy.
It wasn't a pretty game with numerous turnovers but Kerikeri drew first blood although HGHS replied with two tries owing mainly to Phoenicia Te Rito's fancy footwork. Kerikeri came back with a converted try to lead 12-10.
However, coach Te Pou went to his trusty bench to strike from the the blind side for the winning try and HGHS' maiden Condors quarterfinal bragging rights.
But their run came to an abrupt halt in the semifinals, even with the return of their captain, when a structured, fast and fit Lytton High (Gisborne) crushed them, 44-5.
Thomas Te Pou thanked co-coach and former Black Fern Emma Jensen, the whanau and fans who travelled to Auckland to watch the "Future Ferns".
"Lets hope these girls continue playing well and move to wearing the black and white of the Hawke's Bay Tuis in the near future," he says.