Do you believe in miracles? You should now, because the Black Caps just pulled one off.
Dead and buried against Pakistan, New Zealand fought valiantly to summon one of the greatest comebacks in their test cricket history, turning the test on its head to claim a famous four-run triumph.
It was a game that they had absolutely no right to win. Chasing 176, Pakistan were cruising at 130-3, with Asad Shafiq and Azhar Ali having added 82 to put their side on the cusp of victory.
Even when Neil Wagner removed Shafiq just before lunch, it seemed a mere footnote in the plotline seemingly scripted for this tour – the Black Caps being good, but not quite good enough. The equation had been reduced to just 29 runs required with six wickets in hand, and with experienced batsmen at the crease, it looked like the question was not if, but when, Pakistan would take a 1-0 series lead.
The Black Caps didn't agree. When Ajaz Patel picked up his fifth wicket by trapping Ali lbw for 65, Pakistan had undergone a stunning collapse – capitulating to be all out for 171. The Black Caps walked away with their narrowest test win of all time - and we all sat around scratching our heads as to how it had taken place.
[As it happened: All the insanity from the final day]
Patel would be a good place to begin. The star of the show on his test debut, the 30-year-old finished with 5-59, and was the man to start Pakistan's eventual downfall.
The wicket of Imam ul-Haq – first to go at 40, trapped lbw - saw three wickets tumble in the space of eight balls. Ish Sodhi had joined in on the action, removing Mohammad Hafeez and Haris Sohail, and at 48-3, the Black Caps could dare to dream.

That's all it would be though, right? An idealistic dream of a team who had too tough a task still ahead of them, and sure enough, Azhar and Shafiq set about waking them up. Patel and Sodhi's early threat dissipated as the Pakistani pair rotated the strike with ease, and even when Shafiq departed, he handed over to the equally steady Babar Azam.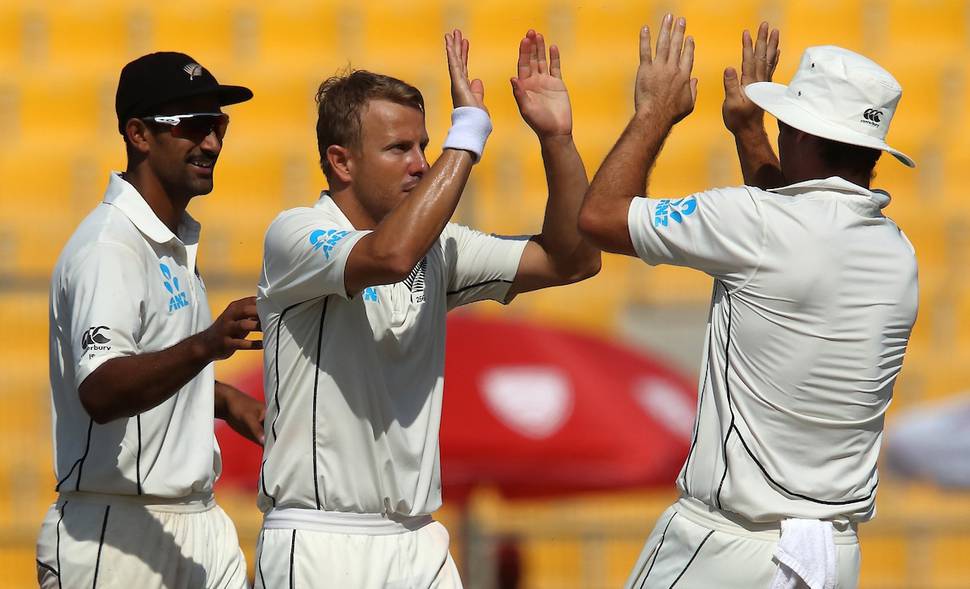 Or so it seemed. A disastrous run-out saw the end of Azam's innings, and when captain Sarfraz Ahmed departed seven runs later, caught behind off Patel, Pakistan then turned completely complicit in their own demise.
First, Bilal Asif tried to heave Patel across the line, missing completely and having his stumps castled. Yasir Shah nibbled a Wagner delivery straight to Ross Taylor, and then, needing just 12 runs to win, Hasan Ali tried to be the hero, put could only pick out sub fielder Tim Southee on the mid-wicket boundary.
It was phenomenally brainless, and it left Azhar having to negotiate the final 12 runs with just Mohammad Abbas at his side. He got so close, farming the strike as the runs ticked away, single by single.
12. 11. 10.
The indefatigable Wagner charged in again.
9. 8. 7.
Patel beat the bat as the tension rose.
6. 5. OUT!
Up went the appeal as Azhar was rapped on the pads, and up went the finger from umpire Bruce Oxenford. A review confirmed it, Azhar was overcome with dejection, and Patel was rightly mobbed by a jubilant New Zealand side.
"It's a dream come true," pronounced Patel.
"I've put in a lot of work to put myself in this position so it's quite rewarding to be able to contribute and put one across the line for my country.
"It's a very special feeling. It's the New Zealand way to think anything's possible. We went out and played the Kiwi way."
It's just the Black Caps' second win away from home against Asian opposition since 2012, and their first win away against a team other than Zimbabwe since May 2015. And yet somehow, throughout the entire test, they had never managed to look like winning, until the most important moment – the end.
Black Caps captain Kane Williamson hailed the performance as a superb fighting effort.
"It's a great advertisement for test cricket. We knew the surface wasn't easy and it required a really scrappy performance. The attitude was outstanding – the guys stayed in the contest for long periods of time.
"That fighting attitude that we showed throughout was something that we want to hold onto."
It was an attitude which led to the Black Caps conquering with the second-lowest fourth-innings target they have ever successfully defended. The lowest was 137 in the famous win over England in Wellington in 1978. The third-lowest is now the 241 defended in beating Australia in Hobart in 2011, another memorable victory.
Now, expect "Abu Dhabi, 2018" to be forever mentioned in the same breath.