Kiwi Brendon Hartley remains frustrated by Toro Rosso teammate Pierre Gasly's refusal to let him pass and deny him a chance to score valuable points in the Brazil Grand Prix.
An angry Hartley unleashed an expletive-laden outburst over the team radio on Monday after his request to overtake Gasly was approved by team officials but ignored by the French driver.
With fresher tires than Gasly and 12th-placed Carlos Sainz chasing hard, Hartley asked if he could be given room to move but his teammate refused to budge, replying over the team radio: "It's not like we're fighting for the win!"
"I'm getting pretty close to Gasly, guys," Hartley said over the team radio.
"What's going on, guys – I'm going to get caught by [Carlos] Sainz, if you don't let me past Gasly.
"Is he gonna let me by? What the f**k is going on? He is holding me up so much."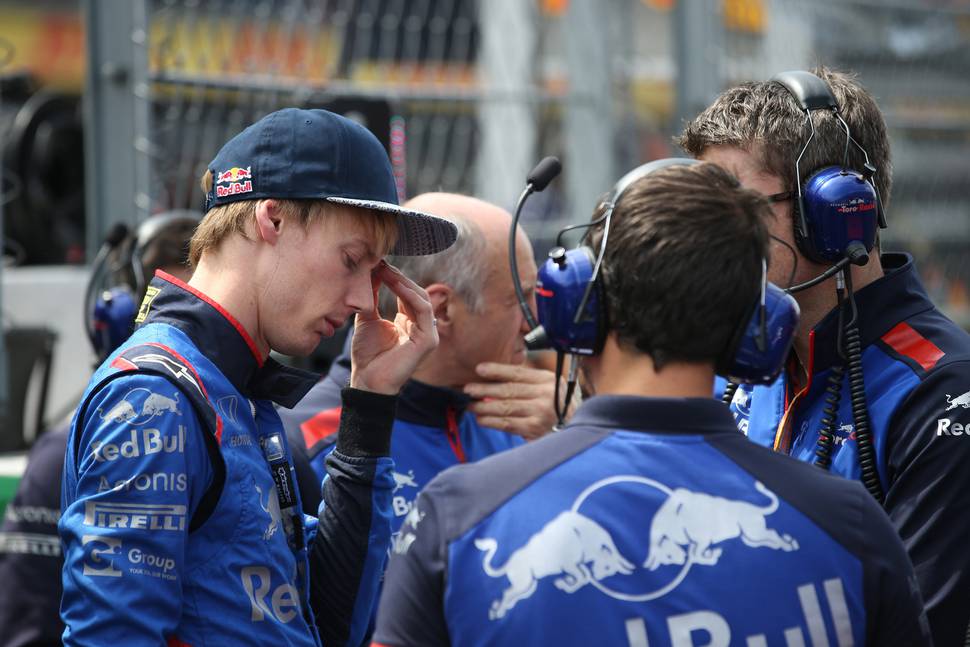 Four days on, Hartley is still stewing over Gasly's lack of cooperation after patiently holding his position before being forced to settle for an 11th-place finish.
"I was catching my teammate at a great rate of knots, and I asked what would happen," Hartley explained in an interview with racer.com.
"There's obviously three different answers I'm going to get: we're racing each other, hold position, or he'll let you by. I got the call that he would let me by.
"I'm also defending the car behind and trying to look after my tires. I didn't attack, expecting to be let by on four or five occasions, which didn't happen. The rest I don't know, but in the end, I made the overtake cleanly, destroying my tires in the meantime. It didn't bring a point (but), I'm really happy with the effort and did the overtake regardless.
"When I've been asked to let by, I do it, and I would have adjusted my race accordingly. If we're told to race, I'll happily do it, but if we're told to do otherwise… Anyway, I'm happy with my race, and in the end I made the overtake fair and square. Just annoying not to score a point."
Hartley's frustration comes as he fights to keep his spot with on the team having accrued just four points this year ahead of the season-finale in Abu Dhabi on November 26. Torro Rosso is set to make a call on Hartley's future in December.
Meanwhile, Gasly's place in the 2019 Formula One ranks is not only assured but set to improve with his imminent promotion to the Red Bull team.
Gasly justified his actions saying Hartley should have taken the initiative sooner while circumstances eventually saw him concede to let his aggrieved teammate pass. He was also overtaken by Sainz to finish 13th.
"I had to (let Hartley by) two laps to the end because I was running out of fuel," said Gasly.
"I didn't have any fuel left for the end of the race. I was just cruising on the last two laps.
"I just think if you are in position, you should race, plus he was on new super-soft tyres, I was dying with my medium [tyres], so I just told them if he's that much faster then he can overtake me, but for some reason I don't know, he didn't do it for 10 laps. Then after we were in such critical situation with the fuel that in the end I did it two laps to go."
Gasly maintained he was in the right, suggesting Hartley had little to gain with a spot in the top 10 well out of reach.
"Well I think it's not the first time it happened, and I think different if you're in the top 10, there is something to play for," he said.
"Today there wasn't anything to play for P11, P12, P13. At the end I'm a racing driver, I'm here to race, that's what I want and that's what I like. That's my perception of motorsport and how it should be ... That's how I am. At the end of the day I'm a racing driver, I'm here to race, I'm not here to let the guy past, especially in this kind of situation."