Spectacular foiling yachts are zipping along Northland's coast as teams of elite sailors put the boats through their paces in training sessions.
SailGP is a brand-new international yacht racing league for professional teams racing equalised ultra-high-performance fully-foiling 50-foot catamarans.
During the inaugural 2019 season six teams will compete in five events around the world starting in Sydney in February, then San Francisco, New York, Cowes in England and Marseilles in France.
But before the competition begins some of the world's best competitive sailors are testing the most advanced catamarans in excellent wind conditions in Bream Bay.
SailGP has established a base at Marsden Cove and is launching the catamarans by crane off a pontoon based at Northport.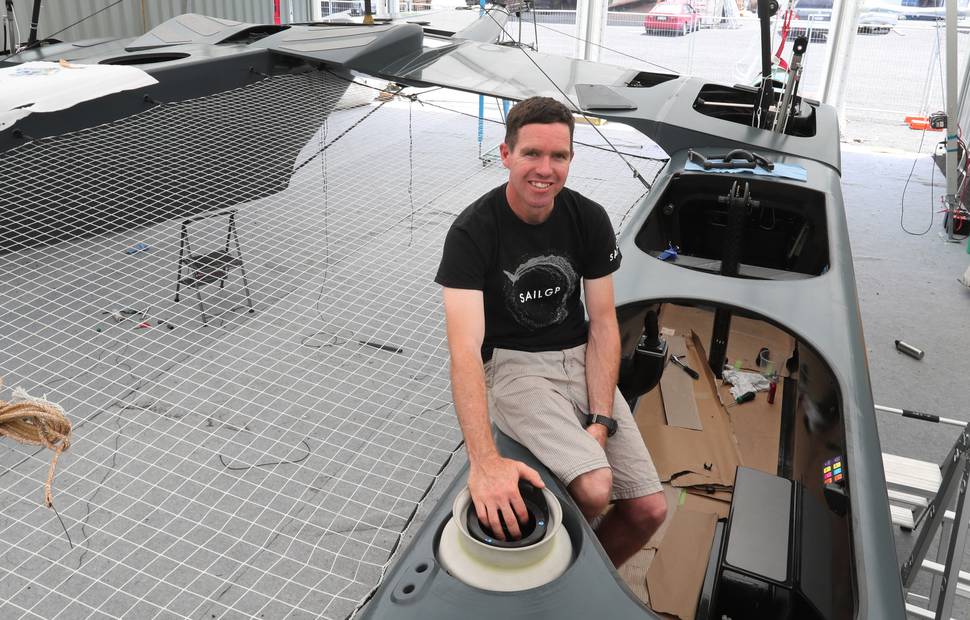 Brad Marsh, SailGP New Zealand operations manager, said teams from China and the United States had already completed their allotted two weeks each and had been impressed with the boats, the base and the surrounding area. Different strengths had enabled the crews to test a number of different boat configurations.
Next week the Australians will arrive and will be followed by the Great Britain squad.
Team Australia have named Olympic gold medallist and America's Cup winner Tom Slingsby as skipper of the Australia SailGP Team crew.
Slingsby won gold in the Laser class at the London 2012 Olympic Games and played a key role in Oracle Team USA's 2013 turnaround victory in the 34th America's Cup in San Francisco. By the middle of December the Japanese and French teams will be on site.
"It's like bringing a Formula One car to Whangārei. These boats are being produced to the highest spec and no cost has been spared. Having these sailors come is like having Michael Schumacher do a lap or two," Marsh, who was born in Whangārei, said.
The flying boats have all been built in Warkworth at Core Builders Composites and under the watchful eye of company manager Kerikeri man Mark Turner.
SailGP is the brainchild of American billionaire-businessman Larry Ellison – co-founder, executive chairman, and chief technology officer of Oracle Corporation – and prominent New Zealand yachtsman Sir Russell Coutts, a multiple world champion, Olympic gold medallist and five times America's Cup winner.
Together at Oracle racing Ellison and Coutts masterminded two America's Cup victories in 2010 in Valencia and 2013 in San Francisco.
The sleek carbon fibre boats, that use a very similar configuration to what was used at the 2017 America's Cup in Bermuda, appear to fly above the water on foils cut an impressive image with Whangarei Heads as a backdrop.
Marsh said the two teams who had completed their trials were impressed with the Whangārei Heads area and had climbed Mount Manaia and Mount Lion. They had also done team building exercises using Ruakākā Beach.
"Feedback from the sailors is they were impressed with the area. They said the scenery is magnificent."
Local boaties had also been welcoming cheering and clapping the crews on when they were spotted out at sea or coming in and out of the harbour.
"It's been a really nice atmosphere and it's made us feel very welcome."
Five chase boats every day follow the catamaran out on the water to keep the fleet running they run through nearly $3000 of petrol a day.
Marsh said the boats were travelling at such high speeds but were completely silent. At the moment the boats are sailing at speeds of about 40knots, 75kmh, but at the completion of testing they will be reaching 50 knots or 100km/h.
The base on a hardstand at Marsden Cove had been excellent and the co-operation from Northport was outstanding, Marsh said.
SailGP hoped to return yearly to Northland as the competition evolved and SailGP been working hard to build relationships in the community and with businesses and set up infrastructure.

Sail GP F50 catamaran specification:
Height: 24 metres
Length: 15 metres
Width: 8.8 metres
Weight: 2800 kilograms
Estimated top speed: 54 knots or 100kmh