In the foreword to the book Simon Mannering — Warrior, former coach Ivan Cleary recalls how the future captain stood out right from his first training and why he rates him the greatest player in the club's history.
The first time I met Simon was when I was assistant coach for Tony Kemp in 2004. It was at a pre-season session at Waitakere and there was a big set of stairs that we had the boys running up and down.
It was pretty intense, but Simon was handling it. He had just signed his first Warriors contract and while he was still playing for Wellington in the Bartercard Cup, he'd come up for a week or two to get a taste of what it was like training at the club.
Sometimes you meet guys and see them train and they make an immediate impression. I watched him and I thought, 'This guy's got something special about him.'
He stood out. Number one, he was white-skinned. That was unusual at the Warriors, especially as a young Kiwi forward. He seemed confident, but there was nothing brash about him and he spoke well.
I think as Simon's got older, he's become more self-conscious. Back then, he was reserved, but you could tell he certainly wasn't overawed. And that was the first time I'd ever seen him train, and that day, it was a hard session, but he did really well, and I thought to myself, 'We're going to see a lot more of this kid.'
I'll never forget his debut game against the Broncos at Mt Smart in the second half of the 2005 season.
He came on, and this 18-year-old, one of the first things he did in his NRL career was absolutely beat Justin Hodges hands down at a time when Justin was the Kangaroos centre and best in the world. It was a true centre's one-on-one contest, and he did Justin like a dinner. He offloaded to Manu Vatuvei and Manu scored a crucial try. I was gobsmacked. I sat there thinking, 'Okay, this kid has got something.'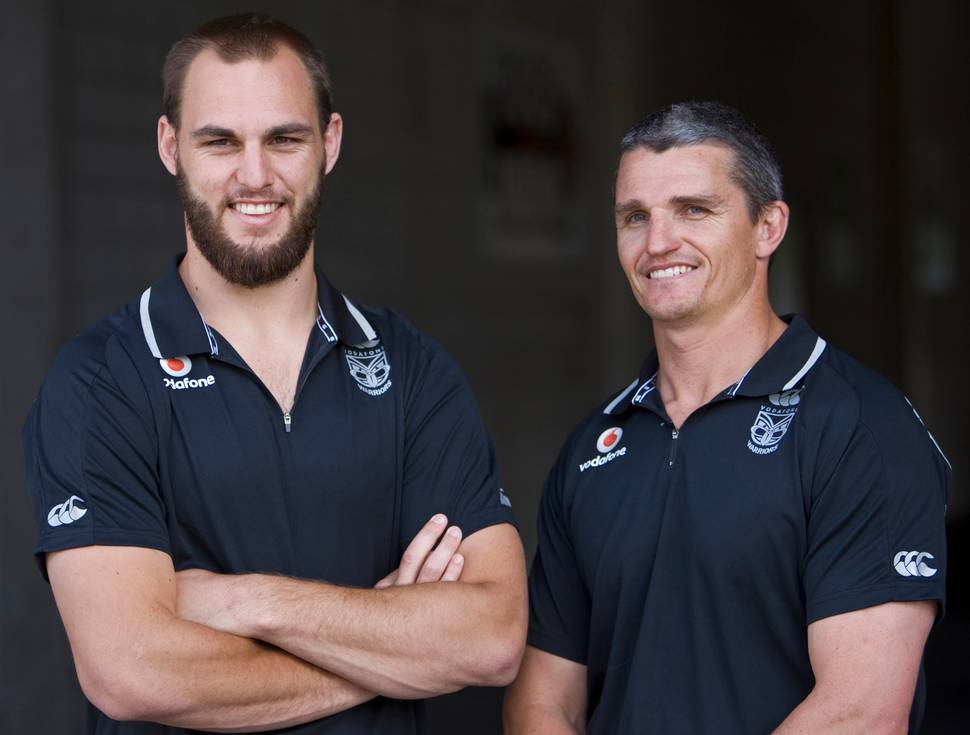 When I took over as Warriors coach in 2006, Steve Price and Ruben Wiki were the rocks we built the team around, but Simon, even in those early days, wasn't far behind. He was incredible, right from the start.
He and Micheal Luck were the first to get in and do the dirty jobs, and they didn't complain. They'd get into good covering positions, cover up for other people's missed tackles, take a hard run when everyone else was exhausted, train when they were injured. They just wouldn't say they were injured. He was unbelievably consistent. His defence was phenomenal, even when he was young.
He dominated every tackle he made. And he wouldn't just make them, he controlled the ruck and he was just so solid and so diligent.
There was one game in 2007 I've got to talk about. We were playing Manly. It was late in the season. We had to win to cement our place in the top eight. Manly were first or second at that point. And Simon was sick. He'd been crook all week. He had these ulcers in his mouth. They were horrendous. And he'd lost about 6kg or 7kg at the time. And he said, 'Nah, I'll play. I'm gonna play.'
He wouldn't take no for an answer. And we wouldn't take no for an answer either because we didn't care how he looked or how he felt, as long as he could play because we needed him out there.
So he played, and the first tackle he made, he broke his hand. Well, I didn't know about the broken hand until the next day. He played the whole game with the injury. And he ended up scoring the try that sealed the match and he won the man of the match award. That went down in folklore pretty much. You use that story to instruct young guys in what it's all about.
He was only about 20 at that time, still so young. Then in 2009, he got a knee injury. We were having a bad season and that was one of the first times I remember him being injured, or I should say unable to play because of injury, because he was carrying injuries all the time. He missed a couple of games. He was supposed to be out for four to six weeks and he had a Kiwis Four Nations campaign coming up after the NRL season, so he would have wanted his knee to be right for that.
But the last game of the season was going to be Stacey Jones' last game ever. It was at Mt Smart against Melbourne. Think about it: it's the last game of the year, we're coming something like 14th, he'd had two weeks out of a six-week rehab and he says, 'No, I want to play,' and went out there and played. There's something wrong with this guy! He just wanted to be there for Stacey's last game.
When you're trying to build a culture in a team, acts like that - and that was typical of Simon - they just make all the difference. An act like that wasn't just a huge example for the guys there at the time but also for the guys coming into the club in the future.
Simon didn't even think twice about it. Those two games - when he was crook against Manly and Stacey's last game - showed me he was far from normal. They definitely helped me decide to make him captain in 2010. He was happy to sacrifice his own self for the team.
With Stacey, I realised he understood the relevance of occasions. He respected the players who had gone before him. You can't buy that sort of stuff. I knew how much respect he had from the players. I knew he would be a great role model, not just for the players but for the club itself. Looking back, it's one of the best decisions we came up with.
He would never let you down. That's the best I could say about him. So where does he sit in Warriors history among all the great players who have passed through the club? Well, for a start, he's played 300 NRL games for the Warriors, and he's the first to do that.
It's hard to compare different eras. Stacey was so good and I was fortunate enough to play with him at his peak, that grand final year of 2002. Manu Vatuvei was brilliant for so long. Steve Price and Ruben Wiki were both absolute rocks.
But when you look at Simon, you take into account longevity and the fact that he started when he did, when the club was basically just completely rebuilt, and he came through all that and led the team to the 2011 grand final and numerous finals series in that period.
And when the club was having its worst seasons results-wise, he was still winning Player of the Year awards and finishing high up in the most tackles for the NRL. If he's not the best ever Warrior, he's certainly in the conversation. Personally, I would put him at the top, just for all those reasons: consistency, longevity, great captaincy.
In Australia, he's held in as high regard as you can get. Any player who's ever played against him or alongside him, anyone who's ever worked with him, playing or coaching, gives him the highest respect. He's a man you like to depend on.
In the early years, he used to drive this old Holden Kingswood around. I think there was a time when he was probably sleeping in it as well. I'm not too sure about that.
But I don't think his diet was very good. That didn't stop him training hard and playing well. Craig Walker, our trainer, was trying to get him to eat better and Simon thought that tinned fruit was pretty much the same as fresh fruit.
Once he worked out that the fresh stuff was much better for him, he started making some strides and putting on a bit of weight. He was pretty rough and ready when he turned up. But that was one of the beauties of him: he was no fuss, he was so low maintenance, he just turned up, trained hard, played well. Over the years, he learned a little more about professionalism and looking after himself and he became one of the greats.
• Warrior, written with Angus Gillies, ($49.99 RRP, Mower Books). On sale now. See upstartpress.co.nz for details of Simon Mannering's Auckland signing sessions.