Sonny Bill Williams has never known a time when the majority of the New Zealand public has been on his side.
The best period he's enjoyed came at the 2015 World Cup when maybe there was a 50:50 split, with half the country marveling at the impact he had coming off the bench in that tournament and the other still refusing to see him as anything other than the unwanted child from a messy divorce with the NRL.
Three years on and the numbers have slid. Those who have never been keen have become increasingly strident, angry even, wondering why it is that the All Blacks selectors have stuck with a player who hasn't done much this year, not overtly at least, to reward that faith.
There's no great surprise that those who have never warmed to Williams are using his current lack of impact as a weapon against him.
The haters have never needed an excuse and now they have one, they have the conviction of zealots fueled with a sense of righteousness.
But no matter their passion, the long-term anti-Williams brigade remain as easy to ignore now as they always have, as the minds of fanatics can rarely be turned and certainly not with reason.
But what's new and perhaps a creeping source of concern for Williams and possibly the All Blacks coaches, is that those who have previously been neutral or supportive, are now having their conviction tested.
And some are wavering, finding it hard to be sure that a panel which has taken plenty of selection risks and mostly been proven right in the past, is on track with this one.
The educated rugby follower can understand the persistence with Williams. He's a big ticket item – explosive, destructive, influential and capable of turning a game with one of his magical offloads.
That he hasn't delivered much of that in the last three tests can be attributed to his chronic lack of games this season. He's barely played and doesn't have the confidence behind him that comes with time at the coalface.
But leniency can't be extended indefinitely and there needs to be some kind of return on the Williams investment and ideally an installment will be paid at Twickenham.
It's not just that the jersey demands a befitting performance, there is a concern even among the more open-minded that the argument about Williams has changed.
An objection that was originally founded on the circumstances in which Williams converted to rugby and the perceptions of him which grew around it, has evolved to encapsulate a wider audience who are wondering whether he's simply lost his edge and not the athlete or player he once was.
Williams, who has become significantly more self-aware in recent years, or at least willing to demonstrate that he is, accepts that the ferryman needs to be paid.
But he's got no doubts about his ability to stump up. "Obviously I am not where I know I can play but I am moving in the right direction and I have got complete faith in my ability," he says.
"As long as I am making steps toward that goal, I am happy. For a lot of boys, they get to come back through club rugby, Mitre 10 rugby, but I have to come through the toughest avenue in test matches.
"That is not an excuse from me. I know where I am at and I know where I can go and I am pretty pleased with how I am going."
To his mind, the trick to having the influence he wants is to strike the right balance. This has perhaps been the difficulty he's had for much of his career – knowing when and how often to play his trump card of the offload.
There have been games when he's hit the sweet spot and the All Blacks have flowed with a dynamic force as a result. And there have been other games where he's been anonymous or conspicuous by his compound errors.
"Based on the last few games, Argentina and South Africa I didn't fire enough shots and then against Australia I probably fired a bit too many," he says.
"But the thing I liked about Australia was the intent. And when I have intent like that, when I have that mindset, special things can happen. I just have to be patient.
"With me, I understand there comes a lot more, I guess pressure, as people have a lot more eyes on me because of the person I am and the following that I have.
"I am grateful for that, but at times I know I need to move those distractions to one side and focus on myself doing what I do."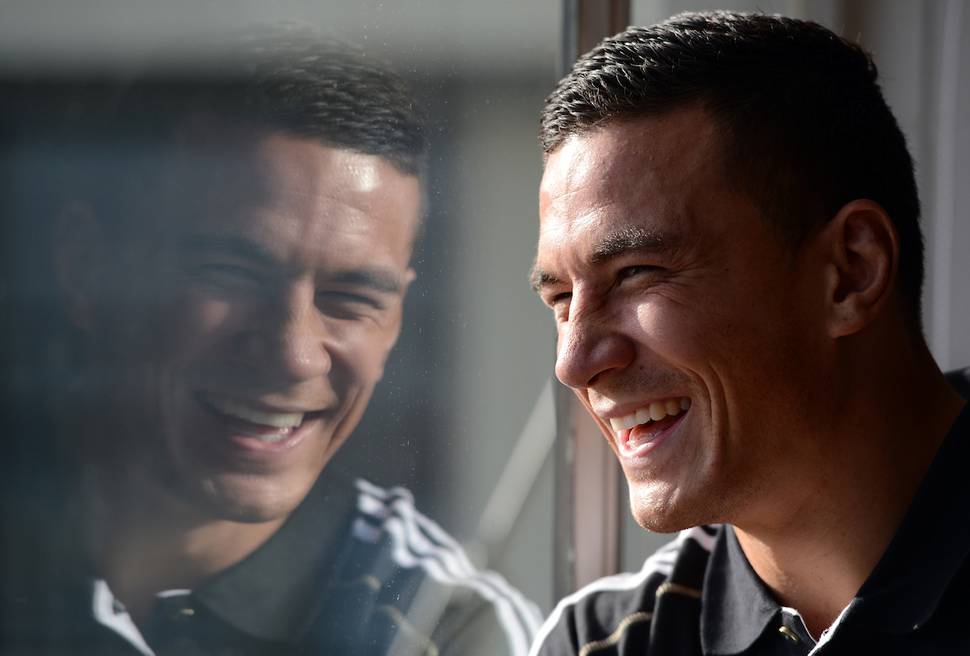 Even his most ardent critics must concede that it can't be easy to live with the scrutiny with which Williams does and yet however intense, unfair and intrusive that external probing becomes, he says it doesn't get close to matching his self-generated expectations.
"I have always had high expectations of myself because I know what I can bring," he says.
"The biggest thing for me is to be gentle with myself because the pressure I put on myself is a lot more than the pressure anyone else puts on me.
"I think it is already happening, that my game is starting to click. But because of the level I know I can play, as soon as I drop one ball, or make one bad pass it [internal pressure] is amplified.
"So it is about being gentle with myself, real with myself and not worrying about the external factors or pressures."
It's not that he's pinning all his hopes on the intensity of the occasion this weekend to kick-start him back to his best form, but Twickenham does have a special place in Williams' heart.
It was the ground on which he made his test debut, in 2010 alongside Ma'a Nonu. Interestingly he was at centre that day, before coming back five years later to play in the World Cup final with the same combination, but swapped positions.
Playing England on their home patch with the whole world watching seems like the perfect opportunity rather than a last chance for Williams to provide that reminder of his class that he so desperately needs.
If the selectors have kept their faith, there is no reason to doubt them – their track record deserves as much.
"Our patience [with Williams] is not driven on his background as an athlete," says All Blacks assistant coach Ian Foster. "It is based more on how we see players perform at training. When we look at the physical nature of the game and the way they are training, sometimes things are going really well off the park and it hasn't quite gelled to the extent they want on the park.
"Sometimes players can be deemed to have had a quiet game but in actual fact they just haven't had a lot of opportunities to show what they are good at.
"We have had various players who have been injured this year and have come back with varying degrees of accuracy in their game. Some have taken a bit longer to get there, but as long as we are seeing improvements in training and the attitude is good we will keep making decisions as we make them."
The inference from Foster is that Williams maybe just needs something to ignite him on Saturday to convert what they are seeing at training into a memorable test match performance.
It might just take one miracle pass or crushing tackle for the confidence to return and for Williams to eliminate doubt about his shelf-life and readiness to still be a force at this level.
"The more minutes I have and patience I have and the mental approach I have to footy, things will click," he says.
"I am keen to work hard and put my hand up for selection every week which is all I can do."