NZME's award winning* football blog Goalmouth Scramble is back. Our rotating stable of football writers will offer daily hot takes on all the action from the World Cup in Russia. Today, Michael Burgess investigates why this England team feels different.
England's progress, on and off the field, has been remarkable at this World Cup. They have been fearless and resolute in their play, relaxed with the media and engaged with their fans.
It couldn't be more different than previous campaigns, where they were paralysed by fear on the field, susceptible to awful errors and constantly paranoid about the media.
England also sometimes became divorced from their own fan base, who grew frustrated with the perceived lack of focus and attention on the WAGS.
That's all gone. The supporters here in Russia can't say enough about this current squad, identifying more with the values and beliefs.
"These guys are the real deal," said Danny, a finance manager from Leeds. "They want to play for the shirt, but they are not feeling the pressure of it."
A lot of the credit has gone to manager Gareth Southgate, who has turned around the culture and belief within the Three Lions.
One of the most important steps was breaking down the club-based barriers, which engendered cliques within previous squads.
He told the players that if they achieve something with the national team, it would be bigger than any trophy won with their clubs.
It's an indisputable fact with most other countries, but also been tricky with England, with such a huge loyalty towards clubs from both players and fans.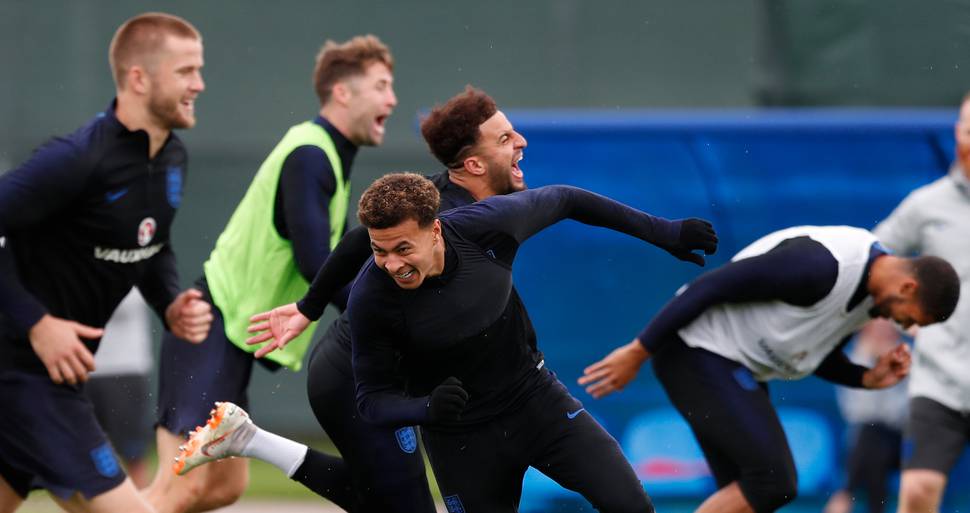 Southgate, along with the Football Association, have also driven the players to be more open with the media.
Senior English journalists told me they were stunned ahead of the World Cup, when every single member of the team was available to media.
"That hasn't happened in my lifetime," said one veteran journalist. "We were spoilt for choice."
The new relaxed attitude was evident in the mixed zone after the victory over Sweden.
Eric Dier had already stopped and talked with three groups of journalists, but also paused to answer some questions from the New Zealand Herald.
"We are trying to create our own history and we keep doing that, game after game," said Dier.
"We want to keep on going, try get as far as we can. We have had the right attitude and willingness to fight from the beginning. Need to stay focussed, have do that till now and we will continue to do so."
Raheem Sterling also took questions from a large gathering of media, while captain Harry Kane stopped to talk to a group of another 25 journalists, hanging on his every word.
"[We] are one step closer to the bigger game in football as a professional. We have a tough game coming up, but we feel confident. Everyone is calm and that is what we need if we want to progress."
*Goalmouth Scramble's "award" was more of an inter-company acknowledgement in an email from 2012.
Previously, on Goalmouth Scramble:
Steven Holloway: How I lost my money - the World Cup's worst bets
Joel Kulasingham: Why Belgium v Brazil is the sports event of the year
Niall Anderson: 10 things to do when there's no World Cup games to watch
Chris Rattue: Why England haven't got a hope of winning the World Cup
Damien Venuto: Why the world might want England to lose
Steven Holloway: 10 thoughts on the World Cup, and why Neymar is a d**k
Damien Venuto: The villains of the World Cup
Joel Kulasingham: The 11 All Blacks who would dominate* the FIFA World Cup
Chris Rattue: Bring on the penalty shootouts
Niall Anderson: So, uh, which of these World Cup teams are actually good?
Steven Holloway: Funbag: Messi and World Cup conspiracy theories
Michael Burgess: Why I'm missing Sepp Blatter
Cam McMillan: The far too early second round projections
David Leggat: A few things you need to know about the World Cup
Damien Venuto: Messi - The Argentinean Andrew Mehrtens?
Cam McMillan: Why Brazil will (and won't) win the World Cup
Niall Anderson: The best (and worst) games to watch
Chris Rattue: Funny footballs and goalkeepers
Chris Rattue: The big World Cup questions
Steven Holloway: Fancy a punt? The World Cup's best bets