Napier City Rovers will be without captain James Hoyle and versatile winger Wesley Cain but if the opening round result is anything to go by they shouldn't lose any sleep over it.
The Thirsty Whale-sponsored Blues thumped newcomers Intergration Works Waterside Karori 7-3 last Sunday but their 2.30pm kick off against Miramar Rangers at David Farrington Park, Wellington, will be a step up although, perhaps, not the yardstick coach Bill Robertson is looking for in the premier soccer winter league.
Wellington United walloped Miramar 6-1 in the season opener of the Ultra Football Central League last weekend to dispel any such notions of a litmus test against power houses .
However, the other newcomers, Building King Havelock North Wanderers, will be able to juxtapose their 2-0 loss to Stop Out when they kick off against Wellington United at 2.30pm in the capital city today.
"Obviously over the years they have been a pretty strong side in Central League so it's probably a good test for us now, after a good start against a newly promoted team, to see where we are at the moment," says Robertson.
The Blues are still working on their mould with new players and young reserves but he simply sees the Rangers as another opportunity to keep improving.
"Miramar have been a bench mark team over the years and I'm sure they'll get better as the season goes on so we'll see how it goes," he says.
Hoyle has gone back to his hometown in England for a holiday while Cain has done the same in Canada, for at least three rounds.
"We've got a good squad of players so it gives them a good opportunity to come in to try to keep the shirt."
Robertson hasn't confirmed a captain and will do so after consulting his assistant, Stu James.
Police officer Joshua Stevenson, fellow veteran defender Danny Wilson have captained before as contenders to slip on the armband of skipper although Robertson believes goalkeeper Ruben Parker Hanks also can assume that mantle.
"We probably have a number of choices so I will consult Stu James before making that decision [tomorrow]."
Teenage defender Ethan Ladd comes into the squad although Robertson will be the logical replacement for Hoyle.
Japanese midfielder Sho Goto also enters the equation.
Jokes aside on veteran Chris McIvor, who isn't travelling tomorrow, the Blues had blooded teenagers last weekend at Bluewater Stadium, Park Island.
"That's great for the club, especially Zac [Madsen] who has come via City Rovers juniors all the way through to the Central League level so it's good for the club to show there's a pathway for young players."
It'll be their first game on the road but the multiple ISPS Handa Premiership title-winning captain says the 7am set off here to a 2.30pm kick off in Wellington is never easy.
Most players will be accustomed to that but a few won't be but they'll have to adjust smartly because that's the weekly routine and there'll be no excuses.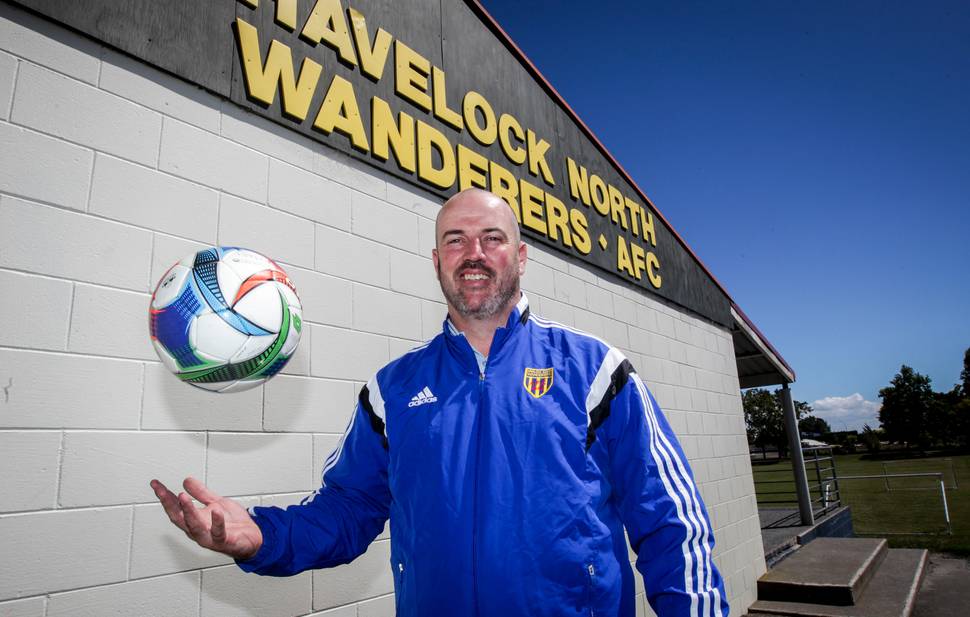 Wanderers assistant coach Bruce Barclay says they did some good things against Stop Out but also had some work-ons for a bigger challenge.
"We have to keep improving because it's not a static league as other teams will improve and they'll recruit," says Barclay although he stressed the villagers aren't daunted.
In reality, their have been fizzing at training and the prospects of facing new rivals is exciting for them.
Barclay says they will travel with the same squad but none of their three new signings will play although one had trained this week.
Travel isn't an issue for the Wanderers who have yet to host a game at Guthrie Park.
"Wellington United are a class side and are coming off an impressive 6-1 win over what is traditional power houses Miramar and they have the backing of the Wellington Phoenix set up.
"There is no way you can come into match like this with trepidation but that's why we do it. It shows that you're ambitious and that's why you do those thing," says the police officer, adding improvement comes with such measures.
The Wanderers will be looking for their maiden goal in the season, something that will no doubt soothe the nerves perhaps a little in the higher echelons where a goal is earned rather than a given.
Barclay recalled how Havelock North came close to scoring one against Stop Out, a move that started from the back and was put out wide for a shot at goal without the opposition touching it.
"If that had that gone in we would have been right into the match so, yes, goals change games," he said.
BOTH TEAMS

■ ROVERS: 1 Ruben Parker Hanks (GK), 3 Liam Schofield, 4 Drew Matthews, 5 Kaeden Atkins, 6 Jamie Wilkinson, 7 Sho Goto, 8 Karan Mandair, 9 Martin Bueno, 10 Patryk Misik, 12 Ethan Ladd, 14 Josh Stevenson, 16 Danny Wilson, 17 Fergus Neil, 19 Bill Robertson, 20 Zac Madsen, 21 Dan Robinson (RGK).
Coach: Bill Robertson.
Ast coach: Stu James.
■ WANDERERS: 1 Shaun Peta (GK), 2 Christopher Greatholder, 3 Tui Kennedy, 4 Campbell Whitworth, 5 Stefan Kitching-Nicholson, 6 Kurtis Maney, 7 James Barclay, 8 Ethan Dent (c), 9 Jared Bloor, 10 Ben Foxall, 11 Harry Fautley, 12 Kenneth Willox, 13 Oliver Chapman, 14 Brad Calder, 15 Sam Waddington, 16 Jackson Ralph, 17 Liam Shackleton, 18 Guy Reeves, 19 Che Jesson-Bentley, 22 Nicholas Hayward (RGK).
Coach: Chris Greatholder.
Ast coaches: Dion Adams, Bruce Barclay.