She is, no doubt, off limits to the media but Dame Valerie Adams certainly isn't to a pleasantly surprised and starry-eyed group of high-performance athletes in Hawke's Bay this week.
A Commonwealth Games-bound Adams is doing her final preparations in Hastings before jetting off to the Gold Coast in Australia to attend the opening ceremony on Wednesday next week to mark the 21st international multi-sport event for 12 days.
"It is great to have such a legend of NZ sport, coming into our facility and training alongside, and inspiring, our locals," said Marcus Agnew, the health & sport development manager of the Hawke's Bay Community Fitness Centre Trust.
The 33-year-old shot putter walked into the High Performance Sport New Zealand gym at the HB Regional Sports Park about 4pm on Monday to the delight of emerging elite teenage basketballers, netballers, as well as tennis and hockey players.
Agnew said it was just a chance meeting although he was aware Athletics New Zealand was preparing for some of its games-bound members to train here.
"I didn't know Dame Valerie Adams was coming in so it was a total surprise but it was a good time because there were 16 great young girls training at the gym," he said, welcoming the fillip Adams brought, just by her mere presence, to a gym that started only 18 months ago.
Agnew said the teenagers were extremely excited, their happiness and aura captured in the quick photograph Adams had kindly posed for briefly before her intense workout.
"The girls then got on with their training and had a chance to train with Valerie as well for a while."
Adams is a four-time world champion, three-time world indoor champion, two-time Olympic and three-time Commonwealth champion.
The sister of Oklahoma City Thunder centre Steven Adams, in the NBA in the United States, and husband Gabriel celebrated the birth of Kimoana, their first child, in October.
She told Agnew it was a great environment and training facility here and heartening to see the construction under way for the institute of sport and health that Sir Graeme Avery is driving.
"It was an awesome buzz in here, the place was rocking and so great to see all these young female athletes getting proper training. You hardly ever see so many like this — and they are all loving it," she said.
The teenagers were in awe of Adams' strength and technical ability during her routine.
"Girl power — that itself is one of the outcomes of this great facility and then all of them being in one buzzing environment [on Monday] was exactly what we were hoping for and it's the start of more to come and really cool to see."
Agnew said once the construction was completed, the main facility would have more space for community health programmes as well. The high-performance athletes are using a temporary facility as a gym right now.
"That's the vision of Sir Graeme Avery and now it's starting to come under fruition so to have someone of the prestige of Dame Valerie Adams doesn't come much greater than that."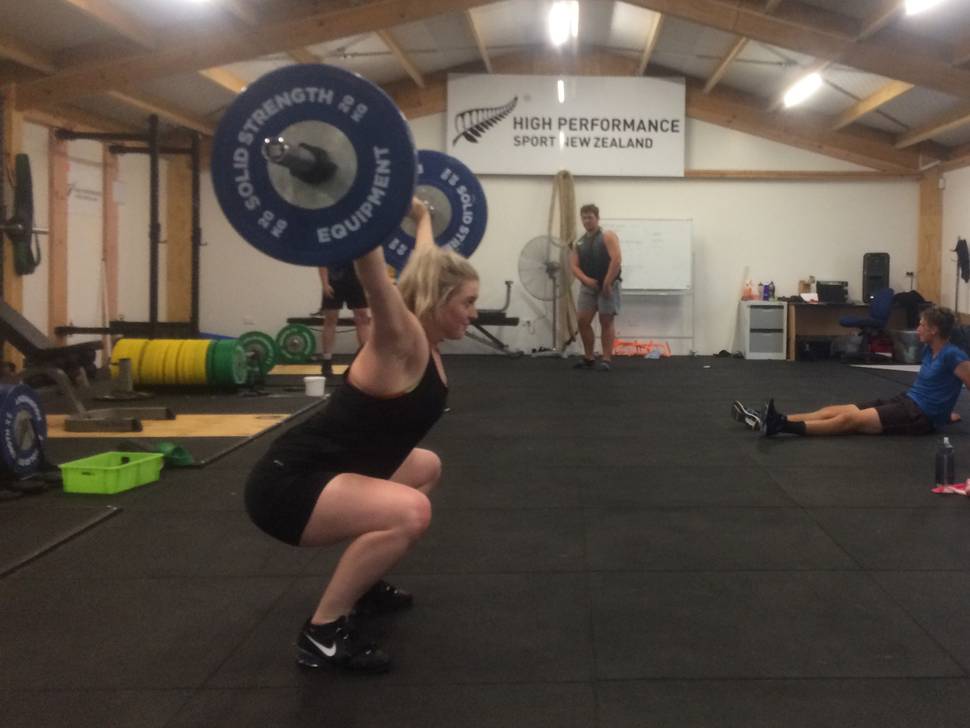 Adams even stopped working out briefly to give encouragement to the province's best female Olympic weightlifter, Olivia Hoogerbrug.
"Olivia came pretty close to lifting her PB so she was pretty excited about having Valerie next to her because she too is incredibly strong," he said.
Hoogerbrug said she started warming up when Adams got into about 200kg box squats.
"I got a bit of a fright because I didn't know she was going to be in here," said the grinning 25-year-old architectural designer from Havelock North who had tried to "act cool".
When the former Woodford House pupil started to do her clean-and-jerk routine Adams said: "Come on, babe."
"It was great. I was a little tired when I came in but then I had an Olympic champions sitting next to me so it put some confidence into me," she said, revealing a smiling Adams said "the motivation is free".
Hoogerbrug said it was great to have someone so humble and approachable to look up to.
"It's awesome to have such strong women to look up to as role models."
Former world under-18 No 1 shot put thrower Nick Palmer said when he got over the surprise it was a great to have someone of Adams' stature make an impromptu appearance. She had turned up yesterday as well.
"It's really special for me because I do shot put as well and it shows me where I could end up one day and how prestigious she is.
"Yes, it's how good she is in the gym but also how well she holds herself so her presence in the gym's not just for me to aim for but everyone else," said the 17-year-old Karamu High School year 13 pupil who had met her before.
Palmer, who won a silver medal in his discipline at the Commonwealth Youth games in the Bahamas in July last year, said Adams looked in "pretty good shape so we'll see how she goes".
High performance athlete Briana Lee also got "a bit of a shock" when she first saw Adams on Monday.
"I was in a state of disbelief at first because she is so high up there like an elite athlete," said Lee, a Napier Girls' High School pupil, who didn't want to interrupt Adams while she was working out.
"It shows you how far a Kiwi can go. She's very strong," she said.
The 15-year-old, who was the 800m national intermediate schoolgirls' champion in 2016, also is a Netball Hawke's Bay development age-group player.
Lee is ranked No 2 in the country in her age-group grade of the 800m distance and has a PB of 2m 14s.