The players were going through the motions but it took a goal from Hawke's Bay United to sting Canterbury United into action in Napier today.
The Dragons won 2-1 after dominating play in a scoreless first half but it was the Thirsty Whale-sponsored hosts who added some zest to the game in the second half when they gave the Dragons a fright at Park Island, in the televised round 16 of the ISPS Handa Premiership soccer match.
Canterbury goalkeeper Coey Turipa said they were mindful of Bay United coach Brett Angell's philosophy of sitting back and counterattacking.
"It was a hard one to take because we had missed opportunity after opportunity. So credit to Hawke's Bay because it was a huge wake-up call for us and luckily we could claw our way back," said Turipa of the Bill Robertson-captained hosts who will fill the pain after failing to win games at home this season.
It was the story of the season for the Gary Ogilvie-captained visitors, he said, who found themselves down in games this summer but managed to win.
"It's not good for the heart but, I guess, if you can win like that it's good to see."
In the ninth minute, the Bluewater Stadium faithful got something to cheer about after striker Samuel Adjei did a turn to beat an opponent before feeding the ball into the 18m box where striker Tinashe Marowa back-heeled to right winger Wesley Cain who shot just wide of the right upright.
Former Napier City Rovers striker Stephen Hoyle, whose brother James was Bay United rightback, got a through ball in the 14th minute but, despite howls of protest that he was offside, missed a golden opportunity to put the Dragons up when he tripped and in the tangle got his hand on the ball as goalkeeper Mack Waite took ownership.
Waite thwarted another attempt from almost point-blank range from Hoyle in the 27th minute.
The sides went into halftime scoreless with the visitors dominating possession and territory.
Canterbury centreback James Pendrigh picked up a yellow card for a crude tackle on Cain in the 49th minute.
But it was the hosts who broke the deadlock in the 64th minute from substitute Sam De St Croix (in for Jordan Lamb on the left wing) after some dazzling footwork from Marowa on the right flank to square a cross. Adjei helped the ball to De St Croix on the left upright to beat a lanky Coey Turipa for 1-0 lead.
Two minutes Hoyle, who missed a few chances for the Dragons, should have equalised but duffed from point-blank range as Waite collected.
The goal had stung the playoff merchants into action as they mounted a raid of attacks as both sides made a rash of substitutions in the 72nd minute.
Angell, as vocal as ever, pulled out Mandair from the engine room and injected Hayato Wakino.
Canterbury counterpart Willy Gerdsen took off Andreas Wilson for Luke Tongue and Cory Mitchell made way for Travis Nicklaw.
The shuffle paid dividends as Englishman Hoyle eventually delivered, stunning the home fans into silence with an equaliser, 1-1, in the 78th minute.
More substitutions followed as striker-cum-centreback-cum-striker Danny Wilson went in for a heavily strapped and hamstring-prone Adjei while Gerdsen took off George King to give youth representative Seth Clark a run to counter lethargy on a balmy day.
The Dragons went up 2-1 in the 87th minute after a counterattack from the halfway mark that saw left wing Futa Nakamura poke the ball into the net past Waite after a sliding move to capitalise on a cross in front of the goalmouth.
Turipa said Stephen Holye often created numerous opportunities despite butchering a few today.
"He's a quality striker and was always going to find the back of the net. He did at the right time but a couple of goals earlier on would have been nice," he said with a grin.
The PVC fabricator, who turned 26 last Friday, said the Dragons were pushing for a home semifinal in the hope that it would give them a shot at O-League.
"It'll be a big thing for Canterbury football as well so we're setting our sights really high but also staying grounded in trying to get through the last two rounds."
Turipa said it was nice to see Danny Hay also bringing in a crop of youngsters with his Eastern Suburbs side to break the stranglehold of Auckland City FC and Team Wellington.
"We're also very, very local and don't have too many out-of-town boys so it's going to be a tough finish but it'll help if we get a home semifinal."
Before the kick off, the sides waited patiently for TV to allow them on to the arena before they observed a minute's silence as a mark of respect for both provinces' earthquakes - the Bay in 1931 and Canterbury's in 2011.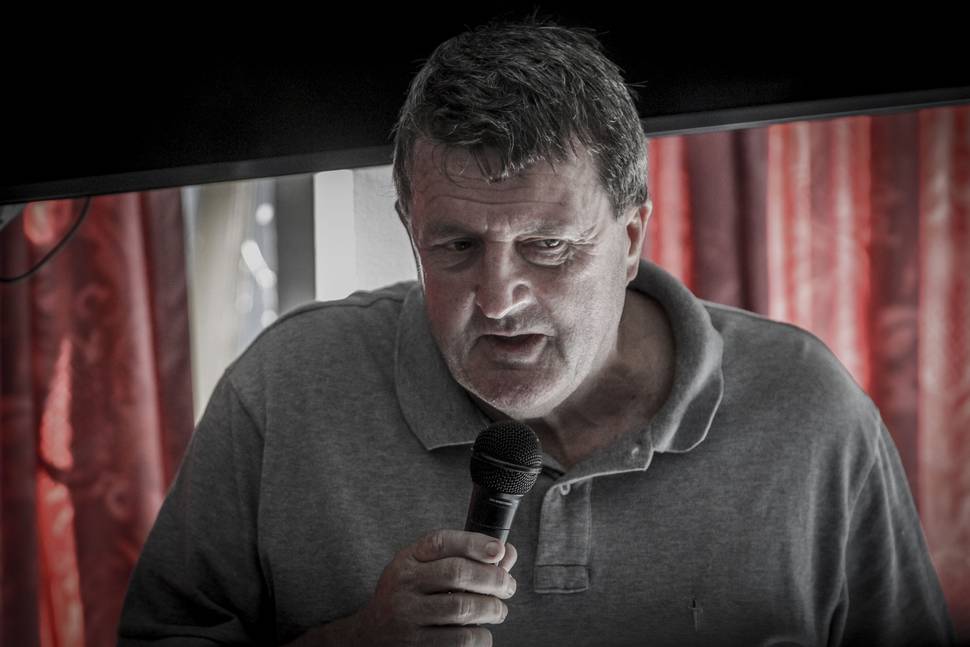 Bay franchise chairwoman Paula Walker paid tribute to Rovers stalwart Terry Parkin during the halftime break, awarding him a life membership after he resigned as a long-serving member of the Bay board last season.
Parkin said he had enjoyed his 11 years (2005-2017) on the board.
"I had helped Colin Stone in the change of the membership from Napier City Rovers members only to all the other clubs," said the 63-year-old retired insurance company manager, "who has been living the dream for three years", of the former board chairman and head of Sport Hawke's Bay who now lives and works in Wellington.
Parkin said he had stepped down for no particular reason but thought it was an opportune time for someone else to step up to the challenge.
"If I've got any disappointments then it is that a lot of the clubs haven't supported Hawke's Bay United in terms of coming along to the games.
"We didn't expect any financial help from the clubs but we just wanted them to be involved and take it up.
"It seems the winter footballers don't want to come along and be involved with summer football," he lamented.
Bay United play Waitakere United on Sunday next week before closing their premiership campaign by hosting Southern United on Saturday, March 17.