Wardrobe malfunction leaves star mortified
Of all the places you'd want to experience a wardrobe disaster, an international sporting event would have to be the last.
Ice dancer Gabriella Papadakis revealed a little more than she would have liked as she leaned back in the final stage of her performance with partner Guillaume Cizeron. The incident, which was televised across the world, saw a breast pop out of Papadakis' top before the French star readjusted and completed the routine.
"It was hard to stay concentrated after the costume malfunction we suffered," Cizeron said after the mishap.
"[It was a] great honor and experience. We tried to enjoy it as much as we can," Papadakis replied.
The embarrassing moment wasn't the first time an ice skater has been thwarted by their wardobe in PyeongChang either.
South Korean figure skater Yura Min suffered an Olympic nightmare earlier in the Games.
The star's red dress slipped just seconds into her short dance routine, threatening to reveal just a little too much to the millions watching around the world.
Read more: Wardrobe malfunction in figure skating short dance
Rippon says no to NBC
American figure skater Adam Rippon agreed to become an NBC correspondent for the duration of the Olympic Games, but then changed his mind overnight. He told NBC on Sunday that he was flattered by the offer, "but if I took this opportunity, I would have to leave the Olympic team and I would have to leave the [Olympic] Village".
He said his friends on the Olympic team were there for him during his events and he wanted to return the favour.
Rippon attracted attention for his colourful and candid interviews, and his apparent ease with the medium.
Dark secret behind Olympic mascot
Bandabi the Asiatic black bear (or moon bear) is one of the cute and cuddly mascots of the PyeongChang Games — along with Soohorang the white tiger — but not everything about it is so heartwarming.
In a cruel irony, moon bears are kept on farms in South Korea so their bile can be harvested for use as a traditional medicine. Speaking to USA Today, CEO of Animals Asia Jill Robinson said approximately 1000 moon bears are on Korean farms.
By making Bandabi a star of the Winter Olympics, it's hoped more attention will be drawn to the plight of moon bears in the country.
"It's our hope that the cute and cuddly cartoon moon bear mascot named 'Bandabi' will serve as an ambassador of sorts for actual moon bears in South Korea, whose lives are anything but idyllic and cute," Robinson said.
"Bear farming is an extremely cruel and inhumane practice that has no place in modern society."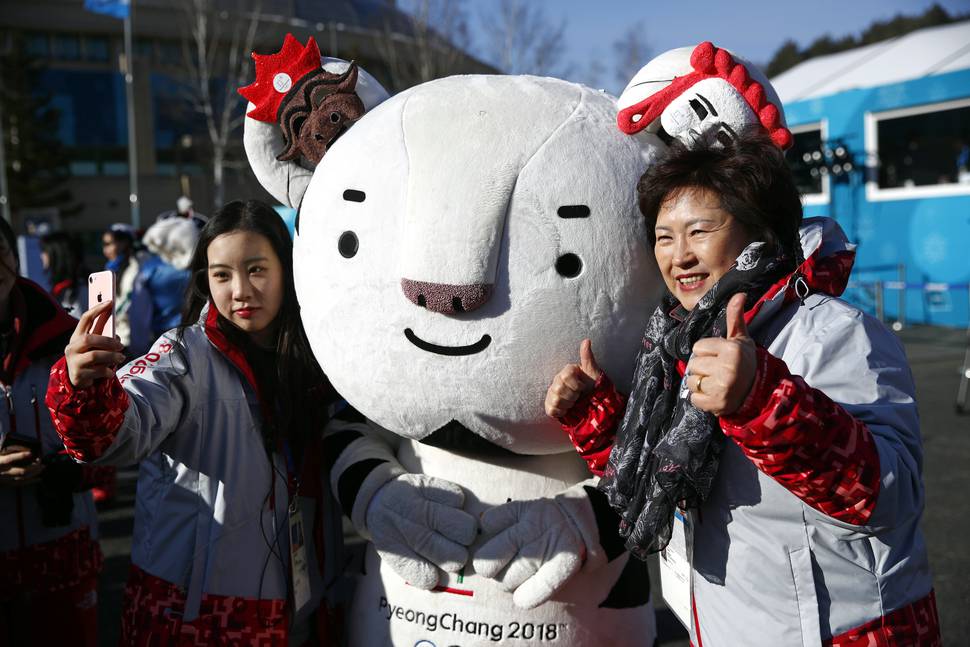 Bear farming also occurs in China and Vietnam, which has contributed to the species' declining population. According to USA Today, Korean law allows moon bears (who have a life expectancy of about 25) to be killed at age 10 so bile can be harvested.
According to the PyeongChang organising committee in 2016, one of the reasons the moon bear was chosen as a mascot is because it is a symbol of the Gangwon Province, in which PyeongChang is located.
Aussie's 'heartless' admission
Aerial skier David Morris has revealed the personal struggle he faced coming to grips with his mother's cancer battle less than two months out from the Winter Olympics.
Morris, who controversially finished 10th and just one spot out of the second final at Bokwang Phoenix Park on Sunday night, had to make a tough decision in late December about whether to go to his third Games in PyeongChang. It was then he'd discovered that his mother Margaret had lung cancer.
After discussing it with his family he decided to keep training for the event.
"I'll come back and we can deal with everything as a family because we have been putting it off for months — all the emotion," he said.
"It will be good to become more of a real person and less of a selfish athlete.
"It hurts on the inside."
Morris. 33, said his mother's illness weighed on him all the time but in many ways he used his competition strategy to block out what was happening in his personal life.
"Over the years I have learnt to just ignore things: We ignore the crowd, we ignore the music, we ignore the pressure of competition — a really sad life event is a really hard one," he said.
"But when I am out there I just can't afford to think of that and I told her that when I am out there I am just not going to react to this and it's heartless and it sucks to be that person but my family understands this is important."
Morris, a silver medallist at the Sochi Winter Olympics four years ago, was gracious despite failing to make the penultimate final in dubious circumstances. He'd landed a quad-twisting triple somersault but was marked down for the landing. Effectively only needing one more skier to falter to progress, Morris looked to have his path secured when China's Jia Zongyang stumbled and fell after his landing.
But, to the surprise of many, the jump still scored higher than Morris's as the fall was adjudged to have happened outside a four-metre zone after the runout. Jia made the most of his luck to claim silver, behind the Ukraine's Oleksandr Abramenko while Ilia Burov won bronze under the Olympic Athlete From Russia banner.
Morris, who said he was unsure about his competitive future, questioned the decision with his coach but ultimately accepted it with good grace. "It is what it is. It's a judged sport. Sometimes it sucks. Sometimes it's in out favour. We don't complain when it's in our favour. And if we really have issues with it we should take up another sport that is timed so we can't argue times," he said.
To get the day's top sports stories in your inbox, sign up to our newsletter here