A father whose three daughters were sexually assaulted by Larry Nassar tried to attack the pedophile doctor in a Michigan courtroom on Friday.
Randall Margraves stood at the podium as two of his daughters read their victim impact statements in Eaton County Court, and when the girls were done asked Judge Janice Cunningham if he could have five minutes alone in a room with 'this demon.'
When she denied that request he asked for a minute alone with the convicted child molester, which was also denied by the judge.
He then lunged toward the defense table and raised a fist before being brought to the ground and handcuffed by deputies.
And it was, fittingly, Nassar's defense attorney who shielded him from the angry father, who appeared to be almost twice the size of former USA Gymnastics team doctor.
'Give me one minute with that bastard,' said Margraves as he was pinned to the ground.
'I want that son of a b****
Both Madison and Lauren spoke about how their family was struggling to cope in the wake of their assaults, standing with their dad and mom Sharri, a competitive power-lifter.
Lauren, who was 13 when Nassar molested her, said it had been particularly difficult for their parents: 'I see the look on their faces and I know they want to do something and they can't.'
Madison described the past few months as 'hell,' with tears running down her face.
Their sister Morgan Margraves had previously delivered a victim impact statement in Ingham County Court for Nassar's previous sentencing, which was read in court by a member of the attorney general's office.
Margraves could be seen getting increasingly angry during their readings, and will parents of previous victims had been seen burying their faces or looking to the sky, Margraves kept his gaze fixed on Nassar.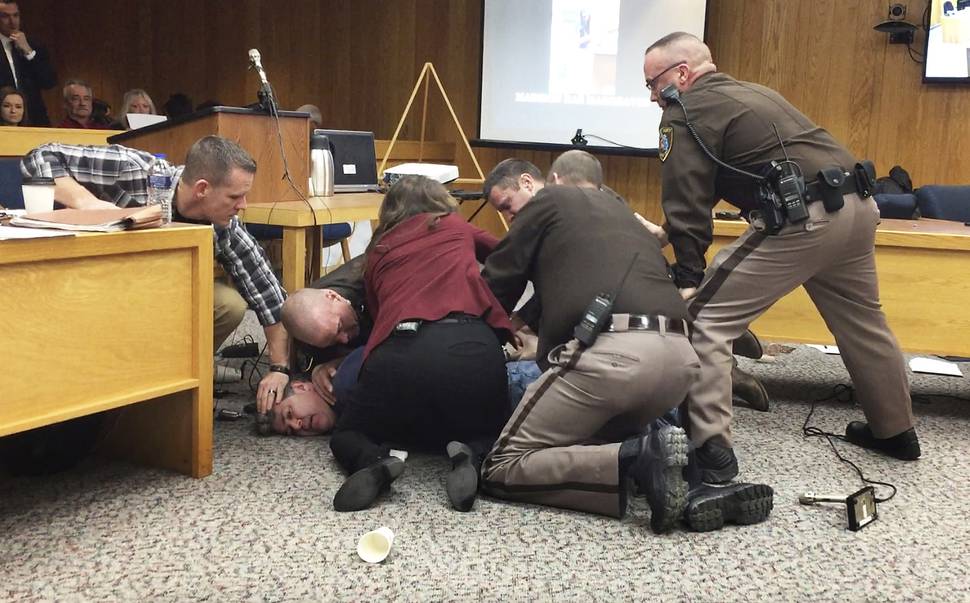 He then asked if he could give a brief statement.
'I would ask you, as part of the sentencing to grant me five minutes in a locked room with this demon. Would you give me one minute?' said Margraves after his daughters had finished speaking and were preparing to return to their seats.
It was said in a slightly threatening tone, which Judge Cunningham did her best to diffuse as she told Margraves that is not how the legal system operates in this country.
He then paused for a moment and said: 'Well, I'm gonna have to...'
At that point Margraves made a direct line towards Nassar, sprinting out from behind the podium and coming shockingly close to laying a blow on the doctor.
Newburg managed to shove him off however, at which point he was pinned and then handcuffed by Detective Andrea Munford, the MSU police officer who led the investigation into Nassar's crime.
His daughters, who were already in a fragile state, seemed to be in a state of shock as they looked on from behind the podium as their father was dragged out of court.
Madison only just revealed she was a victim of Nassar last week in a statement posted to Facebook.
'As many of you know, both my sisters have now shared their stories about how Larry Nassar has affected their lives forever. I feel that this is a good time for me to say that I too am a victim of Nassar's horrible, disgusting acts,' wrote the high school student.
'It has been so crazy seeing all of this unfold on tv and online, seeing many girls who I've played sports with come forward and share their stories too, and to see this horrible man, who I've known for most of my life, finally get what he deserves.
'But I honestly don't know if I would have ever been strong enough to tell people outside of my family if it weren't for all the strong, brave women who shared their stories before me. Thank you. We truly are sister survivors.'
Assistant Attorney General Angela Povilaitis was quick to disavow Margraves' actions, saying: 'You cannot behave like this. This is letting him have his power over us.'
Margraves, who was taken out by four officers, fired back: 'You haven't lived through it, lady.'
In the end, the victims did not suffer any more because of the outburst, which could have threatened statements being read in court moving forward.
Judge Cunningham made a calming call for peace in the courtroom after a brief recess.
'Obviously what just occurred in the courtroom was scary and caused a level of discomfort for all of you, and I'm sorry that happened,' said Judge Cunningham.
'My heart started beating fast and my legs felt shaky after that quick eruption of violence.'
She then did her best to not villainize Margraves while still making it clear his actions were unacceptable.
'I recognize that Mr. Margraves has three daughters that he had to watch go through this pain and hurt,' she went on to say.
'If it is hard and difficult for me to hear what his daughters had to say, I can't imagine what it is like for him.'
And she ended her remarks with a call for law and order.
'What Mr. Nassar did was horrible. It's unthinkable. But please let the criminal justice system do what it's supposed to do,' said Judge Cunningham.
Margraves meanwhile is still detained at the courthouse, with an investigation underway to see if charges will be brought against the father.
Sixty-five women are scheduled to speak over the course of three days in Eaton County Court, where Nassar is being sentenced after entering a guilty plea on three charges of criminal sex abuse, with each carrying a minimum sentence of 25 years in prison.
This was day two.
Nassar was sentenced to 175 years in prison just last Wednesday after a highly emotional seven-day sentencing hearing in a Michigan courtroom.
'I just signed your death warrant,' said Judge Rosemarie Aquilinia, referencing the fact that Nassar would never again be a free man and die in prison.
Nassar had agreed to serve a minimum sentence of 40 years as part of a plea deal, with that prison time coming after he completes his 60-year federal sentence for child pornography charges.
He was expected to get a maximum of 125 years in prison, but Judge Aquilina went well beyond that mark.
Prior to that, the pedophile doctor addressed his victims in a brief statement, choosing to turn and face the women as he made his remarks.
'Your words these past several days, your words, have had a significant emotional effect on myself and has shaken me to my core,' he mumbled through tears.
'I also realize what I'm feeling pales in comparison.'
He then added: 'I will carry you words with me for the rest of my days.'
Those tearful words were revealed to be completely hollow however by Judge Rosemarie Aquilina, who proved that point by reading from the letter that Nassar had submitted to the court.
'What I did in the state cases was medical, not sexual, but because of the [federal porn conviction] I lost all credibility,' read Judge Aquilina from the letter.
'So I'm trying to avoid a trial to save the stress to my community, my family. But look what's happening. It's wrong.'
He then wrote about his victims in words that were a far cry from the statement he had made moments earlier in court.
'I was a good doctor, because my treatments worked and those patients that are now speaking out were the same ones that praised and came back over and over,' wrote Nassar.
'The media convinced them that it was wrong and bad.'
The crowd then gasped as Aquilina read: 'Hell hath no fury like a woman scorned.'
To get the day's top sports stories in your inbox, sign up to our newsletter here