A former teammate of late All Black hardman Jerry Collins has revealed intimate details of the years leading up to his death.
Collins, who made 48 appearances for the All Blacks between 2001 and 2007, died in a car crash in southern France in June 2015 after coming out of retirement to play for second-tier club side Narbonne.
In his new autobiography, The Byrne Identity, retired Welsh fullback Lee Byrne dedicates an entire chapter to Collins, his teammate at Ospreys between 2009 and 2011 - describing the flanker as "fearsome on the field, but impossible to dislike off it".
"Every time I hear the electric gates opening in my driveway, it's the same, even now. I'll stop what I'm doing for a moment and look up, half expecting Jerry Collins walk through them, looking the worse for wear," Byrne, who was a pallbearer at Collins' funeral in Wellington, writes.
"For two years, during the period when Jerry and I were teammates at the Ospreys, it was a sight I became used to.
"The big man had his own house, you understand, but at weekends, to all intents and purposes, he'd live at mine. Or at least he'd crash there when he wasn't out enjoying himself. He wasn't really one to follow normal rules, you see.
"Jerry and I became the best of friends, but our first meeting was less amicable. "
The pair first "met" ten seconds into Byrne's test debut on November 5, 2005, at the Millennium Stadium in Cardiff - when Collins flattened him in a tackle, rubbed his head and said: "Next time step, bro."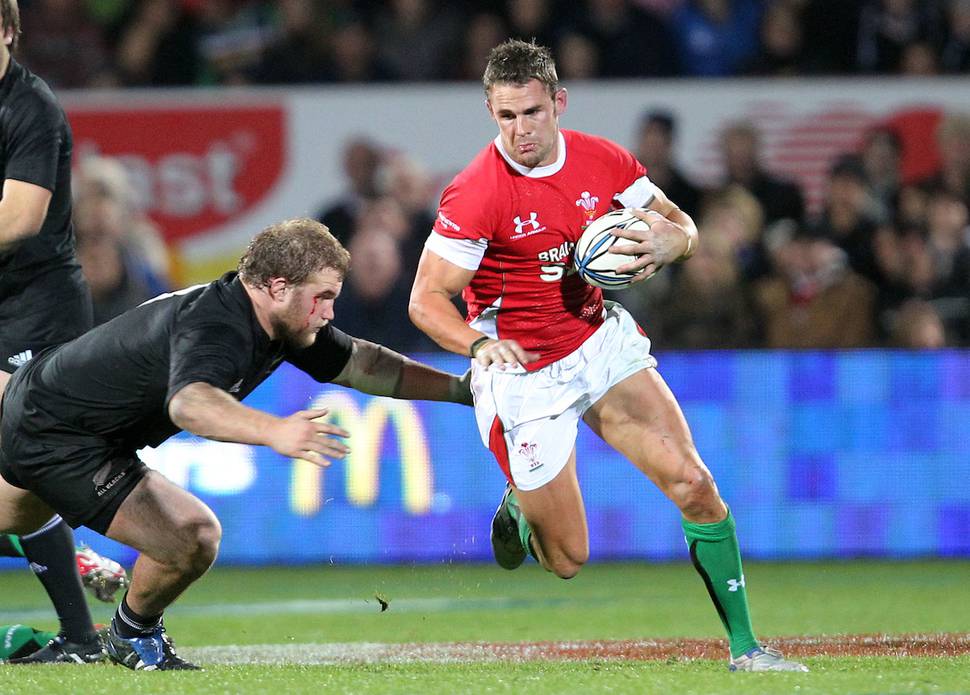 Byrne recalls when Collins, known for refusing to dress up, surprisingly agreed to make an exception.
He had "splashed out" on a smart shirt, some jeans and a decent pair of shoes and booked a limousine for a night out in Bristol.
"We were heading towards the M4, passing through the suburb of Ely, when Jerry asked the driver to stop at this random pub. 'This is my local,' he said - explaining that he'd been drinking there on his day off - and wanted to go in and say hello," Byrne writes.
"He produced a bag containing his usual garb - shorts, vest, flip-flops - and changed, explaining that the regulars would never recognise him otherwise.
"Inside, he insisted on buying everyone a Jagerbomb . . . before changing back into his smart gear for the onward journey to Bristol."
After another bender, Byrne and Collins noticed a rubbish truck while walking back to their hotel.
The Wellingtonian, who had once been a bin-man in his hometown, decided to help out.
"The next thing I knew he was on the back of the truck, getting off to collect the rubbish bags.
"The crew didn't mind - they even let me sit up front next to the driver, who happened to be Welsh."
Collins had mastered the art of hiding his drinking from Ospreys team management, Byrne says.
"Despite being seemingly hangover-proof, JC still went to some lengths to maintain the image of clean living.
"Before we got to the ground, he'd tell me to pull over at a newsagents so he could buy a paper; he'd then fold it up and carry it under his arm into training. He said it made him look businesslike.
"To be fair, he always looked the same, hung-over or not... unless, that is, you got up close, and smelled the vodka emanating from his pores."
The pair kept in touch after Collins left the Welsh club for a stint in Japan in 2011, with the Samoan-born enforcer - known as much for his bleached hair as his bone-crushing hits - "continuing his outlandish adventures".
He was arrested in March 2013 in a department store after he was reportedly spotted carrying a big knife.
Collins claimed he'd been running from the Brazilian mafia, Byrne writes.
"He told me they'd confused him with a Tongan rugby player with whom they'd recently had an altercation. He got himself arrested for his own safety and was flown out of the country.
"Next, he spent a year in Canada, working as a security guard at a residential centre for oil-riggers."
A chance meeting with Rocky Elsom - an ex-Wallaby back rower and then player-coach at Narbonne - at the wedding of Chris Masoe in 2014, saw Collins return to the field.
Collins died on the morning of June 5, 2015, after his Canadian partner Alana Madill lost control of their car and collided with a bus. The couple's three-month-old baby daughter, Ayla, was taken to hospital in Montpellier in critical condition.
"I last saw him in the [northern] summer of 2015, the day before he was due to fly to Canada to collect his family. We met in Narbonne. I walked into the clubhouse to find him in an ice bath, fag in mouth," reminisces Byrne.
There was no hesitation about flying out to New Zealand for the funeral, Byrne writes.
"I arrived at the family home in Porirua... Our mutual friend Chris Masoe offered to take me up to see him. 'If you start crying, I'll give you a buka,' he said.
"Jerry was lying in an open coffin, resplendent in his All Blacks suit. By his side sat his mother, crying her eyes out.
"Despite Chris' warning, I couldn't stop the tears.
"The next morning, still jet-lagged, I got up at 5am and went to a 24-hour gym near the hotel.
"Chris and his wife were coming to pick me up at midday. But after the gym, instead of my usual protein shake, I downed a bottle of wine in the room.
"After all, JC wouldn't want me turning up sober for his funeral.
"Jerry may have died at 34, but he packed more into his life than most 80 year olds have managed."