The woman in the Aaron Smith saga claims she was offered money to lie about whether she and the All Black had sex in a toilet at Christchurch Airport.
She says she refused to sign a false affidavit and is now taking legal action against rugby bosses for defamation and breach of privacy.
Smith was overheard having sex in a cubicle at the airport last year with a woman who was not his partner. After the incident was made public the rugby star made a tearful public apology and said the incident was a one-off.
But yesterday the Daily Mail Australia published a series of Facebook messages between Smith and the woman suggesting the halfback had not told the full story.
The woman has told the Daily Mail the relationship had been going on for years.
Tonight she told TVNZ's Seven Sharp tonight that Smith contacted her and asked her to sign a sworn affidavit saying they did not have sex.
She said she told Smith that was illegal, adding "I want to help you but this isn't an option".
"He acknowledged that he did understand that it was wrong. But he said 'Look, I really need this...I feel bad asking but would it help if I compensated you financially?"
The woman said she refused. She didn't want to make a big deal about the offer, as it was made in desperation.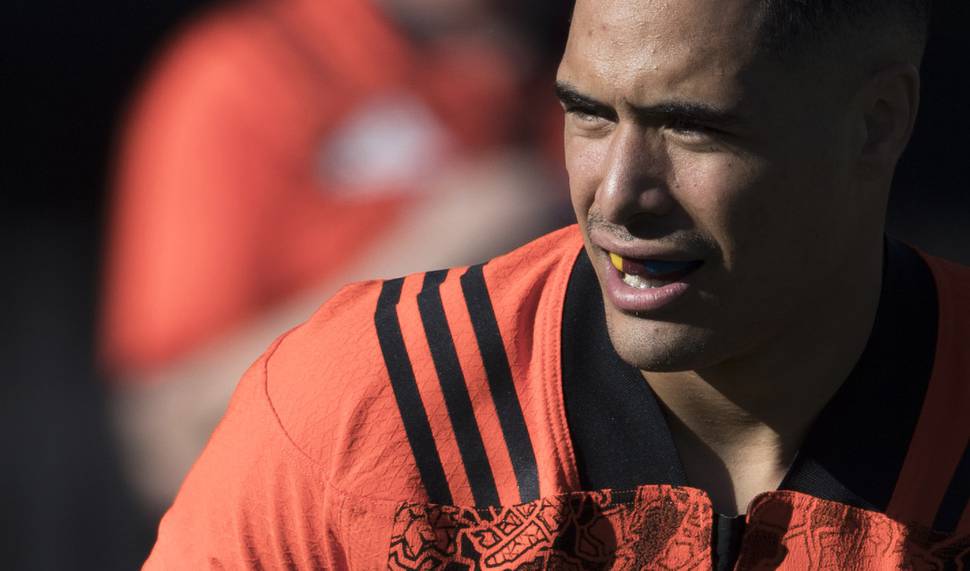 But she said she was now taking legal action against rugby bosses over breach of privacy and defamation, related to the way she'd been treated since the incident.
She claimed she had been treated as a "sexual predator" and that the Highlanders - who used the same gym as the pair - stopped attending that gym after the incident.
The year after the incident had been "dark", she said.
"I've been called every name under the sun - a ho, a whore, a home wrecker, a cheat myself - these are from people that don't even know me."
This afternoon All Blacks coach Steve Hansen told a press conference the incident had already been dealt with and Smith would remain in the squad ahead of this weekend's Bledisloe test.
"Obviously the incident happened last year," Hansen said. "We dealt with it and we feel that we dealt with it decisively.
"There's nothing more that I can add to that but if it ... needs to be spoken about it will come from the New Zealand Rugby Union - [chief executive] Steve Tew."
But New Zealand Rugby said tonight it was reopening an investigation into the sex scandal.
In a statement, NZR said that "based on information published today New Zealand Rugby believes that it needs to investigate the Aaron Smith matter further and has instructed an independent lawyer to do so.
"Until those enquiries are complete we will not be making any further statements to the media. It is effectively an employment issue that requires investigation."
Earlier a friend of the woman involved claimed he was the one who leaked the Facebook messages to media.
The man, named Neil, told radio station The Hits the woman allowed him to leak the messages, adding she "didn't feel like she was having her voice heard" and her side of the story needed to be told.
Neil last spoke to the woman this morning. "She's glad that her story is coming out - obviously there are going to be a few people that think she's doing this for publicity or for money and that's not the case at all."
Neil said he had known the woman for quite a while.
"She's certainly had to be quiet about a lot of things and she's done it with quite a lot of grace and been quite humble through the whole thing."