Seven years ago, one of college football's most exciting prospects fulfilled his dream of signing for the New England Patriots, at the age of 20.
Today, a convicted murderer, he was found dead in a dingy prison cell, as his Super Bowl-winning team-mates prepared to visit the White House.
Aaron Hernandez's sensational fall from grace - from unthinkable fame and riches at the top of the NFL to a violent gangster, settling scores with threats, guns and ultimately murder - finally came to an end with his suicide. He was 27.
It was an inglorious end to a life that began with generosity and promise.
Hernandez, encouraged by his father and his family, had been an affable child with extraordinary talent. He was a well-liked star at his Bristol, Connecticut high school, where he broke athletic records, and he became a hometown hero, as he excelled at college football and then the NFL.
It seemed the happy result of a childhood emphasis on hard work and responsible living, but the death of his supportive father seemed to send Hernandez down a darker, more dangerous path.
Back in 2010, University of Florida star Aaron Hernandez was lauded as "unquestionably one of the best receiving tight-ends" ahead of that year's NFL draft.
The fact that the star slipped to the 15th pick in the fourth round and into the hands of the New England Patriots may have been surprising, based on his football acumen alone, but became easier to understand, when his off-the-field behaviour sensationally hit the head-lines.
For Hernandez fans, his recruitment to his hometown team couldn't have been more of a fairytale. The tight-end had broken almost every record, as a football player for Bristol Central High School.
His yearbook quote was: "If it's to be, it's up to me".

He immensely looked up to father Dennis, a school custodian and highly sociable character - a trait Hernandez inherited. His son was socially versatile, easily fitting in with different crowds.
Dennis and the boys' mother, Terri, did not have glamorous jobs, but worked hard for what they earned. The boys were comfortable, but not spoiled and occasionally pined for more fashionable or on-trend things.
But Dennis emphasised self-reliance, a lesson that it seemed Hernandez took to heart, if his yearbook quote was anything to go by.
Hernandez's world was shattered, though, when his father died unexpectedly from an infection, following routine hernia surgery, when Hernandez was 16 - an impressionable age. It's impossible to know whether his life would have taken a different turn, had Dennis lived to see his son's professional success.
Mother Terri said Dennis' death was the reason her youngest son couldn't cope with authority.
"It was a rough process and I didn't know what to do for him,' she told USA Today in 2009. "He would rebel. It was very, very hard and he was very, very angry.
"He wasn't the same kid, the way he spoke to me. The shock of losing his dad, there was so much anger."
But Hernandez was soon recruited to the University of Florida, where college football legend Urban Meyer was tasked with putting the headstrong Hernandez to work with the Gators.
According to family and Hernandez himself, Meyer became a father figure and soon settled the star into his new surroundings.
He also found stability in long-term girlfriend Shayanna Jenkins, whom he had known since middle school. They dated off and on, through high school and throughout college, and were together ultimately until his death.
In 2012, the pair welcomed daughter Avielle Janelle - now four - and got engaged. Hernandez called his child's birth a "life changer".
However, those early days didn't see Hernandez completely out of trouble, even if much of his exploits were yet to hit the head-lines.
In 2007, 17-year-old Hernandez refused to pay a restaurant bill and punched a waiter in the head, rupturing his eardrum. The incident was settled out of court.

At the NFL Scouting Combine, he admitted having issues with marijuana, including failing at least one drug test, while at the Gators.
At the time, drugs were broadly accepted as the reason for Hernandez's drop on the draft leaderboard. Since then, however, there has been some suggestion teams knew more.
A confidential scouting service report, revealed by the WSJ, warned Hernandez enjoyed "living on the edge of acceptable behaviour", which could become "a problem" for his future employer.
The former general manager of the Colts admitted they "steered clear" of Hernandez, because "there were questions there".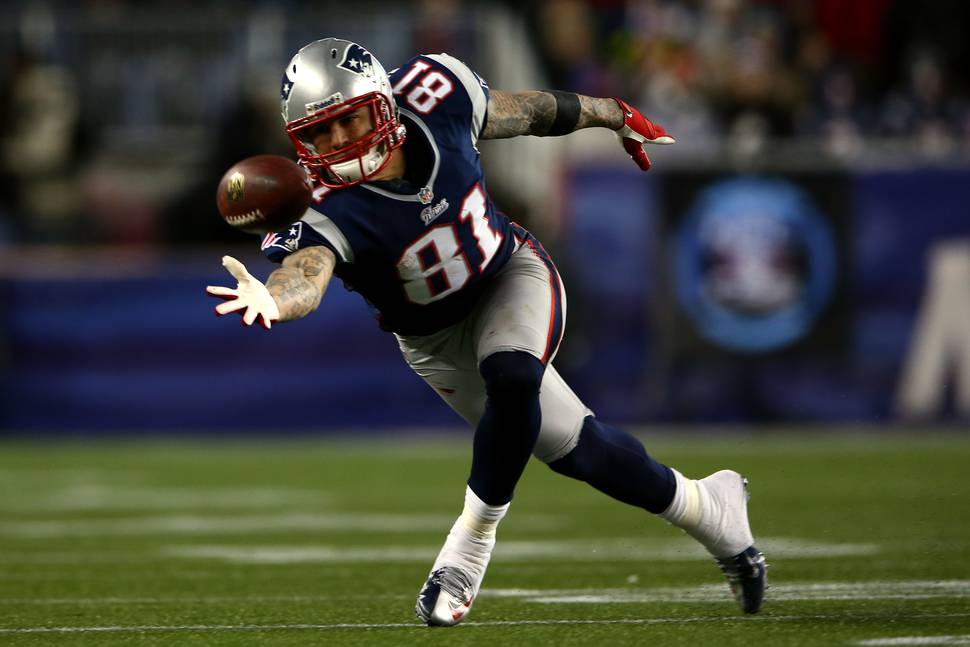 But the Patriots didn't feel the same way. On June 8, 2010, Hernandez was signed to a four-year contract with a bonus of $US200,000 - a smaller amount than any NFL recruit of his calibre would expect, but one that would soon be upped, if Hernandez performed on the field, which he undoubtedly did.
Hernandez finished the 2010 season with 45 receptions for 563 yards and six touchdowns over 14 games. He was given the number 81 jersey in 2011 and scored a touchdown at the 2012 Super Bowl that the Patriots ultimately lost to the Giants.
The next time Hernandez's team-mates would take to a Super Bowl field was in 2015. Hernandez was banned from watching, sitting in a 70-square-foot solitary confinement cell in the Special Management Unit at North Dartmouth jail.
Similarly, he was banned from watching his team beat the Falcons in February this year, but in letters to fans, remained devoted to the cause, saying he rooted for the team and "loved" Tom Brady "to death".

Hernandez's last NFL game was on January 20, 2013, against the Ravens. Five months later, he renewed his contract with the team with a $US40 million extension and a $US12.5 million signing bonus, which was the largest ever given to a tight end.
'I'm engaged now and I have a baby, so it's just gonna make me think of life a lot differently and doing things the right way,' Hernandez told NESN at the time.
"Now, another one is looking up to me. I can't just be young and reckless Aaron no more.
"I'm gonna try to do the right things, become a good father and [her] be raised like I was raised."
The touching words didn't match the star's secretive off-the-field behaviour.
On June 17, 2013, the body of Odin Lloyd, a semi-professional football player who was dating the sister of Hernandez's fiancee, was found about a mile from Hernandez's mansion in North Attleborough, Massachusetts.
Six days later, Hernandez was sensationally arrested for the murder and led from his home in handcuffs. He pleaded not guilty, but the Patriots released him within hours.
A former friend of Hernandez, Alexander Bradley, filed a lawsuit shortly after the body was found, accusing the millionaire athlete of shooting him in the face, permanently damaging his eye.
He claimed the pair had gotten into a fight at a strip club and prosecutors alleged it was Hernandez's attempt to cover up his gangster-like life that he believed Bradley would expose.
Hernandez settled that lawsuit in February 2016 for an undisclosed sum.
Charged with the murder of Lloyd and facing Bradley's lawsuit, police began to investigate Hernandez's history and a year later, the one-time NFL great was indicted on a further two counts of first-degree murder.
Two men - Daniel de Abreu and Safiro Furtado - had been shot to death in their car, as they waited at a red light in Boston's South End neighborhood on July 16, 2012. Prosecutors said Hernandez was angry, because de Abreu accidentally bumped into him at a nightclub while dancing, spilling his drink.
Hernandez pleaded not guilty. A year later, he was found guilty of killing Lloyd and handed a mandatory life sentence. Hernandez was acquitted of murder in the 2012 killings of Daniel de Abreu and Safiro Furtado on April 14.
Hernandez broke down in tears at the verdict, waving and blowing kisses to his fiancee and young daughter.
He did not leave a note in his single-person cell, so it remains unclear how far in advance the one-time football great had been planning to take his own life.
He blocked the door "with various items" and was not considered a suicide risk.
Hours later, Tom Brady became the first Patriot to announce he wouldn't be joining his team at the White House celebrations.
The team refused to comment on the death of their once star pick.
Where to get help:
• Lifeline: 0800 543 354 (available 24/7)
• Suicide Crisis Helpline: 0508 828 865 (0508 TAUTOKO) (available 24/7)
• Youthline: 0800 376 633
• Kidsline: 0800 543 754 (available 24/7)
• Whatsup: 0800 942 8787 (1pm to 11pm)
• Depression helpline: 0800 111 757 (available 24/7)
• Samaritans 0800 726 666
If it is an emergency and you feel like you or someone else is at risk, call 111.