A lot of snow has fallen since New Zealand's solitary Winter Olympics medal, when the Christchurch skier Annelise Coberger became an overnight sensation, a household name.
Talk snow slopes, and the Coberger name still springs to many minds, 25 years since she won the slalom silver medal in France.
Could a new Olympic star be rising? New Zealand was alerted to a brilliant prospect when Zoi Sadowski-Synnott, who has just turned 16, won a World Cup snowboard gold medal in the Czech Republic event last weekend, pushing her up to seventh on the world points list.
Her coach Mitch Brown, a double Olympian and national team mentor, believes the sky is the limit for his charge, this optimism supported by her amazing world tour debut. With the current tour at an end, Sadowski-Synnott is well on the way to selection for the South Korea Olympic Games next year, and increased high performance funding.
"I think she could really dominate the women's snowboarding world to be honest. She is a very talented young lady with a good head on her shoulders," says the 29-year-old Brown, of Dunedin origins, who competed at the 2006 and 2010 Games.
"People are blown away about this lady from Wanaka who has just popped up and become a force to be reckoned with on the world tour. Winning [the gold] was insane.
"She is an amazing athlete to work with, because of her willpower and belief. I'm expecting big things for Zoi."
Bold words, but the results are staggering for someone so young, even if the sport - as Brown explains it - is no longer a place where women peak in their late 20s.
Snowboarding wasn't even an Olympic sport when Coberger became a star, making its entrance at the Japan Games in 1998. It is still in fast progression mode, driven by fairly young athletes fuelled by gym programmes and anything else which gives them an edge, along with imaginations fired by a constantly available X-Games world.
Sadowski-Synnott has started fast, with her tricks winning a slopestyle silver medal at the world championships in Spain early this month, where she also finished fourth in the higher jumps of Big Air. There was also a World Cup event bronze medal in Canada and a brilliant ninth in her first World Cup Big Air in Colorado late last year.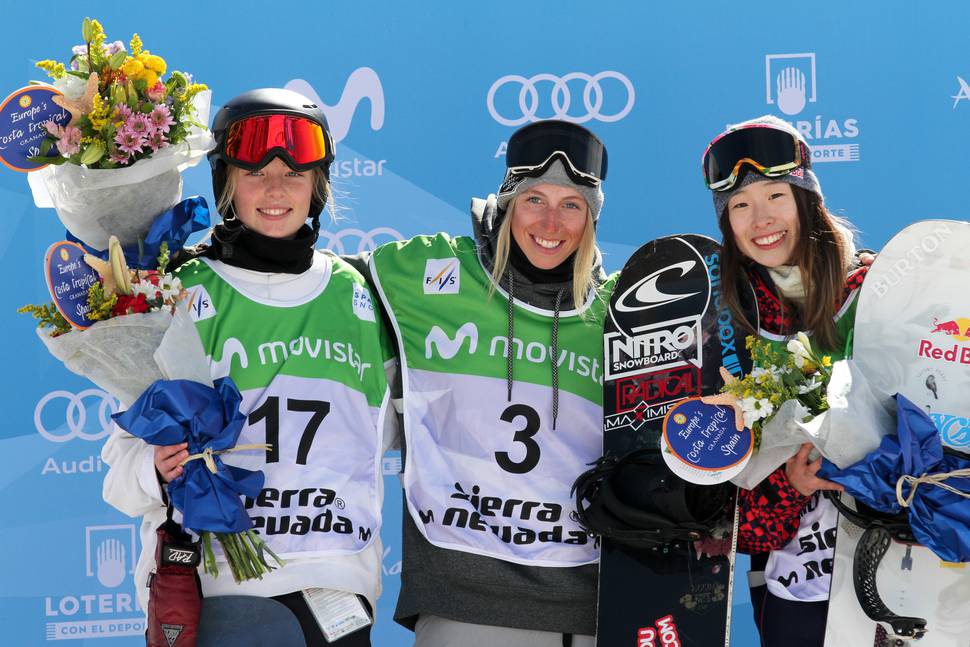 Sadowski-Synnott, whose family moved to New Zealand from Australia when she was six, has been deep in snow since birth. Her Kiwi father Sean and American mother Robin were recreational skiers and snowboarders who met at Whistlers, the famous snow sports and mountain biking haunt in Canada.
Early influences on Zoi (pronounced as for Zoe) included snowsports-loving older brothers Dylan and Harrison. Robin ran the former Snow Park near Wanaka, a freestyle haven. One of Zoi's best friends is the step-daughter of Juliane Bray, who won a World Cup snowboard gold as did another Kiwi Christy Prior.
Sadowski-Synnott says her strong efforts at New Zealand's 2015 Winter Games, where she competed unofficially because of her age, confirmed where she wanted her life to go. "I have no other career goals now, just snowboarding," she says from the Czech Republic, where a shoulder injury after a training crash has curtailed her hopes in the world junior championships.
"It was in 2012, about three years after I started snowboarding, that I found I loved it so much I wanted to skip school. I knew I wanted to go the Olympics and X-Games. Back then, it was just a dream for a little kid."
As an aspiring professional athlete, she does indeed get to skip Mount Aspiring College schoolwork, her correspondence courses taking a firm back seat when she is in snowboarding mode.
"It's quite hard to motivate yourself for the schoolwork when you are tired, when all your energy is sapped," she says. And her energy is often sapped.
Unless injury intervenes, as it did last year, she spends two months a year training in Colorado, competes in the New Zealand winter, while the current world tour campaign has taken her away from home for another three months. This dedication is reaping earlier than expected rewards.
"I had no expectations for this at all," she says about her sensational win at Spindleruv Mlyn, where she had the title wrapped up before her final run. "The whole season is about getting Olympic qualifying points, and meeting the New Zealand criteria, showing I can handle the competition at this level.
"My hopes were to get into the finals of at least one of the competitions. I think what's happened is due to all the work we put in during the New Zealand season, getting the tricks consistent, learning the tricks at spring camp."
Those tricks include the double wildcat, a double backflip requiring more courage than skill, and a rare move in the women's competition.
This can be a brutal sport, and Sadowski-Synnott admits to scaring herself at times. Brown believes her strong background in and love of skateboarding has prepared her well for the bumps and bruises, while also giving her technical advantages.
And she seems the perfect fit for the developing snowboarding age, of younger competitors pushing the limits, with an eye on the moves that will score an invite from the X-Games.
Brown fondly recalls an early experience which indicated Sadowski-Synnott's potential.
"I thought it was a cool idea to teach her a backflip, and she was really keen and excited," he says.
"The first one, she landed on her head and I was really worried. I went down the landing to see if she was okay. She said 'I'm fine, all good' and landed the next one.
"She's a real toughie, and always gets up after a crash smiling and laughing. That moment was a telling point for me."