Some people admire them as heroes, but there's no denying the All Blacks have been caught with their pants down a couple of times.
Here are five of the best scandals that have rocked the All Blacks' camp over the last couple of years.
Handbags at dawn
New Zealanders will easily recall the time Tana Umaga hit Chris Masoe around the head with a woman's handbag at a Christchurch pub in 2006.
Early one July morning a group of Hurricanes players were drinking after their loss to the Crusaders in the Super 14 rugby final when the altercation between Umaga and Masoe occurred.
Witnesses said the blow to Masoe was hard enough to smash a cellphone in the handbag belonging to a Christchurch woman spoken to at the time by the Herald. They said Moase broke into tears after the blows from Umaga, and was ridiculed by onlookers.
"It looked more like ... an angry mother smacking a naughty child kind of thing. It wasn't to give harm but to get a message across. There was obviously a bit of force behind it, to break the cellphone," a witness said.
The Roxy bag (originally bought for $30) sold at auction on Trademe for more than $22,000.
The disabled toilet tyrstAll Black Aaron Smith was filmed by members of the public entering a disabled toilet at Christchurch Airport with a mystery woman the day after a test match.
The media were tipped off by a husband and wife who originally believed Smith was with an air hostess or airport employee and thought it was unprofessional.
The man regretted going to the media and apologised to Smith. His wife, however, was "still fuming."
"We shouldn't have had to wait like peasants to use the baby's room so that an over-paid rugby player could entertain female company," the tipster said.
Within hours of the story emerging, Smith made a tearful apology to his partner Teagan Voykovich for the indiscretion before he was sent home from South Africa.
Smith received a one-match suspension.
Doug Howlett and the two-car trash-up
Possibly devastated at the loss to France at the 2007 World Cup quarterfinals, or possibly because he was having a bad day for some other reason, Doug Howlett was arrested in London for jumping on cars outside a Hilton Hotel at 3 am.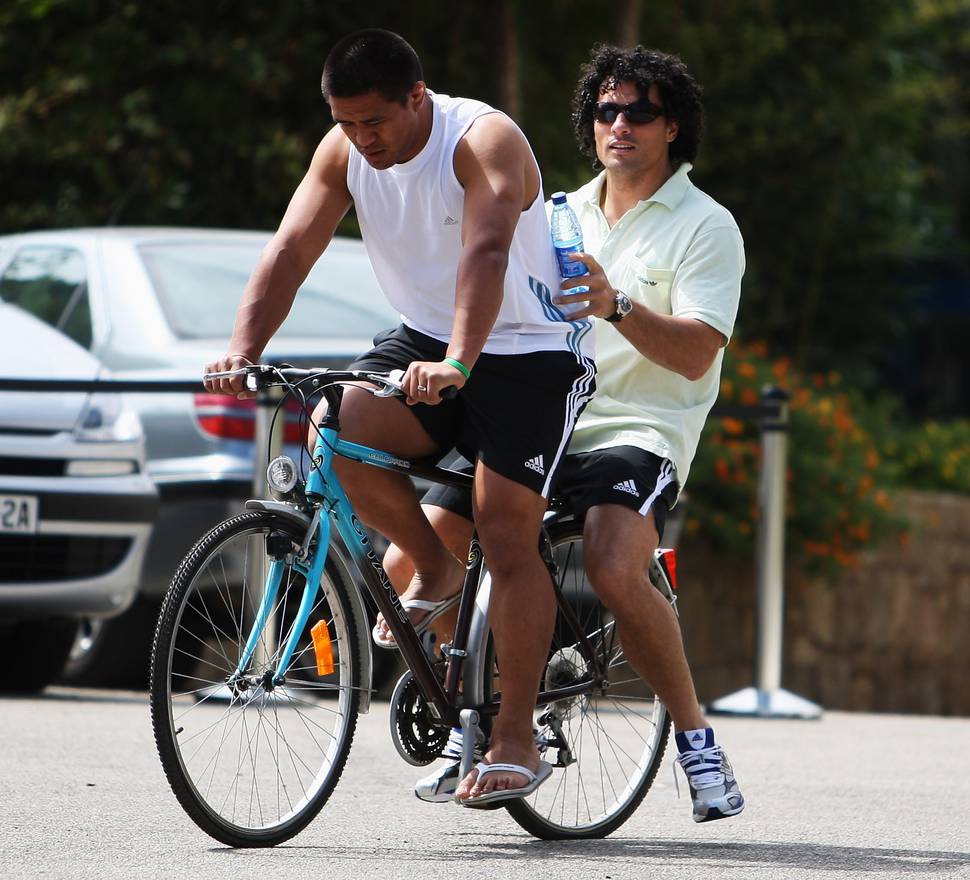 The All Black rugby winger, then 29, was suspected of causing criminal damage to two vehicles and there were reports at the time that he had trashed his hotel room.
It was also reported Howlett, and other teammates ran up a $33,000 tab at the hotel's foyer bar.
Howlett later took responsibility for the drunken damage he caused, and called it "tomfoolery."
The 300 quid cab fare to London
What goes on tour usually stays on tour - but not when Dan Carter needs content for his autobiography.
It was a Saturday night in 2005, and Carter, scrum-halves Piri Weepu and Jimmy Cowan, centre Aaron Mauger, utility back Leon MacDonald and lock Jason Eaton were enjoying a boozy night in Cardiff ahead of a European tour.
Still going strong at closing time, the group decided to ditch Cardiff and head to The Church, a London institution Kiwis and Australians flock to.
"Hitting The Church is a great way to cap off a successful tour, but a ridiculous way to begin one," Carter wrote.
After finding a cab driver who would take them on the 3-hour drive and paying him £300, the players arrived at The Church at 10 am - two hours until it opened.
Panicking, having realised their drunken road trip was a terrible idea, the players zipped back by train to Cardiff, where team captain Tana Umaga "absolutely ripped into" them.
Potential purposeful food poisoning (or, The Suzie Saga)
South Africa won the Webb Ellis Cup in 1995 after defeating a very ill All Blacks team 15-12 in extra-time.
With half the team vomiting and suffering with diarrhoea, the urns of tea and coffee the group drank from during lunch were guessed to be the source of the illness.
All Blacks coach Laurie Mains was adamant his side were poisoned by a waitress who has become known as "Suzie".
He even hired a private investigator to try to get to the bottom of the matter and heard a mysterious waitress was employed by the hotel and disappeared once the team got sick.
Mains also heard it was book keepers from the UK who had stood to earn from an All Blacks loss.