The famous son of Te Kuiti will run forever, writes Dylan Cleaver.
How do you carve a Pinetree out of bronze?
More to the point, how do you recreate an icon that will stand the test of time.
That was the task facing Auckland sculptor Natalie Stamilla as she contemplated the life's work of Sir Colin "Pinetree" Meads, King Country farmer, husband and father and the man voted the greatest rugby player of the 20th century.
Sir Colin, 80, now lives a quiet life in Te Kuiti with his wife Verna. He is a plain-talking man with a ramrod straight backbone so there is no point fudging the following sentence.
He is dying.
As are we all, you could rightly point out, although Sir Colin's situation is more acute than most, having been diagnosed with pancreatic cancer midway through last year.
Christopher Hitchens, one of the great modern thinkers, said of the disease that killed him: "I am not fighting cancer, it is fighting me." Sir Colin, in many respects proudly anti-intellectual, prefers a different tack.
"I'll beat the bastard," he said recently, in an interview with the Herald on Sunday.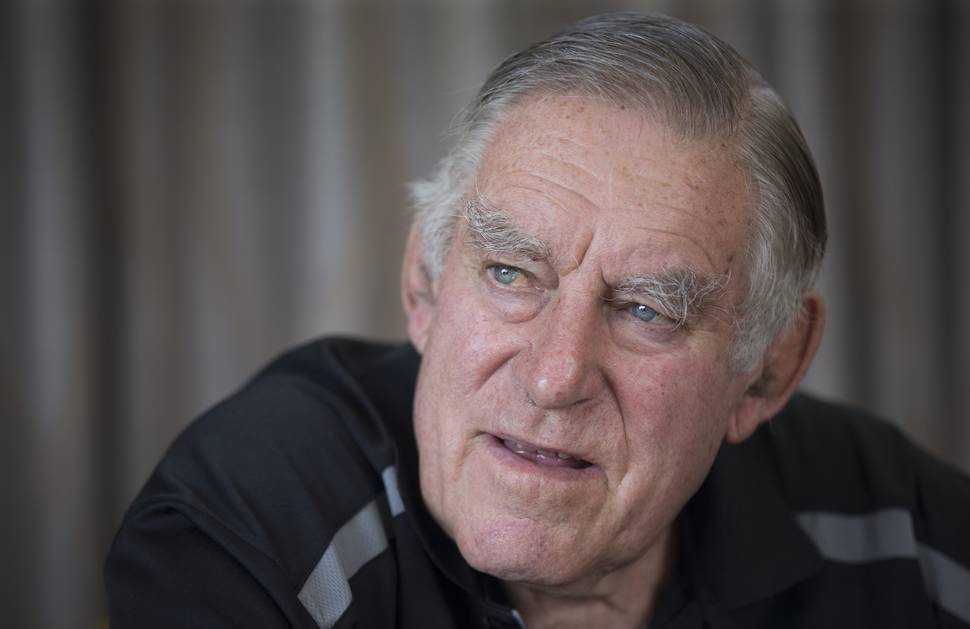 We wouldn't want it any other way. Te Kuiti wouldn't want it any other way. That indomitable will is why Sir Colin will stand in perpetuity on the main street of a town that stays the same the more things change.
That was part of the challenge for Stamilla: recreating a man who was unyielding, representing an era and sense of place with which she had little familiarity.
"I don't have a particularly strong connection to rugby as such, but I'm a Kiwi," she said.
Her father, Geoff Dale, is a long-time news media photographer, who captured the first try of the first Rugby World Cup. Stamilla turned that image, of legendary flanker Michael Jones diving for the line, into the bronze statue that sits outside Eden Park's ASB Stand near Malcolm Evans' statue of Dave Gallaher.
"That, in turn, led on to somebody contacting me about doing Sir Colin Meads," Stamilla says. "I jumped at the opportunity."
Her keenness stemmed not just from a love of her craft but because of a deep-seated belief that New Zealanders are negligent when it comes to celebrating or honouring their own.
"I'd love to do Sir Ed Hillary. I'd love to do Sir Peter Blake," she says. "There're so many Kiwis I could think of that'd be great to honour in this way. We should do more of it. We lag behind when it comes to honouring our greats.
"You go overseas and statues are everywhere. The thing I really appreciate about that is not so much the honour that is passed on but the ... permanent retelling of a story that future generations may not have otherwise been aware of.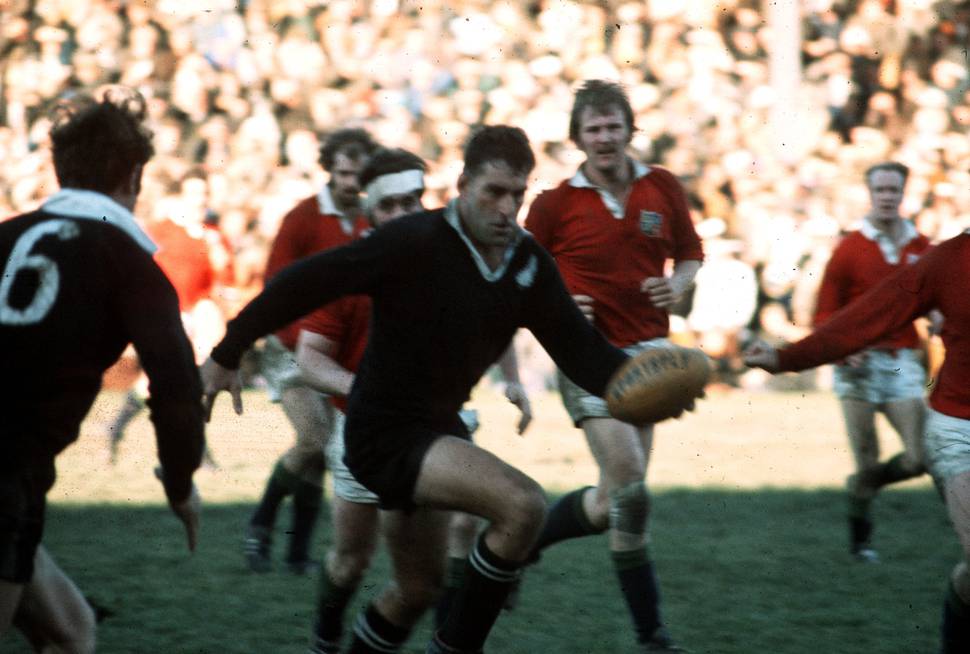 "Even when I was doing Michael Jones, there were teenagers who didn't know who he was and I was thinking, 'Ouch, how did we lose that knowledge in half a generation?'"
Which once again raises the question, what are the elements to Sir Colin' story that inspired Stamilla?
"It's a nerve-wracking experience to try to recreate the player of the century," Stamilla says. "I've really tried to capture him a way that shows his unique playing ability and what he brought to the game."
If Sir Colin' rugby could be boiled down to a moving image, it would be of him breaking free in the open field - a rare sight in those days of forwards hunting in tightly formed packs - the ball carried in one hand as mortals might carry a grapefruit.
But statues don't move.
"I've also tried to show how he had this amazing loping style and just went for it. He had quite a low centre of gravity. I really tried to capture his style and make sure it had some 'movement' in it and wasn't just a static representation of him."
Sir Colin had less charitable qualities, too. He was sent from the field in a test against Scotland for kicking out at an opponent, though most believe the decision was unjust.
In Australia he is viewed with considerable disdain after he all but ended the career of champion halfback Ken Catchpole when he wishboned the Wallaby as he was trapped in a ruck, tearing his hamstring off the bone and rupturing his groin muscles in the process.
As Sir Colin recalled it later, he was instructed by the coaches to stop Catchpole burrowing into their side of the ruck: "I just reached in and grabbed one leg. I was going to tip him up. I didn't know his other bloody leg was stuck at an angle. So he did the splits. Bloody sad. But I'd have probably done the same thing the next bloody day. I didn't think I'd done anything that wrong."
In this revealing interview, Colin Meads talks about his battle with cancer, professional Rugby, and how he refuses to be called Sir.
If Meads' outlook on the field was uncompromising and uncomplicated, the legacy of that era and of which he was a totem, are sometimes harder to reconcile, or to cast in bronze. It was a time of rugby, racing and beer. A woman's place was usually in the home and the question of race was often ignored because it suited the overwhelmingly Pakeha population to do so.
Sir Colin was fiercely pro sporting contact with South Africa, citing New Zealand's imperfect record on race relations in a few incendiary pages of his best-selling biography Colin Meads All Black, penned by the late great Alex Veysey.
"This was an era I didn't know a lot about. This gave me an opportunity to delve into that, the players and the culture - it was very different," Stamilla said.
Eventually, though, it is rugby that defined Meads and, you could argue, defined New Zealand in the 60s, when Meads was at the peak of his considerable powers. And it is a quintessential Meads action photo on which Stamilla has based her work.
She is not giving too much away, but the one-handed carry will feature.
To get from the conceptual to reality requires, first, an idea. Then a lot of drawing, which Stamilla does herself.
"A lot of cut and paste, too," she said. "Often when I'm doing the drawings it's not how I imagine it should be so I chop it up and try it again in a different way. There's a lot of stepping back and looking and really trying to see what is working and what isn't.
"It's a big process. It takes me about two months to get the sculpture ready, the pattern. Then it goes to the foundry and there's a lot of labour involved in getting it into bronze."
Stylistically, she uses a fast-hands technique, similar to what Anthony Stones used to create the Jean Batten piece at Auckland Airport.
"I love his style. I love the quick-hands approach - you've got the right look but it doesn't look like you've spent hours polishing it, if you know what I mean? I'm not that keen on polished sculpture, I like to 'see' the artist in it."
Elam graduate Stamilla still pinches herself that as a 34-year-old mother of four, she has turned a hobby into a passion into a living of sorts.
"I never saw it as a career option and even now I sometimes have to pinch myself. This will be my second public artwork, which is really cool because not a lot of artists get that opportunity. It was never something I was pursuing but it has come about because of the passion I have for it."
The Meads that will be passed on to future generations will be unveiled shortly.
The ideal date will be June 3, Meads' 81st birthday and in time for the British & Irish Lions invasion. The date is not, excuse the pun, set in stone. Events may push it forward.
Whatever the date, Stamilla will be there, as will the butterflies.
"It's a little bit nervous because there'll be all these people there anticipating it but at that stage it's done so there's not much I can do about it. It's the culmination of all the ideas. It's there, in place, it's done."
If you asked Sir Colin what he wanted to be remembered as, he'd no doubt have a pat answer in keeping with the humble sensibilities of his era.
Stamilla's work will ensure he is remembered as something more than just Pinetree.
He will forever be "Colin Meads: All Black. Son of Te Kuiti."