Madison Square Garden chairman James Dolan has banned Charles Oakley from the arena, but said he was open to reconciling with the former Knicks forward.
In an interview with ESPN Radio's Michael Kay, Dolan also confirmed a report that he had fired the Garden's security chief, two nights after Oakley was forcefully removed from his seat and arrested at a Knicks game.
Dolan said the firing of the security head stemmed from more than just the handling of the incident.
The Knicks said Oakley was "abusive" Thursday (NZ time) even before reaching his seats in the first quarter and today distributed a report featuring more than a dozen witnesses, who described his behaviour and their interactions with him.
The team also shared a one-minute security video of moments leading up to the altercation, containing brief clips of Oakley in his seat, talking to a hostess and being confronted by Garden officials. There was no audio.
Dolan said Oakley used racial and sexual overtones, and that games must remain safe for fans, so he was enforcing the ban.
"We are going to put the ban in place and hopefully it won't be forever," Dolan said.
He praised Oakley as a great Knick and said he hoped that the power forward would be able to join his former team-mates to be honored on the court someday.
But he said Oakley first must address what he characterised as anger and perhaps alcohol issues, adding that the team would help, if asked.
"He should be up there being recognised, because the fans do love him," Dolan said. "But this behaviour just doesn't work with that."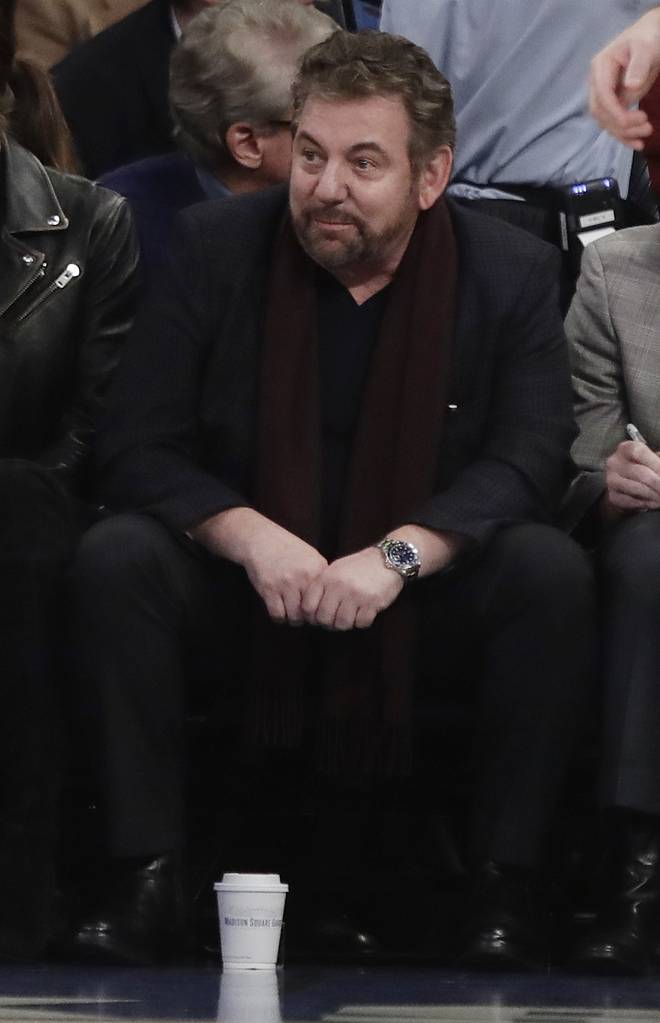 Oakley maintains he did nothing wrong before arena security approached him at his seat, just a few rows behind Dolan. Today, DnainfoNewYork.com reported that Frank Benedetto, the senior vice president for security at the Madison Square Garden Company, was fired Friday.
"That was just a situation where the person didn't work out and this was probably the last straw," Dolan said. "We're obviously looking at everything that we did here along the way and what happened, and that's one of the casualties."
Oakley played for the Knicks from 1988-98, helping them become one of the top teams in the Eastern Conference.
But they have been one of the worst franchises of the last 15 years, and Oakley's criticisms of the team and management has led to a strained relationship with the organisation.
"This is not just a day-before-yesterday incident. We've had a relationship with Charles since he retired and left the Knicks, and every time we have tried to do, to patch things up with him, to mend things with him, we invite him to games, that every time it ends the same way ... abusive, disrespectful," Dolan said.
"And we eventually gave up and we stopped trying to reach out for him."
Oakley is no longer comped tickets or invited to official team functions, though still goes a few times a year, when he buys his own tickets. He was there only a matter of minutes Thursday before the altercation that included him hitting one security guard in the face and shoving at least one other, before he was dragged away and handcuffed.
"The manner in which Mr Oakley has been treated is troubling, and he intends to pursue all legal rights and remedies he may have," attorney David Z. Chesnoff said in a statement.
"We look forward to resolving this matter and welcome anyone who may have additional information, photographs, or videos of the events that took place to contact us."
The Knicks contend the trouble with Oakley on Thursday started even before he reached his seat and Dolan said in the interview that Garden officials never should have let him get there.
"It's very clear to us that Charles Oakley came to the Garden with an agenda, with a mission in mind, and from the moment he stepped into the Garden, and I mean the moment he walked through the first set of doors, he began with this behaviour, abusive behaviour, disrespectful behaviour," Dolan said.
Still, the Knicks have been criticised by current and former NBA players, as well as some of their own fans, for the treatment of Oakley during the game that was televised nationally on ESPN.
Fans chanted his name during a New York Rangers hockey game on Friday and earlier in Friday's game, there were chants of "We want Oakley!" and "Free Charles Oakley!"
But while he understands why fans are so supportive of Oakley, because of the way he played and how much more the Knicks won, Dolan feels he can't allow anyone in the building who can ruin the experience for others.
"The same people that fans who come to the game tonight, who are going to help those fans, find their seats, get them food, try to make them comfortable, they were abused and abused - in really horrible, angry, nasty way, with racially, with racial overtones, the sexual overtones, the stuff you never, ever want to hear," Dolan said.
"And how do you bring your kids to a game, if you think that's going to happen? You don't."