For UK-based media entityThe Economist, numbers matter. And now, the All Blacks do as well.
The 173-year-old publication, which has a reported print circulation of 1.5 million, is usually known for its politically ramblings, financial analysis, and technology ...
In fact, it doesn't actually have a sports section at all.
But where impressive numbers lie, The Economist will go.
They've launched an in-depth investigation to find out why the All Blacks are so good. They employed the services of Niven Winchester, a Kiwi economist at MIT, who formed a predictive model found on Rugby Vision.
The tool forecasts the results and margins of victory for all major international and most domestic matches.
The Economist reports that if you had used the model to place $100 spread bets on the scores of each of the 48 games at last year's World Cup, you would have earned a tidy profit of $548 (or 11.4%).
"Mr Winchester's predictions are based on team ratings, which are constructed by exchanging points between opponents after a match," The Economist wrote.
"Conquering a strong rival means that you gain a large number of their ratings points: Ireland took 1.68 of them from New Zealand in Chicago. Beating a weak team, however, will earn you little. The All Blacks collected no ratings boost at all for their 68-10 thrashing of lowly Italy on November 12th, and actually lost 0.16 points when they edged past Wales by 36-22 on June 18th, a smaller margin of victory than the model expected."
Therefore, Rugby Vision's system rewards sides that consistently best high-quality opposition, while remaining unimpressed by those that beat up on weaklings.
More importantly, the model provides historical probabilities of match outcomes.
"Mr Winchester has fed into his algorithm the result of every single international fixture since the second world war between teams from "tier one"- Argentina, Australia, England, France, Ireland, Italy, New Zealand, Scotland, South Africa and Wales.
"This can tell us what chances any given team would have of beating the All Blacks at a neutral venue at any point since 1950 (the model uses five years of training data, and accounts for home-field advantage)."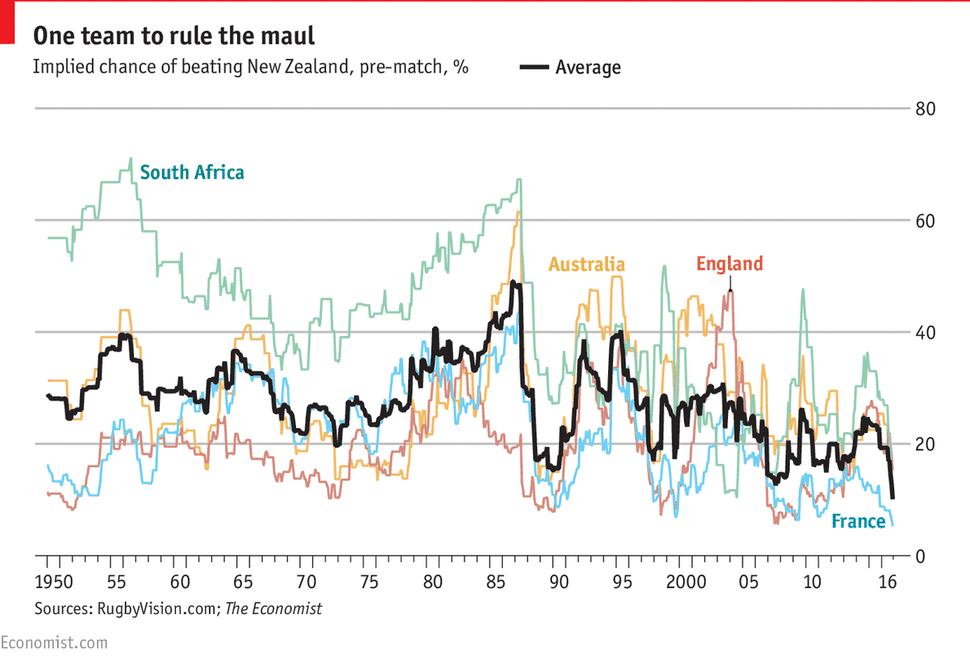 As per the data, before the Autumn international window, the Kiwis were further ahead of their rivals than any other side in history.
Their closest challenger, England, would have just a 14.9% chance of defeating them.
And the average probability of sides who have beaten them at least five times (South Africa, Australia, France and England) is just 10.1%.
Those measurements were the lowest ever seen.
"Looking at the latter figure (marked by the black line), you can see that past incarnations of the All Blacks have approached this kind of supremacy before.
"The squad that won the World Cup on home turf in 1987 achieved an average loss expectancy against the sport's best sides of 15.2% in 1989; and the version that repeated that feat in 2011 reached 14.5%."
The Economist also highlights the improbability or rather uncertainty that surrounded the All Blacks post-2015.
In 2015, they played South Africa twice, Argentina twice, and Australia three times, picking up six wins - scoring 206 points and conceding 129.
In contrast, this year they played the exact same fixtures, and won all seven chalking up 299 points for and conceding just 94.
"The young pretenders have matured into world-beaters," The Economist wrote.
The publication also applauds the success of rugby despite New Zealand's small population and relatively small participation numbers.
There are just 150,000 registered players in New Zealand, far fewer than the 230,000 in Australia, 290,000 in France and 340,000 in both South Africa and England.
Finally, The Economist describes the difference in attitude between the All Blacks and every other nation.
"Our findings from these 348 fixtures run contrary to many common assumptions in rugby. Having more than half of the possession or "territory"-the amount of time spent in an opponent's half-is often cited as proof that a team is in control," it writes.
"Yet these numbers bear little relationship to the outcome of games. In our six-year sample, the team with more possession was victorious precisely half the time, and the side with more territory just 47%. You would get just as much predictive power from a coin toss. The All Blacks, incidentally, have on average had 51% of possession and 52% of territory. The range for all nations on both metrics is between 47% and 53%.
"Clean breaks - the number of times an attacker bursts through the defensive line - turned out to be the most important factor.
"Even when controlling for other offensive variables, such as the tally of passes completed and the count of tackles evaded, sneaking behind the opponents' defence was correlated with greater attacking success. Specifically, improving your total of clean breaks by one standard deviation was associated with scoring 4.7 extra points."
While it admits there is still more to the story and more data could be useful, it believes it gives a clear indication of why the Kiwis are rugby's kings.
For the All Blacks, they should feel honoured that their influence has stretched to one of the most reputable publications in the world.