Kiwi rally driver Glenn Inkster and co-driver Spencer Winn made it three successive Targa rally wins over the weekend bringing his Mitsubishi Evolution home ahead of Martin Dippie and Jona Grant.
The Patumahoe product has proven a versatile driver during his motorsport career featuring in the New Zealand Rally Championship as well as circuit racing while also enjoying a stint as a television commentator.
Inkster says his bid for a Targa three-peat didn't begin all that well.
"Day one didn't go to plan at all," he tells herald.co.nz. "There was a change in regulations which meant you were only allowed six tyres instead of eight. Once you have chosen those tyres you are locked in with them.
"We made a mistake with two of them and it really upset the car more than I thought. It meant at the end of the day we were quite shocked to see how far behind we were.
"Chris West had really done a good job on day one and he stormed into a lead of a minute and a half, almost two minutes.
"We had a serious re-think on the night of day one. We bolted on the four tyres we had remaining that would work properly and had to just go for it. That actually made day two quite enjoyable.
"We took a few risks and survived and managed to get the lead back and then tried to control it from then.
"It went to plan from day two onwards but day one was a bit of a shock."
The Targa is a unique motorsport event with a mix of serious and casual competitors racing in rally format on closed public roads.
While there can be quite a big gulf in times between many of the cars in the event the fight at the front of the field has become fierce as Inkster explains.
"It has got really competitive the last three or four years. There might be an entry field of 75 but realistically you got into the event knowing it will be one of about five cars that will win. But within those five cars it is very competitive.
"One stage that was 40km long and there was one second the difference. The next stage it was one second the other way."
Experience clearly plays a part as well and Inkster is quick to point out that success is a result of teamwork more than it is ability behind the wheel.
"This was our seventh Targa. We were quite competitive in the first few years but it took an almighty effort and a lot of home work to actually get across the line and win one.
"It was neat to back it up with two and then obviously the target was to try for the three-peat.
"For all three of the events we have done we have had our problems but it has been the ability of the team to respond and minimize the time-loss and not let it affect the overall result. In any one of those, a simple little problem could have cost us the event.
"It is certainly rewarding for all of us to go three in a row."
Inkster's focus will change now away from the Targa and on to more pressing matters but he admits he's had a little think about coming back next year for a crack at a fourth title.
"We will have to sit down and see where the event is heading. We like the event. It is amazing that we can use those roads - we have the best roads in the world.
"Even if we weren't going for four in a row just the fact you get to drive some of those roads makes it a special event.
"For sure we will try and come back and keep it going.
"There is a little bit of a rule change with car eligibility next year so we will have to see."
The sealed roads of Targa will take a back seat now to the gravel roads in next year's New Zealand Rally Championship for Inkster. Having debuted an AP4 Skoda in this year's championship Inkster and his team are extremely motivated to fight for the 2017 title.
"Our focus now is all on the NZRC," he says. "Targa has been a focus because we wanted to do a good job.
"With the growth of the NZRC there is such a buzz around that at the moment - I can't think of a year or a time in the national rally championship where it has been this exciting.
"Everyone is just amped about next year.
"There is a lot of excitement with the NZRC and it is going to be an awesome year next year. The groundwork for that starts now. That is going to be our focus in the off-season - making sure we are organized."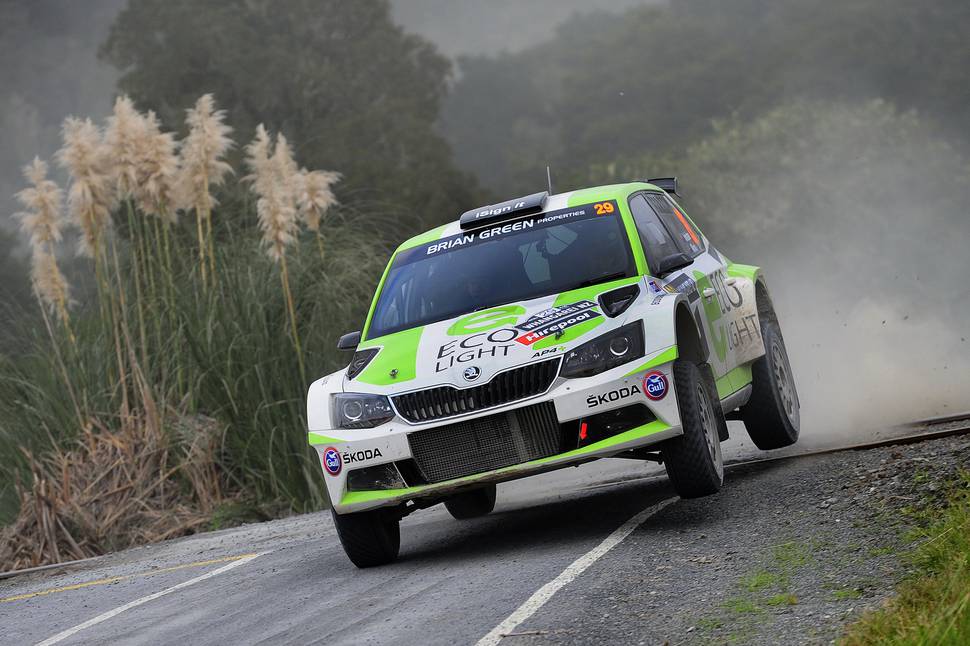 Inkster's 2016 season showed promise but he ultimately didn't have the consistency needed to make him a title contender. With better preparation and a year of understanding the new car under his belt there is optimism that he can be one of the major players when the new season gets underway in April.
"It was a brand new car this year. Ultimately we didn't have reliability this year just with small, little problems. Fundamentally the car has a lot of speed.
"Now that we are on top of those little things you would expect from a new car we expect to be pretty competitive.
"The Skoda is something really special to be part of.
"We just need to get all the little things right.
"We want to be ready to go in February so we can do some testing and are at the top of our game for Rally Otago in April."