The World Cup-winner is back, soberly making a new bid at reviving his career, writes Simon Plumb.
Troubled former All Black Zac Guildford yesterday took his first steps on a long road to rugby redemption - and off the field he is on a mission to help Kiwis kids avoid the mistakes that have riddled his career.
After a string of high-profile incidents with alcohol and a trail of torn-up rugby contracts through New Zealand, Australia and France, the World Cup-winner says he's "starting again" in a bid to prove his drinking demons are under control and he deserves another professional deal at the game's highest level.
Booted from his latest gig at the NSW Waratahs - with the Australian Super Rugby franchise citing "wellbeing reasons" for cutting the winger loose - Guildford says he understands how serious a situation his career is now in and the faith he must earn back.
Admitting to being haunted by alcohol and being unhappy with life - despite success on-field and earning big money off-it - the 27-year-old says he's ready to prove himself by battling back from the amateur ranks.
A world away from the iconic All Blacks jersey and the 60,000 fans who packed a floodlit Eden Park for the 2011 Rugby World Cup final, Guildford ran out for Wairarapa-Bush in an early afternoon Heartland Championship opener yesterday - in what he hopes will be the first, small step on a long, hard road back to top-grade rugby.
"I wouldn't be playing rugby at the moment if I didn't want to return to the top level. That's the ultimate goal but you can only take each week as it comes. If I keep in good shape mentally and physically, then hopefully, I can do that," Guildford told the Herald on Sunday.
"It hasn't been easy. It is starting again. I grew up down here so hopefully being back here can be a good turning point for me. I know the club's pretty confident, I'm pretty confident and hopefully we can just keep getting better.
"I don't want to get too far ahead of myself, like I usually do, so it's just about taking one week at a time."
Addressing the most obvious issue on the table, Guildford says he cannot say he'll never drink alcohol again.
However, he says he believes he can slowly win the battle inside his head.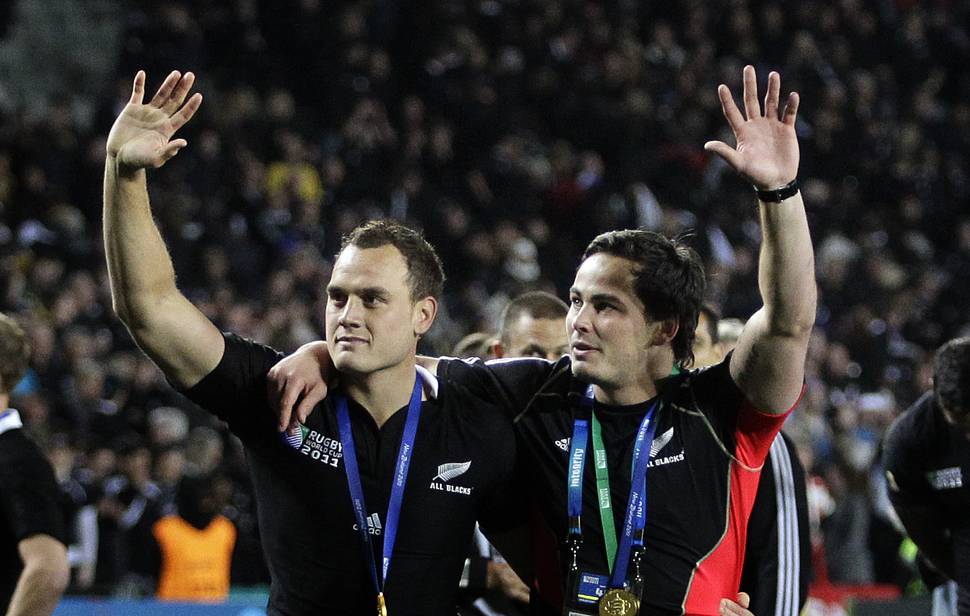 "I can't say I'll never touch it again, but at the moment I don't see it as a part of my future," he said.
"I can't think too far ahead, I've just got to take each week as it comes here. At the moment I'm feeling pretty good mentally and physically, I'll get better as the game's go on. I'm hoping to build to something bigger, I don't know if that will be in New Zealand or overseas. We'll just have to see how I am."
In a bid to gain control of his future, Guildford has moved into his grandparents' South Featherston farm. He began rugby training with the Wairarapa-Bush team on Thursday and has slotted straight into the starting lineup.
"I think it's good for the community, it's good to give something back while I'm still at an age where I can play my best footy. Hopefully, expectations aren't too high but then again hopefully I can play my best.
"It'll be good to just get out there and have a run. I obviously haven't played for a few months, I'm pretty excited and hoping the lungs hold up."
When not training, at the gym, or chopping wood on the farm, Guildford has been mentoring local school children and accepted an ambassador's role for international life-skills group "Boys to Men."
"I just do it when I'm asked. I like to give a little bit back," Guildford said. "I do tell them about my experiences and that being a rugby player and earning lots of money, sometimes it doesn't make you happy like people might think. There's a lot more to life than rugby and earning money.
"I just talk to them about what they want to achieve out of life, what they'd like to prove to themselves in the coming years. We're not going to change lives overnight but if we can keep chipping away, helping out where we can, I'm sure we can make a difference.
"I don't get paid for any of that, it's just volunteer stuff. It's something I've done for quite a while now and don't expect to be recognised or paid for it."
Tamatea High School received a visit from Guildford recently, with principal Robin Fabish commending his "willingness to keep getting back up when he falls over."
"We're a family here at Tamatea High school, and family stick by one another," Fabish said. "It's good for us to be able to support Zac on his journey. I don't judge Zac for the problems that he's had - every one of us has done things we're not proud of. I think it's really healthy that he is open about the difficulties that he's had and how that's impacted on his life."
Guildford says he's confident he can learn from his mistakes and fight his way back into paid rugby.
"I'm only just concentrating on little blocks at a time. For the next two or three months I'll be here and then after that I'm not too sure," he said. "I'm just hoping this can build me in really good stead for a future contract, but as I said, I've got to make sure it goes well here first, and I'm pretty confident it will."
THE HIGHS AND LOWS OF ZAC GUILDFORD
Born: February 8, 1989, Greytown, Wairarapa. Attended Napier Boys' High School.
Burst onto the scene in 2009 with New Zealand's Junior World Cup in Japan with All Black Aaron Cruden - scoring two tries each in the final win over England.
Tragically, the tournament victory tinged with sadness. Guildford's father, Robert, died in the stands shortly after the final whistle.
October 2009: First selected for the All Blacks after a stellar season on the wing for the Hurricanes. Goes on the end of year tour as the youngest player in the squad.
February 2010: Scores a try on his Super Rugby Debut for the Crusaders.
October 2010: Wins gold at the Commonwealth Games as part of New Zealand's rugby sevens squad.
October 2011: Peak of his rugby career, Guildford helps the All Blacks win the Rugby World Cup on home soil.
November 2011: Hits rock bottom. Naked, drunk and bleeding Guildford staggers into a beachside Rarotonga bar and assaults two holidaymakers.
November 2011: Then-Crusaders coach Todd Blackadder says Guildford admits drinking problem for very first time.
May 2014: Granted an early release from his Crusaders contract and joins French Top 14 team Clermont Auvergne, but leaves halfway through two-year contract.
September 2015: Thrown a Super Rugby lifeline with a short-term contract from the NSW Waratahs.
June 2016: Guildford exits the Waratahs for "wellbeing reasons".
August 2016: World Cup-winning All Black appears for Wairarapa-Bush on the long road back to a professional contract, says he's "starting again".
Once Zac Guildford played beside some of the highest-paid rugby players in the world, but now his team mates are farmers in a side which isn't entitled to any match fees.
Chief executive Tony Hargood says his Wairarapa Bush Rugby Union has taken an "eyes-wide-open" attitude to offering the troubled former All Black an amateur contract with the Heartland Championship team.
Hargood has only known Guildford for a couple of months but said instinct told him to reach out to a man trying to salvage his career. He has, however, made it clear to Guildford he won't be getting any special treatment.
"At the end of the day I look at everything and I just felt there was an opportunity. I gave Zac a handshake and I think he's going to be alright," Hargood told the Herald on Sunday.
"Zac's been open about the challenges he's facing [with alcohol] and he's got personal responsibilities around those matters."
Hargood, who went to Chanel College with Guildford's mother, hopes a return to home and rustic rugby will be the foundation for the 27-year-old getting to grips with his demons and one day returning to the professional ranks.
But until then, the only financials he'll receive are expenses of around $100 a match.
"The Heartland protocol is players get reimbursed for expenses and that's what we keep to. Throughout New Zealand that averages about $100 a game," Hargood said.
"The other players in the team are predominantly farmers, it's not uncommon for us to see them turn up in their ute with the dog in the back, overalls still on. That's part of the colour of Heartland rugby. No-one expects any frills."
Hargood, who received formal clearance from New Zealand Rugby on Friday lunchtime for Guildford to play this weekend, says discussions had been in the mix for just over a month. weeks.
"I received a phone call about five weeks ago that Zac may be looking at coming home to the Wairarapa. After conversations with a few people I caught up with Zac to see whether he was returning and would he be interested in playing for us if everything panned out OK," he said.
"Our focus has been about him coming home to family, and if footy can be part of what he's working through and re-establishing his career, then we're right into it."
Hargood said local interest this week has been "absolutely phenomenal" over talk of Guildford's involvement.
"We've tried to keep the whole thing on a level playing field, Zac is just one of 22 guys that turn up to training twice a week and make the squad on Saturday. He's got to pick up the tackle bags like everybody else.
"When I originally spoke with Zac I said, 'this is amateur rugby at it's best and you're going to have to turn up and do your job just like everyone else, we don't have a lot of wraparound services and you won't be treated any differently.'"