What a fight.
There was blood - there was chaos - and there was revenge.
UFC's two biggest trash talkers stepped up the game in Sunday's hyped rematch at UFC 202.
McGregor came out bustling, landing punches that floored his bigger opponent and set the crowd alight.
It was not a clean ride to the finish line, however.
Diaz, bloodied, came back in the later rounds and pressured McGregor into the corners, waiting for an opportunity to land him on the ground and finish with a submission akin to his mammoth win in March at UFC 196 - but this time it wasn't enough.
McGregor doggedly defended against Diaz's attempts to tackle him and came back for a close victory by referee decision after the fifth round.
In what has been dubbed "fight of the year", McGregor and Diaz uncharacteristically, but refreshingly, embraced at the end of the fight - but that was before the winner was announced.
"Surprise surprise mother f***** the King is back," McGregor said after the bout.
"I proved the class difference. It was a hell of a fight, he is a hell of a competitor.
"I dropped him in the third round but then he started loading up.
"It's 1-1, let's do it again. If you want this trilogy its on my terms. Come down to 155 and we'll do it."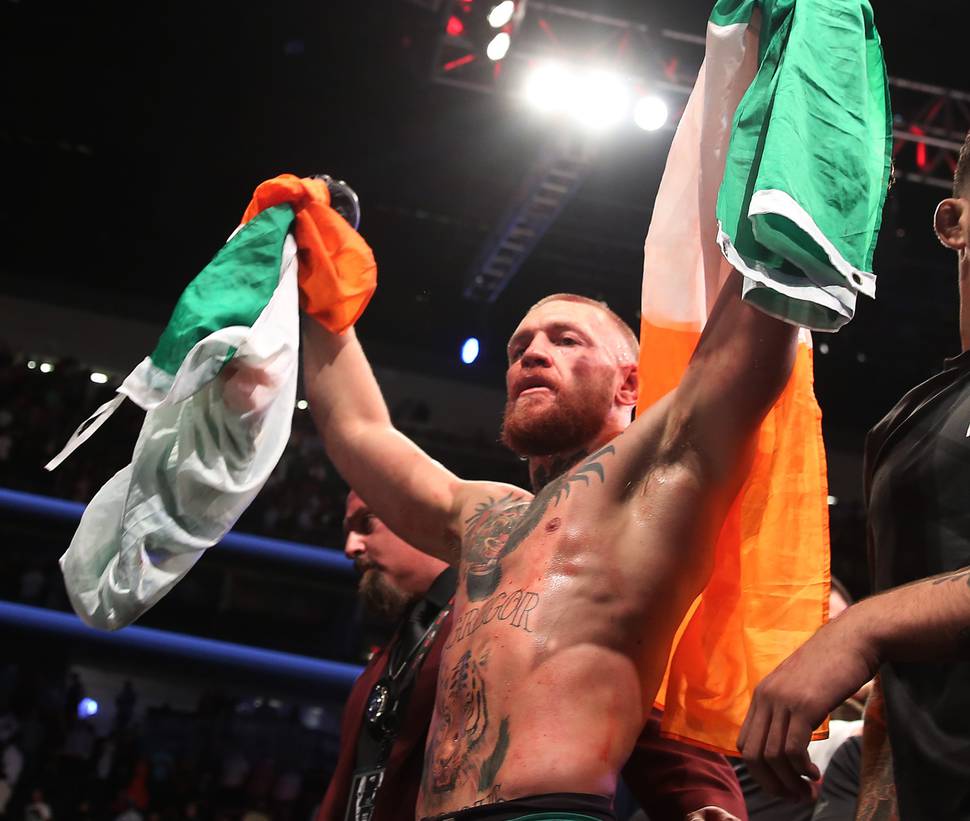 Diaz didn't agree with the decision, but also called for the saga to continue in a third.
"I thought I won that fight," he said. "They can't have a mother f*** like me win, I'm too real for this.
"I want number three. I gave him number two. Lets go again.
"Good job today Conor but we going for three, for real. Until then I ain't coming back."
McGregor was caught limping out of the arena, sparking fears of a broken foot. He later denied it, saying it was his shin niggling him after five rounds of rambunctious leg-kicking.
The pair are already shaping up for a second rematch - something Conor wants to be on his terms this time.
When asked if he was staying at the 170lb weight range he replied: "I want to get my abs back." "I can't keep abs at this weight even though I'm eating good.
"Sometimes I feel like a bit of a fat-belly - I'm definitely going to go back down a weight."
The rematch - if Diaz agrees - looks set to take place at 155lbs which will suit Conor
s natural build.
"S*** is going to hit the fan," he said before limping out of the press conference.
To add to the drama, McGregor was resigned to crutches after the fight.
Naturally, the MMA world erupted on Twitter to share their opinions mid-fight.
Some called it fight of the year, while some suggested the decision was ridiculous.
McGregor showed respect for Diaz post-fight, calling the Mexican welterweight a "hell of a competitor".
McGregor put to bed arguments that their pre-fight press conference stouche was fake saying it was all real and just a side effect of working hard in the MMA industry.
"Everything is real - if we saw each other in the build-up - my team saw their team - something's going down, that's just the way it is.
"This battle was won, we'll regroup and go our separate ways and we'll gather up for another battle."
McGregor was in high praise of his preparation team in the lead-up months to UFC 202.
"It was a hell of a camp (and) a hell of a preparation and we got it done tonight."
"It was not easy - it was a war."