The 'golden boy' singapore swimmer who beat 23-time gold medalist Michael Phelps has returned home to a hero's welcome.
Hundreds packed Singapore's Changi Airport to greet 21-year-old Joseph Schooling as he returned from Rio de Janeiro with an Olympic gold medal around his neck on Monday.
He beat his idol in the 100-meter butterfly to deliver the first ever Olympic gold medal for the city-state of 5.54 million.
"Definitely the highlight of my life," he told the crowd. "Thank you everyone for coming. This (gold) is not for me. This is for everyone. Thank you guys."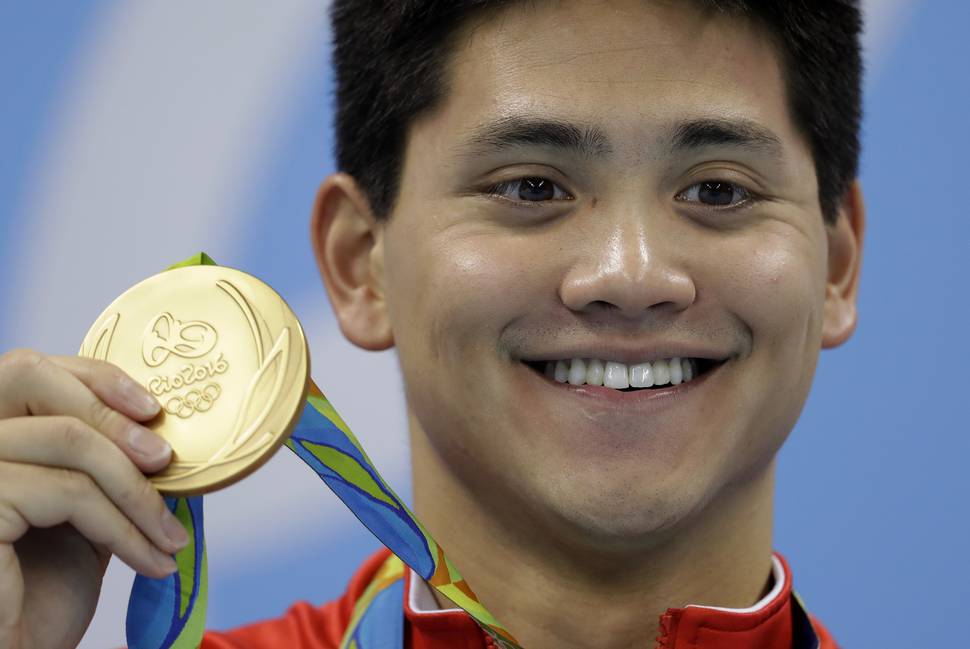 Schooling, who attends the University of Texas, will spend four days celebrating in events in Singapore, including an open-top parade.
Sim Siew Png arrived at the airport seven hours early in the hopes of seeing his hero.
"I wanted to see the golden boy," the 17-year-old sim said as he clutched a pair of red swimming trunks that he hoped to get autographed. "Watching the moment live on television left me excited and happy. My family was screaming."
Sim was recalling Saturday's showdown in Rio where schooling built a big lead and won in an Olympic record of 50.39 seconds. Phelps, the most decorated Olympian of all time, South Africa's Chad le Chlos and Laszlo Cseh of Hungary shared a three-way tie for silver.
Schooling's father, Colin, did not travel to Rio but said he'd dreamed of the Singapore anthem being sung in the Olympic Stadium.
"They did it this time," he said, after giving his son a big hug in the airport. "That made my day.
"I got a feeling that Michael gave him some words of praises. I'm glad my son also showed respect. That goes well with me," he said. "Now we have to aim for the world record."
Schooling spent more than an hour thanking his supporters Monday, signing autographs and posing for photos with fans as people screamed and chanted his name.
Schooling was just a 13-year-old kid in 2008 when Phelps showed up to train at his club in Singapore ahead of the Beijing Olympics.
While other children rushed at Phelps wanting photos, Schooling was frozen. He couldn't believe his swimming idol was in front of him. Eventually, he mustered the courage to ask for a picture, too.
"A lot of this is because of michael," Schooling said after his victory. "He's the reason why I want to be a better swimmer."
The American helped inspire the young Singaporean to move to the United States for extensive training at 14, first going to bolles school in Jacksonville, Florida before attending the University of Texas.
The swimming star's mother, May, and father, Colin, negotiated their son's long-term deferment from national service in 2013, according to Yahoo! Sports.
In 2013, may predicted her son would be a success in rio, but could never have predicted Friday's result.
"In 2016, he will definitely be a finalist," she said in 2013. "Podium... If he gets there, it'll be good, whatever the medal."
Schooling's stunning girlfriend, Casey Shomaker, a student at the University of Texas School of Law, posted a poignant tribute to her other half on Facebook saturday.
Alongside a photograph of her boyfriend standing on the podium, she wrote: "And thus the kid has become the king."
Schooling, who lives in Austin, Texas, posted a picture of his medal on Instagram, alongside the caption: "Well... That was nuts! Thank you for all the support and wishes. I'll seeya later rio #rio2016."
On Saturday, Phelps posted a picture of the pair together in the pool and wrote: "What a race!! Congrats to @josephschooling !!! We've got an updated pic!! Best of luck bro!! I'll be watching!"
At the medalists' news conference, Phelps urged reporters to ask Schooling some questions.
"I'm proud of Joe," Phelps said. "I've been able to watch him grow and turn into the swimmer that he is."
Schooling's grand-uncle Lloyd Valberg was Singapore's first Olympian at the 1948 London Games. Hearing about him as a child, Schooling told his father he wanted to compete in the Olympics.
The youthful looking Schooling might be unknown to the rest of the world, but in swimming circles he has solid credentials.
He earned bronze in the 100 fly at last year's world championships in Russia, and he owns a slew of medals from the Asian, Commonwealth and Southeast Asian Hames.
He competes for the University of Texas, where he'll be a junior this fall. He swept the 100 and 200 butterfly at this year's NCAA Championships and swam on all three winning relays for the Longhorns.
He has the school's mascot and the words "come and take it" tattooed on his left shoulder blade.
Singapore exploded in celebration after the homegrown swimming hero beat Phelps, who ended in a sensational dead heat for silver alongside South Africa's Chad le Clos and Laszlo Cseh of Hungary.
"It hasn't really sunk in yet," Schooling said shortly after the race. "I don't know what to believe, like, whether I actually did it or I'm still preparing for my race."
Singapore's prime minister Lee Hsien Loong and President Tony Tan, who was in Rio to cheer team Singapore, led an outpouring of congratulations for Schooling, whose mixed European and Asian heritage has resonated in the immigrant society of 5.5 million people.
"It is an incredible feat, to compete among the world's best, stay focused, and emerge victorious," Lee said in a Facebook post.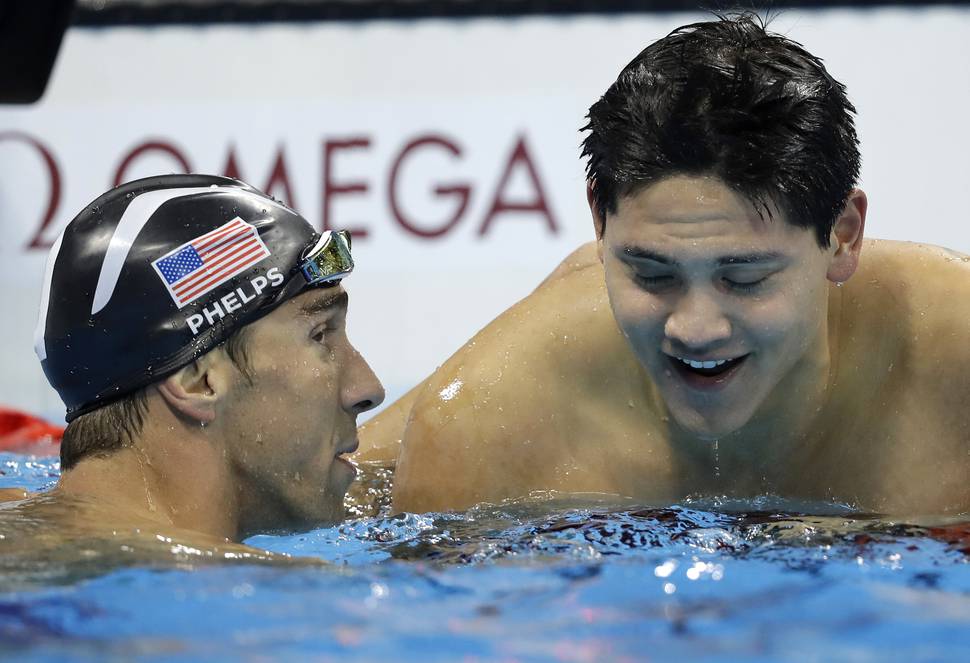 Schooling is already inspiring young Singaporeans.
"I came to support him because he's friendly, approachable and very nice to little children," Judy Eng said, recounting how her nine-year-old son was on the receiving end of one such swimming pep talk.
Not only is Schooling a good role model, he's also a little wealthier now too.
By winning his country's first olympic gold, Schooling earned a bonus of $1 million dollars.
On the internet, pokemon-themed memes celebrated Schooling's evolution from fanboy to champion, while Schooling puns abounded.
Schooling's father Colin, who hosted a viewing party at his home in Singapore, wept when his son won.
"If I cry in front of all of you all, it's because I have nothing to be ashamed of," he told reporters. "My love for my son is nothing I can describe to you all."
In 2014, Colin Schooling dismissed stubborn speculation that his son was a "foreign talent" because of his surname - declaring that Joseph, a third-generation Singaporean, was a true son of the Republic.