Both Kiwi double sculls crews have missed out on their Olympic finals, including world champions Zoe Stevenson and Eve MacFarlane.
In a setback to New Zealand's hopes of a big medal haul in Rio, the men's and women's doubles both managed fourth, with the top-three crews advancing.
Stevenson and MacFarlane were pipped by just 0.05sec by the United States while a desperate late bid by Robbie Manson and Chris Harris wasn't enough to haul in Great Britain.
In good news for the day, New Zealand have qualified their first boat for a Rio Olympic rowing final.
And their identity will come as no surprise.
Defending champion men's pair Hamish Bond and Eric Murray coasted to an effortless semifinal win and will start heavy favourites to win Friday's final and clinch the first rowing gold for New Zealand at Rodrigo de Freitas lagoon.
Now unbeaten in 68 consecutive races, Bond and Murray were as dominant as ever despite some light chop on the water as a breeze picked midway through the morning.
Elsewhere, defending Olympic champion Mahe Drysdale moved smoothly into the semifinals of the single sculls.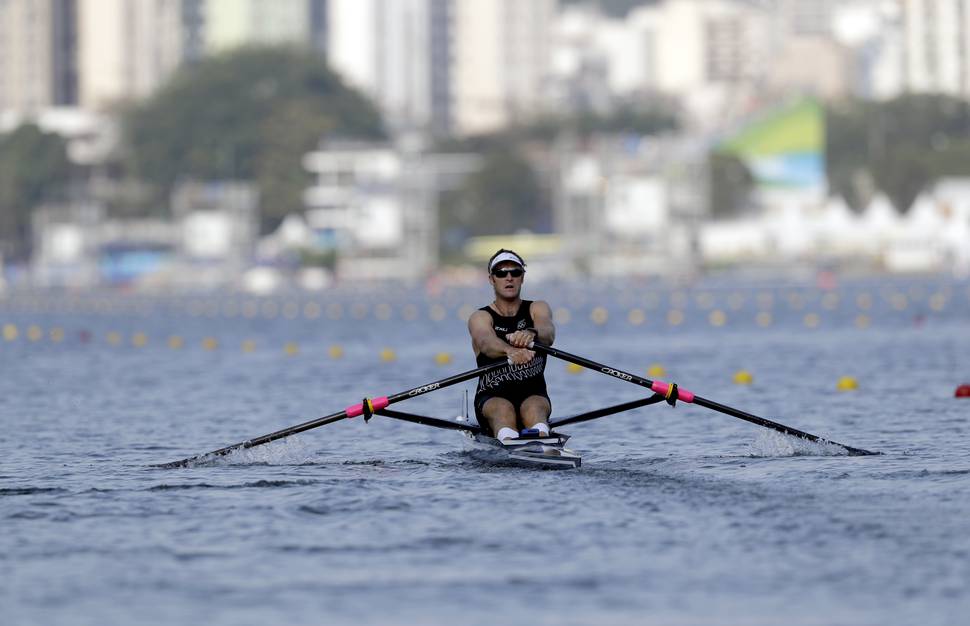 Also qualifying for the semifinals was Cambridge single sculler Emma Twigg, who won her quarter-final.
Both were unhappy with the conditions on the course during their heats, but looked a lot happier this time around.
Drysdale finished in 6m 46.51s to advance. With the first three qualifying from each quarter-final, only a catastrophe was likely to prevent the 37-year-old continuing his Olympic campaign.
The five-time world champion, raced in the second quarter-final. Alongside him in the middle lanes was Ondrej Synek of the Czech Republic. Synek led by half a boat length at the 500m mark, and increased that at halfway.
By the 1500m mark Drysdale had clawed back the advantage by more than half a second and cruised to victory as the big Czech appeared to conserve his energy.
Synek was the 2008 single sculls gold medallist and a multiple world champion, marking this as the toughest quarter-final. Both will be expected to feature at the front of the semifinals - scheduled for the early hours of Friday morning - and Sunday morning's final.
The third qualifier from the quarter-final was Belarusian Stanislau Shcharbachenia.
The first quarter-final was won in impressive style by Cuban Angel Fournier Rodriguez, with Australia's Rhys grant and Norwegian Nils Jakob Hoff also moving through to the semis.
Belgian Hannes Obreno comfortably won the third race, with Juan Carlos Cabrera, Mexico, and Egypt's Abdel Khalek Elbana progressing.
In the final quarter-final British veteran Alan Campbell was well beaten by Croatian Damir Martin, but went through to the semis with Pole Natan Wegrzycki-Szymczyk.
It was another Kiwi-Czech challenge in Twigg's race. She was behind Miroslava Knapkova at the 500m mark but soon after gained control of the race and never relented. Mexico's Kenia Alanis was third.
Twigg won in 7m 31.79s.
Finally, also through to the final for their event are the men's lightweight four of Alistair Bond, James Hunter, James Lassche, Peter Taylor after they finished third in their semifinal.
- with AAP