Seven months pregnant and bearing an enormous bump to show for it, English golfer Liz Young bettered world number one Lydia Ko in the first round of the British Open.
Smashing a golf ball a couple of hundred yards down a fairway on the outskirts of Milton Keynes is hardly the number one rule in the pregnancy guide book, but that was never going to stop Young taking to the course at Woburn.
Young shot a one-over-par 73 as she trundled around Woburn's Marquess course alongside husband Jonathan, who doubles up as her caddie. She sits a shot ahead of Ko but still 11 shots back from leader Mirim Lee.
Young, the world number 269, only sealed qualification for the Open by finishing 18th at a tournament in the Czech Republic last month and has spent the last few weeks praying her body - and her baby - would allow her to make it to the first tee.
"After the Czech Republic, I knew I was definitely in and I was just hoping I could tee it up today," she said. "If I got round, that was great, but I just wanted to tee it up and give myself a chance. This was always my dream and this is my favourite course in England."
She flew out of the blocks and, after two birdies on the first three holes, the mother-to-be soon attracted an expectant crowd as she raced up the leaderboard. So unusual was the sight of Young on the tee, her pink top stretched to its absolute limits by her burgeoning stomach, that one nervous spectator even took a few fearful steps back from the barrier as she played her opening drive.
He need not have bothered - the free-swinging 33-year-old was flawless with the driver on the first few holes, and it was only at the split-fairway seventh that she strayed off course on the front nine. That was rescued by a brilliant shot from behind a tree, and she saved her par to go into the ninth hole at two-under.
Slowly and inevitably, though, her body started to resist. "I'm pretty tired," she said afterwards. "My back's hurting, swollen ankles, sore feet. But it was the first time I have played 18 holes [this week] so I was quite pleased to get round.
"At the moment, I am just taking it one shot at a time, which is what I normally do but even more so now with the bump."
Carrying a nearly full-term baby in her stomach has barely affected her swing motion, she said, but it has sapped her power. "I've lost a lot of distance, especially in my longer clubs. And then there's the fatigue of actually walking the golf course. I start to waddle after about 12 holes."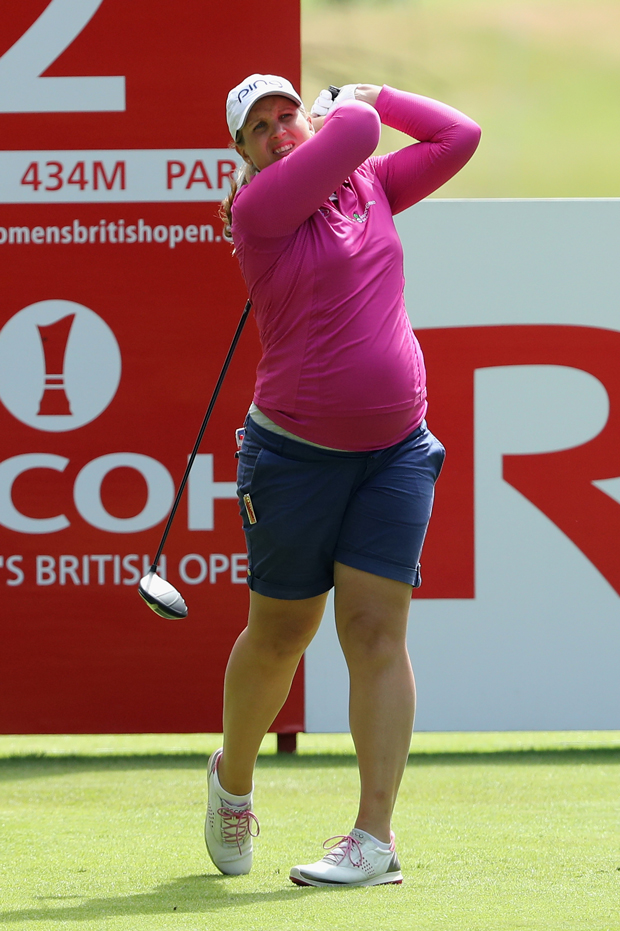 Photo / Getty
Jonathan admitted it was difficult to watch his wife come through the back nine, where she lost her early momentum and shot three bogeys. "It's tough when you know she is exhausted," he said. "But you just have to support her and keep cheering her on - and push her up the hills."
Medically, Young - who will become only the seventh mother among the 300 or so professional women golfers on the European Tour - has been told she is fine to play as long as her body feels up to it. "My midwife has said my body will tell me when I need to stop," she said.
She did finish with a sore back, though, which was made worse by the fact that "you can't take anything when you're pregnant these days". She said: "Normally, if you have a bad back you take a few ibuprofen out on the course but I can't do that so I just have to live with it."
This will be the Hampshire-based player's last tournament before she focuses on the imminent arrival, but she plans to return to golf next year. Unlike on the LPGA, there is no onsite day care offered for players on the Ladies European Tour, but both her and Jonathan's parents live nearby, so the little one will have a place to stay.
For Young, there is a more immediate task to deal with first - making it to the third round. "I don't know how my back will stand up after four rounds," she said. "But I'd love to make the cut and play at the weekend."