A handful of Herald reporters spent a day training, eating and sleeping like an Olympian in a chosen sport. Today, Nikki Preston shares her experience on her bout with canoe slalom.
Ihave to admit - I am a little cocky. I still remember being one of the fastest paddlers at school camp, aged 12.
It's probably the only time in my entire life I have excelled at a sport.
Fast forward two decades and I am ready to pick up where I left off.
I arrive at Vector Wero Whitewater Park in Manukau and Ella and Bryden Nicholas, who are representing the Cook Islands in the Olympics, are starting their last training session before heading to Rio.
A siren signals the rapids being turned on and my coach for the day, Shaun Higgins, who is in the New Zealand Canoe Slalom squad, takes me for a walk through the course.
The Olympians hit the water and skilfully weave in and out, making sure their lithe bodies miss the dangling poles.
I'm starting to realise there's more to this than just surviving the rapids.
A certificate is required to kayak the rapids so instead I'm put in a ducky with the park's kayak manager, Lawrance Simpson.
We do a quick row in the flat water before carrying the kayak-shaped inflatable up to the top of the course.
We take the first few rapids fine. I'm told to paddle straight, but it's just for show as Simpson is doing all the steering from the back.
We turn another corner and I whack the pole away with my hand just before it strikes me on the head.
Water sprays up my nose and I am already saturated.
Back to the start we go and navigate a few shaky corners before capsizing. Submerged in the icy, 11C water, I struggle to catch my breath. This is hard work, but also serious fun.
One more go before we move to the flat and I hop in Higgins' paddling kayak.
The narrow boat feels nothing like those bright, plastic canoes of my childhood.
It is wobbly and my open knees slot into moulds on each side of the boat. It's not a natural feeling, but essential, I'm told, for when the boat flips and I need to roll back over.
Lawrance tells me I have to practice turning the kayak over. It's freezing. I start to panic as I wait for him to flip me back - it's only a few seconds, but it feels like an eternity.
I try to follow Higgins through a course but the kayak has a mind of its own.
I'm cold, tired, my brain is not working and I definitely don't want to go underwater again. The kayak is zig-zagging and it's the best it's going to get.
My knees are aching, my feet are numb and I'm not getting any better. We do a light paddle to warm down and I leave the kayak and any dreams of heading to the next Olympics behind.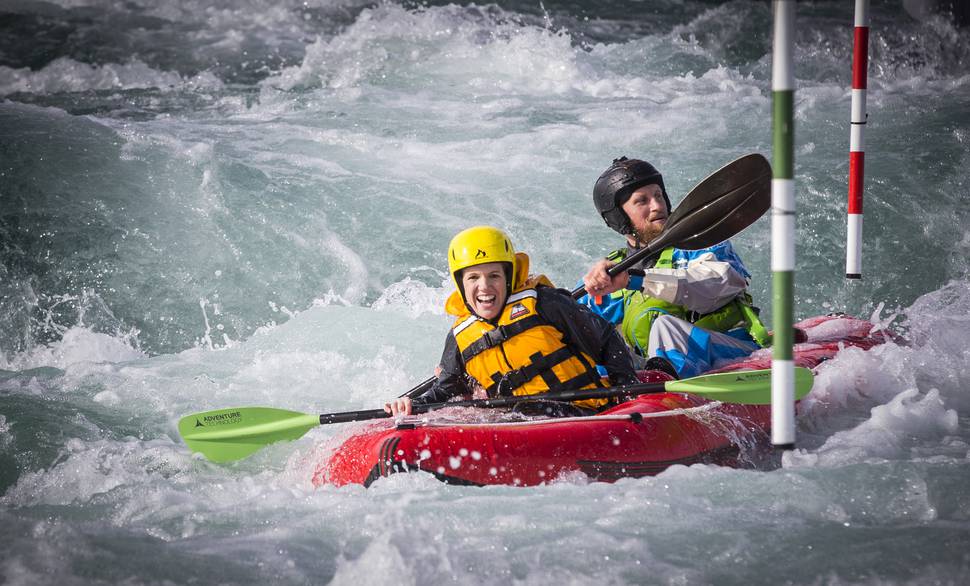 A day in the life
• 7am Wake up
• 7.30am Muesli, yoghurt and coffee for breakfast
• 9.30pm Meet at Vector Wero Whitewater Park and get into wetsuit and safety helmet
• 9.50am Warm-up and light paddle
• 10am Walk the course
• 10.10 Training
• 11.10 Warm down paddle
• 11.20 Hot shower
• 11.30 Stretches and a boiled egg for a snack
• Noon Work
• 1pm Chicken salad sandwich for lunch
• 5pm Finish work and run for 45 minutes
• 6.30pm Dinner of fish and vegetables.