Annalie Longo, 25 - Football Ferns
I had two older brothers who used to play football. When I was about 4 I'd go to watch them, but instead I'd kick a ball around on the side with my dad, so for me it was football from very early on. I was also keen on dancing. Mum had been a dancer and I used to do tap, jazz and ballet. I only stopped when I was about 18 as football took over. But I liked dance; it complemented my football.
My first international for the Football Ferns was against China, in China, when I was 15. We lost 3-0. We had a saying back then, IP - international pain - because all we used to do was run and chase the ball. It's changed a lot now. I loved football because it was fun. I used to look forward to it and be so excited on a Saturday morning when it was time to go to play. I love that it's a team sport and I love the opportunities it can bring you. Anyone can play it; all you need are some jumpers for the goals and a ball. In my time off I coach young kids in Christchurch in a programme for under-10s, called Grasshopper Soccer. It's about getting kids into the sport, loving the game and having fun.
In Rio we play the United States, France and Colombia, the world No 1, 3 and 24 teams. The Ferns are ranked No 16. It's a very tough draw. We have to prepare well, we have to perform, but you always want to compare yourselves against the best teams in the world.
Portia Woodman, 24 - Women's sevens rugby
Rugby is in my blood. My father, Kawhena, and Uncle Fred both played for the All Blacks. I never got to watch Dad play for North Auckland (now Northland) but watching my brothers play, that was such a big part of our weekend. It is the No. 1 sport in our family and I grew up adoring it.
When I was about 7, I remember saying I'd like to become the female Jonah Lomu. Dad was like, "Yeah, sure." I played a little bit in high school but I was mainly playing netball, and I was doing pretty well when I decided to have a crack at rugby. Mum was a bit heartbroken. She wanted me to get that Silver Ferns dress. But she told me I would thrive in whatever I do. Dad had to secretly hide his smirk, because he was over the moon; ecstatic I wanted to have a go at rugby.
I love the contact, even though being a winger I don't get that much. I love dominating my opponents, love that physical side of it. With sevens there is a good connection with the team. When I went to my first sevens camp in Waiouru, the environment was nothing like I'd ever experienced with netball. It felt real, really connected. The girls love the sport and play only because of that.
We're on a good track to Rio right now. The vibe is good.
Jacko Gill, 21 - Shotput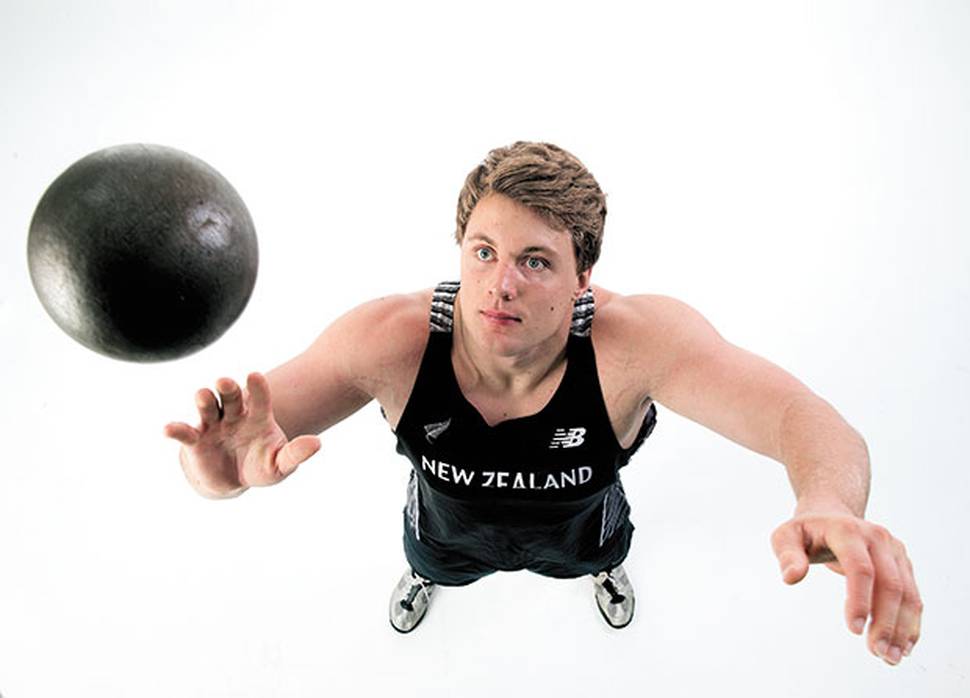 We used to have family sports days, where we'd go out and test our cricket ball throw or rugby kick. When we got a personal best, my sister Ayla and I got an icecream. The more PBs, the more scoops. It was loads of motivation. I did my first shot put at 6. From a very young age, about 5, I wanted to be a sportsman. I remember writing it in school books. At 15 I realised there was a chance of doing something. When I won the world junior shot put title in 2010 [at 15] I decided to take it more seriously. That first trip overseas was a big part of why I'm here. I wasn't expected to do well. It was a shock and a wakeup call that I needed to take it seriously.
I still have massive interest in other sports, especially rugby and basketball, and watch them religiously. I like the shot put because it is the strength event of track and field. I like that it's strength, speed, explosiveness, everything combined into one - and I liked it because I didn't have to walk so far compared to the discus and javelin! So much of it is about technique. An actual throw lasts one second. That's pretty outrageous. So many things can go wrong in a second.
I want to make the final [top 12] in Rio. I just want to enjoy the moment.
Devon Manchester, 26 - Black Sticks goalkeeper
I played more or less every sport under the sun. I played rugby when I was younger but I was always a bit too heavy for the restricted grades so I used to get smashed every weekend. That wasn't fun. Mum and Dad suggested I try something else. They'd played hockey so it was logical to get into it. I was 11 or 12 when I started. I started as a field player but after a couple of games I was sick and wasn't able to run, so I jumped in goal and I've been doing it ever since, and never regretted it. It's one of the most skilful sports around. The requirements of the game, tactical and physical at the same time, are demanding, the whole challenge is trying to break down an opposition.
My hero when I was younger was Paul Woolford, who was the New Zealand keeper when I was starting out. I do a lot of work with him now. He was the guy I looked up to - and Kyle Pontifex, who was in the team when I was younger, and is back in it now. Since I was old enough to take notice of that kind of stuff it's definitely been a dream to go to the Olympics. It's the pinnacle for most sports.
In Rio there's a bunch of teams that all realistically have a chance of winning. You wouldn't say we're favourites but there's no reason why we can't perform well, make the playoffs and get a medal.
Caitlyn Ryan, 24 - K4 women's kayak
I grew up around the surf life saving world and learned it from the age of 5. I love the outdoors and raced competitively, but there was only so far I could go with the sport. To reach a new pinnacle and give something else a go was really exciting for me. A lot of New Zealand kayakers have gone down that path from surf. I still do some surfing with the young ones.
Being an Olympic sport was definitely part of the appeal of kayaking. It's about doing something you'd always dreamed of but never knew you would be able to reach. Seeing Erin Taylor and Edwin Richards, from my own Red Beach club, get to the Olympics did help inspire me. I first got in a kayak straight after the London Olympics [2012] and it's only recently I found the confidence in myself. I never thought I'd be that good. Everyone was saying how well I was doing, but for me to see it was a surprise, and now I've got the opportunity.
I never thought I would to get to the Olympics. Winning gold in a World Cup in Portugal last year was the key moment. It was about realising every person in this team [alongside Jaimee Lovett, Aimee Fisher and Kayla Imrie] has something unique to give and we could actually do this. We thought we could make the Olympics but to think maybe we could medal is such an overwhelming feeling.