Wales fans roared into life inside the Stade Pierre-Mauroy as they watched their side win the biggest football game in the country's history after beating Belgium 3-1 to earn a place in the semifinals of Euro 2016.
Goals from Ashley Williams, Hal Robson-Kanu and Sam Vokes gave the Red Dragons a famous win in Lille, seeing them into the next round of the tournament where they are the only remaining British side following England, Ireland and Northern Ireland's exit at the round of 16 stage.
Robson-Kanu, who hasn't even got a club side after being let go by Reading this summer, along with Burnley's Vokes, put England's pampered Premier League players to shame by firing their country of three million into the semifinals of the tournament.
The famous victory was made all the sweeter by the goalscorers, who earn modest wages compared to the likes of England stars Raheem Sterling, on £180,000 (NZ$333,000) a week, and Wayne Rooney, earning £260,000 (NZ$481,000) a week.
Sam Vokes is said to make £7000 (NZ$13,000) a week at recently-promoted Burnley, while Robson-Kanu was making £10,000 (NZ$18,500) before his Reading exit and Ashley Williams earns £45,000 (NZ$83,000).
The difference in wage between the managers is even more stark, with Roy Hodgson among the best-paid managers in the world before his departure, having been paid £68,000 (NZ$126,000), while Chris Coleman earns just £4200 (NZ$7770) a week in comparison.
The match didn't started well for the travelling Welsh, after their side conceded an early goal following a long-range effort from Belgium's Radja Nainggolan in the 13th minute.
However Swansea defender Ashley Williams headed home 17 minutes later from a corner to level the score before Robson-Kanu scored a wondergoal in the second half to make it 2-1.
The 27-year-old - who was earning a modest £10,000 (NZ$18,500) a week before he was let go by Reading - did a "Cruyff turn" in the Belgian box before firing low into the corner of the goal.
Vokes then scored a header late in the second half to make it 3-1, sending Welsh fans across the Channel and those in Lille into a frenzy.
The match was the biggest in Wales's history and most important since the 1958 World Cup, where they made the quarter finals but were beaten by Brazil.
Wales will now play Portugal in the semifinals of Euro 2016, setting up a mouth-watering encounter between Real Madrid stars Gareth Bale and Cristiano Ronaldo.
Welshman and International rugby union referee Nigel Owens tweeted: "I know nothing about football. But bloody hell this is one hell of a game. Boys doing us proud again. Cmon Wales. £togetherstronger"
German World Cup winner Lothar Matthaus added: "Wow! Fantastic scenes in Lille. Did not see this coming! Wales for the final? £EURO2016"
Rugby World Cup winning coach Sir Clive Woodward tweeted: "Totally amazing - not enjoyed any sporting match as much as this for a long time - totally deserved, hats off to this Welsh team, brilliant."
TV presenter George Clarke said: "Wales have a manager who actually knows his best team, knows where to play and inspired them ... and doesn't pick out-of-form favourites!"
TV and radio personality Danny Baker said: "Are you watching England? sing the Welsh. Let's hope so. They should be forced to watch what a real team looks like.
"We English can only see Wales victory against our abject failure. Our squad should be forced to pull the Wales open top bus thru the streets."
The Wales victory sparked incredible scenes seconds after the final whistle as some players fell to their knees suffering from both exhaustion and seemingly disbelief at what they had just achieved.
The team had held out against Belgian pressure for the last 20 minutes of the match and then were able to grab a third goal from substitute Sam Vokes with just four minutes remaining.
The unity of the Wales squad was plain to see when skipper Ashley Williams ran to be mobbed by his teammates after scoring the equalising goal.
But at the end of the match the Wales players then went to hug not only their watching Wags but also parents and other friends and family.
There then followed incredible scenes as many of the player's children were passed over barriers so they could reach their fathers who hugged them and took them on to the pitch where they sat and cuddled them.
Wales fans behind the goal where the team had celebrated at the final whistle then cheered constantly as the young children took it in turns to take penalties in front of the supporters.
The children - wearing the names of their fathers on their backs - ran amok with stewards helpless to intervene or stop them.
Each ball that hit the back of the net was greeted with wild applause while the occasional miss saw "Oohs" and "Aahs" coming from the fans.
The Wales players then sang the national anthem with their fans.
Minutes after the final whistle the team and players took a swipe at England's failure to beat Iceland in their last-16 match by copying the Icelandic "seal" chant with hands being clapped above heads.
Outside the ground fans Matthew Hayward and Ryan James, both aged 26, from Newport, South Wales were standing in disbelief looking back at the stadium they had just left.
"This is the greatest night in the history of Welsh football. And you know what, I always thought we could win this game," said Ryan.
"The team are just fantastic and it was great to be here to see a piece of history."
His friend Matthew said he was hoping to be able to get to the semifinal in Lyon and added:
"I honestly think we can beat Portugal and make the final. I just have to see if I can get the time off work.
"Portugal have got to their semifinal after not winning a game and then winning penalty shoot-outs. We have won games in this tournament and just beaten the second-best team in the world. If that doesn't send a message to Portugal I don't know what does."
Jordan Jones, aged 28, from Cardiff added:
"Our manager Chris Coleman deserves to get the freedom of Wales for what he has done. We have a super star in Gareth Bale and great players like Aaron Ramsey and Joe Ledley - but he has instilled a great work ethic and belief in the whole squad. They are united.
"They put the England team to shame because whatever they say they do not have the passion we have - you could see that in the way the whole squad celebrated every goal."
One of the other amazing facts of the night concerned Hal Robson-Kanu who score the second Wales goal. He is currently unattached and has no club after leaving Reading at the end of the last season.
He scored after executing a perfect "Cruyff" turn and last night a string of clubs were said to be keen to offer him new terms.
The 27-year-old is from Acton, West London, and played for England at Under 19 and Under 20 level but he switched his allegiance to Wales because of his Caerphilly-born grandmother.
The semifinal in Lyon will now pitch the two Real Madrid teammates - Gareth Bale and Cristiano Ronaldo - against each other next Wednesday.
It was a crushing blow for heavy favourites Belgium, who had taken the lead in the 13th minute when Radja Nainggolan rifled a shot into the top corner from a distance only for Wales captain Ashley Williams to level with a header from a corner.
"I said before we kicked the ball today, we're not here to enjoy it, we are here to compete," Wales manager Chris Coleman said. "Don't be afraid to have dreams. Four years ago I was as far away from this as you could imagine. I've had more failures than successes but I'm not afraid to fail. We deserve this."
Wales, playing in their first quarter-final, and major tournament, since losing to Brazil at the 1958 World Cup, next have a match that pits the world's two most expensive players - Portugal's Cristiano Ronaldo and his Real Madrid teammate Gareth Bale - against each other in a mouth-watering clash.
Coleman's side, however, will have to cope without their inspirational midfielder Aaron Ramsey and defender Ben Davies who both picked up bookings that ruled them out of the semifinal on Wednesday.
Belgium coach Marc Wilmots was left to rue an injury and suspension in defence that robbed him of the experienced Jan Vertonghen and Thomas Vermaelen as their younger replacements, Jordan Lukaku and Jason Denayer, were frequently exposed.
The manner of the defeat, however, is likely to increase the scrutiny on Wilmots, who has faced criticism for failing to make the most of what many believe to be a golden generation of Belgium players.
"This Belgian team is a team that demands respect, but we let things go a bit today and we paid for that in cash," he said, before adding he would take time to consider his future.
Hundreds of Welsh fans were forced to miss the historic match as many were stuck trying to cross at the Eurotunnel terminal in Folkestone.
But despite fears they may now end up missing kick-off - for what is one of the most important games in the country's history - fans were in good spirits at the terminal and even serenaded staff with a bellowing version of the Tom Jones classic Delilah.
Delays overnight and technical issues had a knock-on effect this morning and there has been high demand for tickets to Lille ever since Wales beat Northern Ireland in the second round of the tournament.
With fans facing delays reaching France by Eurotunnel, there were even calls from some quarters for the game to be delayed.
On Twitter, Lownshark said: "Still sat in Folkestone with the entire population of Wales £leshuttle' and tomddumba posted: 'Problems on the Euro tunnel. Wales fans are asking UEFA to delay kick off time as they are stuck and can't get into Lille in time."
Wales manager Chris Coleman said in a statement this afternoon: "The team and I are aware of the issues fans are experiencing at the Eurotunnel. We understand that the authorities are doing what they can to get fans to France."
"We know a lot of people have gone the extra mile to come over and your efforts at this frustrating time is very much appreciated. We know that we have your full support for tonight's game."
Singer Cerys Matthews was among those waiting to cross the Channel and tweeted that there was a "sea o'red" at the terminal, Wales Online reported.
The singer, of Catatonia fame, told BBC Radio Wales: "We are effectively trapped and clock watching and there are many, many lifelong fans stuck in the same situation and it is heart breaking."
Duncan Rees, who will miss the "most important game in Welsh history" said that Eurotunnel have a lot to answer for.
He said: "I've been sat in the euro tunnel with thousands of other Welsh fans since 9am this morning. Absolutely ridiculous.
"I'm not going to make the most important game in Wales history. Euro tunnel have a lot to answer for."
Gaz Jones from Wrexham, Wales, posted on Facebook to say he would be forced to watch the match from his phone.
He said: "Anyone else stuck in Folkestone? Thank god I downloaded the app to watch it on my phone."
Rob Jones, from Carmarthen, Wales, waited for eight hours and only made it into the tunnel at 5pm.
He said he had his "fingers crossed" he would make it in time for the 8pm BST kick off.
Eurotunnel "technical difficulties" had resulted in them stuck in Folkestone since 11.30am with no chance of getting to the hall before 11pm Paris time.
"They are still in Folkestone and yet to board a train. Eurotunnel told me there was no space on the ferries."
A Eurotunnel spokesman said the delays were caused by a "combination of things".
He said: "We are at reduced capacity due to the broken down train last night. But also we have a large amount of traffic today, including Welsh fans trying to get to Lille. We are adding extra departures this afternoon."
Thousands of fans have already gathered in the northern French city to watch Gareth Bale's team and were in good voice as they took to the streets last night.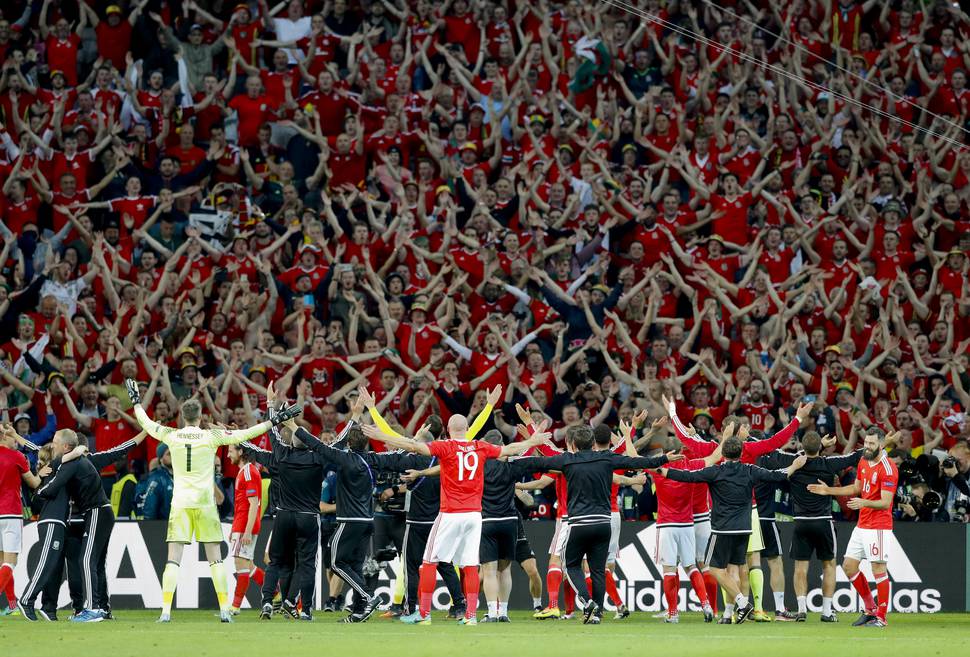 Supporters sipped beer, chanted and flew flags and scarves from nearby buildings as they got in the mood ahead of the big game.
Vendors sold half-and-half scarves on the street to commemorate the occasion and Belgium fans sported a variety of unusual hats and wigs as a party atmosphere engulfed the French city.
The side's battle against Belgium was being dubbed the biggest game for the country in 58 years.
Victory in the quarter-finals at the Stade Pierre Mauroy would set up a semi-final against Portugal on Wednesday night.
Wales made it to the last eight in the 1958 World Cup but a Pele goal helped Brazil to a 1-0 win.
Up to 20,000 Welsh fans were expected to pack into the city in northern France hoping the side can go at least one better by defeating the Red Devils.
But the head of Welsh police in France said reports Belgians would heavily outnumber Welsh fans were 'wide of the mark'.
There were early reports as many as 100,000 Belgium fans could descend on the city after travelling across the border 10 miles away.
But Supt Steve Furnham dismissed the claim, insisting 20,000 Belgian supporters without tickets are expected.
Aaron Ramsey's former history teacher has travelled to Lille - and is hoping Wales can rewrite the record books.
Sara Davies, 41, from Caerphilly, taught the Arsenal midfielder while he was at the Ysgol Gyfun Cwm Rhymni, and she will be cheering him on during the match.
She said: "He was a lovely lad, absolutely brilliant. He has made such a name for himself and he's a great ambassador for Wales and the Welsh people.
'He was in my history GCSE class - mind you, for the second year he was never there because he was always training with Cardiff City."
Speaking about the tournament so far, she said: "We have been waiting a long time for this - so we decided to have a road trip to Lille for the quarter finals - come on the lads."