December 19, 1953. The last time Wales beat the All Blacks. 22,816 days ago.
Since then they've played New Zealand 26 times but lost on every occasion.
They have gone close. Wales got to within a point of the All Blacks twice during the current losing streak. Most recently in 2014 and also in 1978 when replacement Brian McKechnie, was born a month before Wales' last win in 1953, kicked a famous sideline penalty to give the All Blacks a 13-12 win.
The 1953 defeat at Cardiff was New Zealand's second loss of the tour after falling to Cardiff 8-3. The All Blacks went onto win tests over Ireland, England and Scotland with the Wales defeat robbing them a grand slam. They also lost to France in the final test of the 36-match tour of Britain, Ireland, France and North America.
Ken Jones scores the winning try in 1953:


1953 - The last time Wales beat New Zealand
- The number one song in the US was Oh! My Pa-Pa by Eddie Fisher
- National's Sidney Holland was the New Zealand prime minister after winning his second term in 1951.
- Phone numbers in New Zealand only had five digits.
- Construction began on the Auckland motorway network.
- Dwight D. Eisenhower succeeded Harry S. Truman as the 34th President of the United States.
- New Zealand's population was estimated 2,074,700.
- Four days after the Welsh win the newly crowned Elizabeth II arrived for a royal tour in New Zealand. The Queen remained in the country until 30 January 1954 and an estimated that three in four New Zealanders would make an effort to see her during the tour.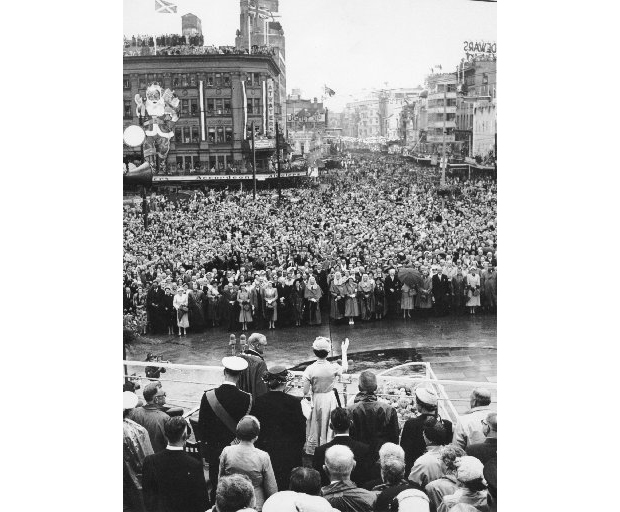 Queen Elizabeth II on her first Royal tour waves to the crowd from the front of the Auckland Town Hall. Photo / NZ Herald archives
- A day after her arrival, on Christmas Eve, the Tangiwai rail disaster killed 151 when the the Wellington-Auckland night express train plunged into the flooded Whangaehu River.
- According to nzhistory.co.nz, in 1953 Kiwis chewed their way through 107 kg of meat for every man, woman and child. Of the 335 kg of fruit and veg consumed per person, 94 kg was potatoes, 'cabbage and greens' and carrots. Kiwis ate only 5 kg of fresh fish and 3 kg of poultry per person.
- Earlier in the year, Edmund Hillary and Tenzing Norgay became the first people to reach the top of Everest.
- A flight to London via Sydney typically took between three and five days.
- The Ford Anglia 100E and the Holden FJ were released.
- Ian Fleming published his first James Bond novel, Casino Royale.
- From Here to Eternity, featuring Burt Lancaster, Montgomery Clift, Deborah Kerr and Frank Sinatra was released in August and won the Oscar for best picture the previous year.
- The first colour television sets went on sale for about US$1,175.