When West Ham waved goodbye to their beloved Boleyn, more commonly known as Upton Park, they did so in riotous fashion, smashing up the Manchester United team bus and then beating them 3-2 on the field. When we farewell out stadia, it's normally a much more sedate affair, writes Dylan Cleaver*, as profiles five iconic grounds over the next week.
NEWMARKET PARK

Home of Auckland and New Zealand football

1st international: NZ 5 Fiji 0, 1968*

2nd international: NZ 1 Australia 0, 1979

Capacity: 12,000 (approx)
There are myriad reasons why stadiums die. Most of the time it is because they just get old, tired and no longer fit for cause. In the case of Lancaster Park, a natural disaster did for that.
But few deaths can be as spectacular as that which befell Newmarket Park, Auckland and New Zealand's football's shortlived and fairly shabby home.
It fell down a bank.
You read that right. A large chunk of the park, which sat on the side of the hill that separates Newmarket from Remuera's lower slopes - 115 Bassett Rd, where Ronald Jorgensen and John Gillies brought Chicago-style gangland murder to Auckland was in direct line with the park - broke off and disappeared down the bank.
New Zealand football later found a home at Mt Smart Stadium.
With an aerial view, you can see where the 42 rows of terraces made up the western side of the ground and the gully that leads down to Bassett Rd, but when you wander through the nondescript park with its apologetic duck pond, you get no sense that there was ever a sports stadium of any note there.
Last year the Herald took Duncan Ormond** back to the park. He scored the last international goal at the park, an effort that sunk Australia 1-0. The result can now be seen as an entrée for the All Whites improbable campaign that saw them qualify for the 1982 World Cup in Spain.
It was Ormond's debut. Brian Turner, one of New Zealand football's greats, thumped the ball into the box "some good kid from Christchurch with an Afro whose name I forget" nodded it on. The kid's name was almost certainly five-cap All White Johan Verweij and his header squatted on the park's notoriously sandy surface.
The right-footed Ormond banged it in with left.
A month later, in July, 1979, the park was no longer, with a good chunk of the field and the Eastern Grandstand (which made a lie of the 'grand' part) having disappeared down the gully.
Watch: Former All White Duncan Ormond stand on the spot at the old Newmarket Park where he scored a winner against Australia
It is difficult to imagine an international ground, one with the best floodlights in the country, there now, let alone a park that at various times hosted Spurs, Sunderland, Bournemouth, Rangers, Hearts, Norwich, Stoke, Aberdeen and Bobby Charlton's Allstar XI.
This park has gone out of its way to hide its past. On a sign at the entrance much is made of the site's pre-European history and the fact it was a tip before a Depression-era relief scheme turned it into a park.
It then reads: "Since then the park has seen a variety of uses including athletics, midget car racing, a golf driving range and," as an afterthought, "a major football venue."
"To be honest, I was never that fond of Newmarket Park," said Ormond.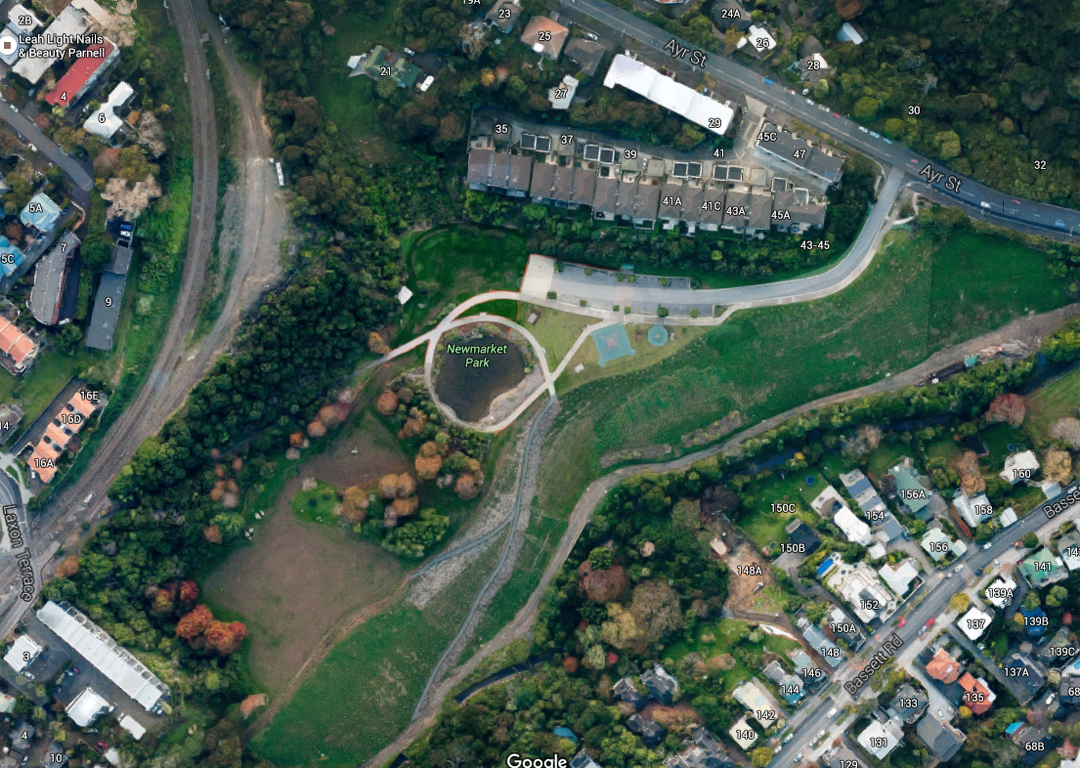 Newmarket Park. Photo / Google Maps
"It was a s--- ground, full of sand because they'd play two games there every Saturday and it was the only way they could keep it from completely chopping up."
It had not been the home of Auckland football for long when it gave up the ghost.
Many football fans with long memories mourn Blandford Park more than Newmarket.
Blandford Park stood not far from the Stanley St tennis courts and Carlaw Park, but now sits about 10m below the motorway interchanges that funnel through Grafton Gully.
The beauty of Blandford, said Ormond, was that like Melbourne, "you could go for a drink in the pubs in town then wander down to watch the game.
"People did not like football shifting out of town to Newmarket Park."
Perhaps its unpopularity meant Newmarket Park was always destined to be cursed.
MONDAY Carlaw Park
TUESDAY: Lancaster Park
TOMORROW: Carisbrook
* New Zealand first played at the park in 1964, when they were thrashed 0-6 by German club side SC Preussen Munster.
** Some of this material is sourced from a multimedia feature on Auckland's lost playgrounds, which can be read here.